History of My Hair Dilemma


So, I got a hair fetish.
I know, it sounds kinky.
But it's not what you think.
I hope you've seen Charlie's Angels the Movie.
You should because it's a great movie.
Well, that's not my point.





In the movie, there's this really creepy character
who pulls a strand of hair from Drew, sniffs it and screams.

No, no, I don't sniff people's hair and get high or anything.

But I admit, I like hair. I like coloring it.
(I also have a thing for dish-water blond guys.)
Maybe I'm getting old and becoming too lazy,
but only a few years ago, I used to color my hair every week.
Sometimes 2, 3 times a week.

Since my aunt is a hairdresser, I often get hair cuts and coloring.
Some good things about having a professional hairdresser
in your family is that you don't feel so self-conscious in front of
the mirror or be nervous about the end result.

In San Diego, I used to go to this Japanese hair salon.
They were really good and thorough, but I really didn't like the way
they run the business. Luckily, I found a decent replacement.

Either way, I say it's an embarrassing experience,
to have someone stare at you and you staring at yourself.
This could be worsen if you come out looking like a scarecrow.

My Japanese friend Kira who lives in Germany once told me her story at
a German hair salon. Her hairdresser stopped working on Kira's hair in
the middle, saying, "Ah, your hair is too corse and difficult, I give up."

The summer in Paris, I thought,
"I'm in the Fashion Capital, I'm sure hair stylists here are fabulous.
Why don't I give myself a nice hair treatment?"
Besides at my aunt's, I've never gotten a color treatment.
I'm the kind of person who uses the box kits.

It started off nice. Nice haircut, nice coffee. That's where it stopped.
Isabelle the wonderful skilled hairdresser couldn't lighten the hair
enough to put the color in.
After two bleaching sessions, I came out sore in the scalp with the hair
3 shades darker than I expected.

Pained and pissed off, I told her that I refused to pay for the treatment.
After much dispute, I lost. Who can win a debate with a French woman?

So you can imagine that I was not at all thrilled to find a new hair salon
in Geneva. And, I dreadfully watch the growth of my hair.

Yesterday, Steven told me I looked like Chaka Khan.
I took that as a sign to go get a haircut.

After much contemplation online trying to figure out which salon,
I decided on a hair salon with a familiar brand name.
Familiarity is so dependable in a new place, I tell you.

Called up the place, made a reservation, and I went there.

The shampoo girl was a little rough and I got some water in my ears,
but my hairdresser was really nice and she was thorough.

Very friendly and craftily, she worked on my hair with determination.
I came out looking like the man I was meant to be.
(Well, maybe that's a little exaggerated...)

But when you have a nice haircut, walking in the street seems so much
easier and fun. It makes me want to window-shop more than usual.
And I did. Successfully in fact. I finally found the chandelier I want.

How wonderful life is, now I have a new haircut.

I'm simple!!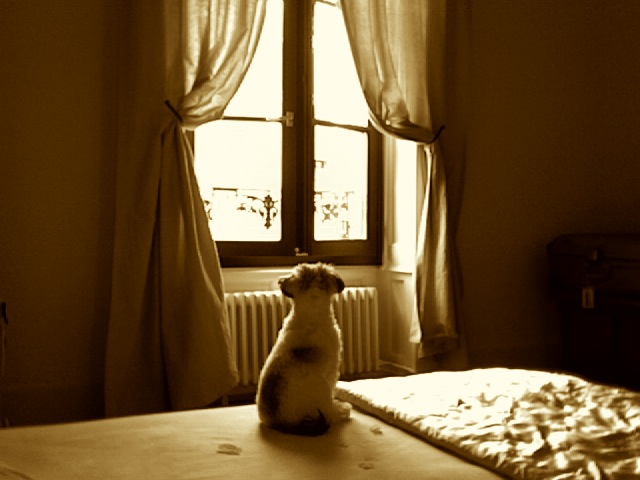 気まま我儘に生きるYasの人生を、正直率直に、そして飾らなく語るブログです。 This is a blog where Yas talks about his life in a foreign land seen through his bizarre and frivolous, yet sincere eyes
by Yas-Unprescribed
ブログパーツ
このブログに掲載されている写真・画像・イラストを無断で使用することを禁じます。Copyright © Life Without A Prescription - 処方箋無しの人生 All Rights Reserved