Duet with Truffle


My youth was full of dreams and passions.
I was a big dreamer until I grew up little by little
and reality and practicality seeped into my skin.

I've had many colorful dreams growing up,
Today, I'll share with you some of them.




When I was really little, I wanted to be a president of a company.
Random, isn't it? I thought my dad owned a company, and I wanted to
be like him. Isn't that sweet? (it's a big mystery what he does in life.)

My first "real" dream was to be a private detective.
I loved reading Sherlock Homes and other detective novels.
I bought a whole bunch of quiz books that had cases of perfect crimes
for you to solve.

Then, I wanted to be a lawyer. I wanted the complete statutory volumes
of Roppo Zensho one still-blue Christmas.

After that, I wanted to be an animator/private detective.
I started a "manga club" at school and I bought all the tools you need
to write a manga. So Japanese of me!!

Being the good son that I am, I felt obliged to follow my dad's footsteps.
At least for a while, when I was a teenager.
Having a father who is an instructor of that art,
I started practicing martial arts since I was three.
I thought I wanted to be a martial-arts instructor for the FBI.

Sometime between junior high and high school, I become obsessed with
movies. And this crazy idea of me becoming an actor overtook my mind.

People thought I was nuts, but I decided to study abroad at the age 15.
I thought, "The sooner the better!!" And so, I spent my sophomore year
in an American high school. Modesto, California.

There, I had a friend from the church choir who took me to a voice coach
because he thought I had a great voice.

Come back home, it was time for me to pick which university to attend.
Audaciously and rather stupidly,
I decided to try out for a music conservatory.
The Japanese equivalent of Julliard. For voice.

People spend years, literally 5, 6 years, trying to get in to the school.
There are 4 elimination rounds, and I only got to the second.

The first round was performing 2 songs selected by the jury.
The second round was performing a song of your choice.
I chose an aria from Handel's Messiah called
"Why do the nations so furiously rage together"

Mouthful, isn't it?
I think I made a bad song choice. It was way too difficult.

Where I live now, there's a music conservatory.
And I started to fantasize about me becoming a professional singer.

So I youtubed some arias, and something caught my ears.

"But who may abide the day of His coming" from Handel's Messiah.
It was originally an aria for bass, but I saw some countertenors sing it.

Just for the fun of it, I thought I'd practice the song in my falsetto.
See if I'd make a decent countertenor.

As I sat on the bed with the computer on my lap, playing the song
on YouTube and start singing, Truffle came beside me.

When the aria got to the fast-tempo middle section filled with
some fierce runs, Truffle sat up.

As I started to sing higher and higher, he really looked alert.

Then, he started singing with me!!!

Well, more like howling.

But he looked so unsure, as if to say,
"Daddy, why are you howling? Are you lonely?
Am I supposed to join you? Or are you teaching me how to howl?"

This cracked me up big time.
HE IS SO ADORABLE!!!!!!!!!!!!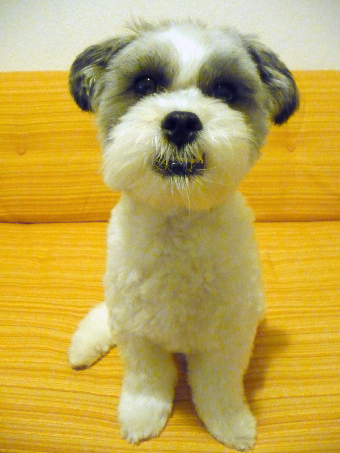 Could I teach him how to sing? I wonder.
But then, "Does my countertenor singing sound like a howl??"

Steven said "Yes."

Bastard!!

Ahh Wooooooooooohh!!!!

Please vote for me by clicking the banners below!! Thanks!!!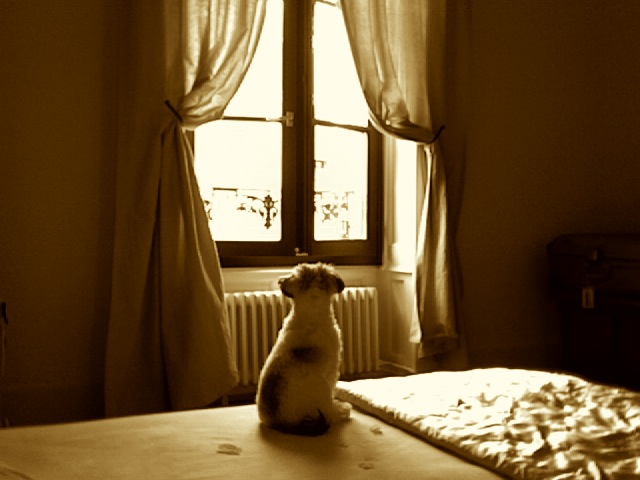 気まま我儘に生きるYasの人生を、正直率直に、そして飾らなく語るブログです。 This is a blog where Yas talks about his life in a foreign land seen through his bizarre and frivolous, yet sincere eyes
by Yas-Unprescribed
ブログパーツ
このブログに掲載されている写真・画像・イラストを無断で使用することを禁じます。Copyright © Life Without A Prescription - 処方箋無しの人生 All Rights Reserved