The Festival of Beer and Sauerkraut


Recently, I have developed this indolent tendency
to be homebound voluntarily.

Because everything seems somewhat frightening out there
in this so-called "Old World." It's more than easy to
spend a lazy afternoon in bed, dressed in pajamas,
and with Truffle sleeping next to me.

Sheer bliss...

Yet, I can see this newly-found agoraphobia isn't quite healthy.
I need a good motivation to step out of this safe doggy haven.

Beer and sauerkraut, they sound like a good reason, right??




Steven and I have been going to some local events,
and they've been a blast.

Local food, local alcohol and local people.
It can't get any better than that!

So, I did some research and found this
"Festival of Beer and Sauerkraut" in Thônex.
But even after the exhaustive research,
I didn't quite know that to expect, or where to find it.

Is this some kind of mindful strategy to keep away the tourists?
If so, it should be good and authentic!!

After having spend good 2 hours in a phone store with
no success, we were ready for some beer!!

It's gotten severely cold lately, and only the thought of
piping hot sauerkraut got me through in the cold.

Getting there seemed fairly simple.
Take the tram 16 all the way to the last stop.
But when we got there, the question in our heads
was "now what?"

I was expecting to step out of the tram to step right into the festival.
Well, take two wrong steps, and you'd be in France.

Like snails running (?) away from salt, we fled in fear from France.
(We didn't have our passports with us.)

As we started walking away from the border,
we noticed the darkness of the street.
It was past 7 pm on a Saturday, most things were closed.

The only thing that was open was this very non-touristic bar.
I can confidently say I must be the first Japanese this smoky bar
has ever encountered.
A gentleman there told us where the festival was,
and shortly after we found our Elysium.

We paid about $10 each for admission.
There were already a good amount of happy drinkers inside.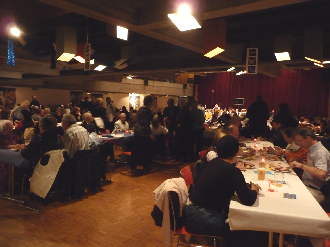 Eager thus rushed, we got in the line to get a plate full of pork and
sauerkraut, and of course some beer to complement the meal.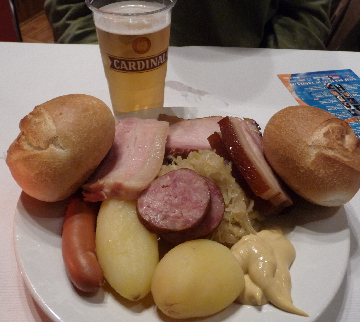 On the plate, there were three kinds of pork, two kinds of sausages,
some potatoes, bread and sauerkraut: one of the stars of the night.
That was $17 a plate and it looked copious, so we decided to share.

And the other star of the night was $4 for the small size cup.
I don't know what it is, but it's blonde. And that's all I care about.

The meats were perfectly tender and juicy. The belly part was
decadently fatty and was such a guilty pleasure.
The sausages were also good. One of them was smoked,
and I loved that rich aroma. A nice change of flavor.
The sauerkraut was the best I've ever tasted.
(disclaimer: I've only had probably 5, 6 sauerkrauts in my life)
It was tangy, but not too much. Its piquancy helped cut through
the richness and heaviness of all the meats.
The beer was light and unpretentious, and the malty flavor
perfected the whole meal.

How German this whole experience is!!

Why isn't this called "Oktoberfest"??

As for the entertainment, an authentic German band flew in
(or drove in?) from Germany for the event.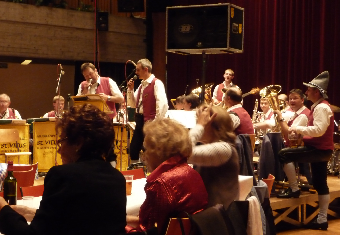 To the happy germanic songs they played, spectators danced.
As they drunk more and more (including the musicians),
they moved around merrier and more cheerful.

Sometimes it's actually quite amusing to see drunken people.

As long as you're 50 feet away from them : P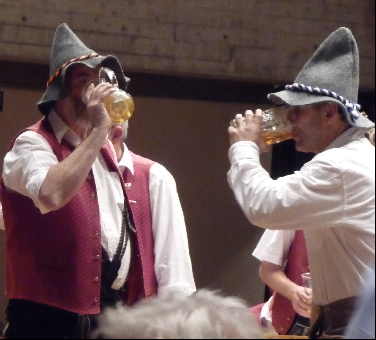 Hasta la vista!! Olé!!
(This is what they kept saying at the end of their drinking song.)

Bottoms up!!!


Help me with the blog ranking! Click on the banners below. Olé!!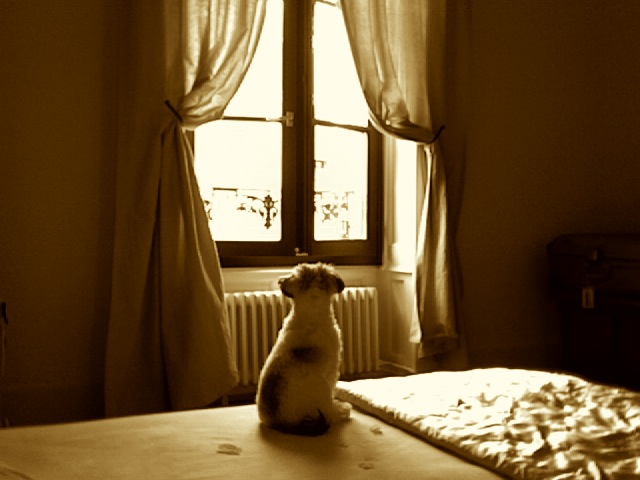 気まま我儘に生きるYasの人生を、正直率直に、そして飾らなく語るブログです。 This is a blog where Yas talks about his life in a foreign land seen through his bizarre and frivolous, yet sincere eyes
by Yas-Unprescribed
ブログパーツ
このブログに掲載されている写真・画像・イラストを無断で使用することを禁じます。Copyright © Life Without A Prescription - 処方箋無しの人生 All Rights Reserved