Swiss McDonald's


Hi, my name is Yas, and I am a McDonald's addict.

You: "Hi Yas."

My relationship with Mac (so we call it in Japan)
is a long and very abusive one.



The chubby kid that I was, I used to order two value meals
whenever I went to Mac. And I would order the same thing.

Teriyaki McBurger.

Ohhh, it's delish, I tell you. That dark caramel-colored sauce
and that mayonnaise on top... I had to have two of each!!

No wonder I was chubby.
Anyway, I grew out of that 2-value-meal phase somehow.

When I moved to the States, I was devastated they didn't
have my favorite burger on the menu.
So I explored. Eating this, eating that. You know, we all have
this. The experimentation phase.

While Steven was in the hospital, I went to McDonald's
at least 5 times. It was right after our arrival in Geneva,
and we didn't know many places to go.
And especially when things weren't exactly peachy,
I needed comfort food. Chicken nuggets sounded good...
Was I just giving myself an excuse?
Maybe this was my denial phase.

My friend T and I were talking about my addiction one day.
She goes, "I bet there's something in it."
I can't agree more. It's like one you go there, you can't stop
thinking about it, and you go back there for more.
They must put some kind of addictive substances in the food.
While sitting on the hospital chair, I kept thinking
"Hmmm, McChicken... Filet-O-Fish... Large-size fries..."
Definitely the preoccupation phase.

Like each country and culture has something different to
offer, each McDonald's has something unique, too.

I've already mentioned about the Teriyaki McBurger in Japan,
but here in Switzerland, they just had "Swiss Weeks."

Each week last month, they offered a typically Swiss burger.
First week was "McFondue." It had a tender beef patty
with slices of gruyere and emmentaler and fondue sauce.
Unfortunately I missed this one.

Second week, it was "McRösti," which consisted of a traditional
Swiss dish "Rösti" (hash brown), cripsy bason and a slice of
emmentaler cheese.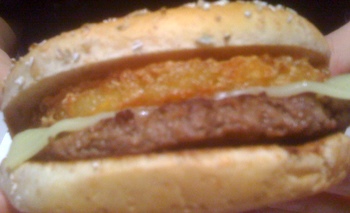 This was pretty yummy. I love hash browns, so having it in the
burger seemed like a brilliant idea.

Third week, sadly the last week of this "Swiss Weeks,"
they featured "McRaclette."
Raclette is a traditional Swiss dish where people grill the surface
of raclette cheese and scrape off the melted cheese to eat with meats
and bread. Here, they used a slice of this cheese, pickles and onions,
and a beef patty to make this lovely burger.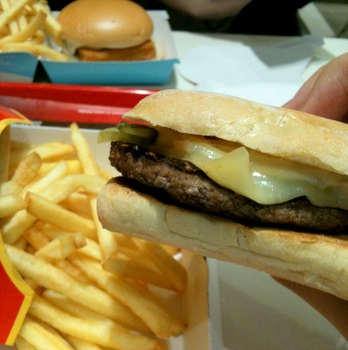 You probably think I go to McDonald's too often... huh?
I think you're right. Recognizing and accepting the addiction is
the first step to recovery, right!?

I have a feeling this is gonna be a long battle fighting this addition.
Since I'm not really willing to give it up ; P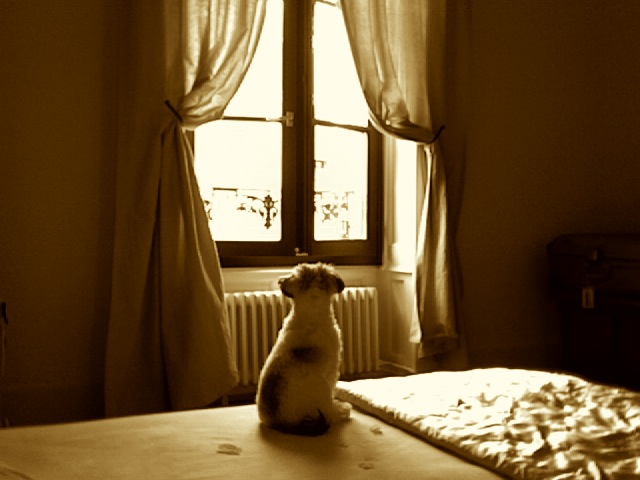 気まま我儘に生きるYasの人生を、正直率直に、そして飾らなく語るブログです。 This is a blog where Yas talks about his life in a foreign land seen through his bizarre and frivolous, yet sincere eyes
by Yas-Unprescribed
ブログパーツ
このブログに掲載されている写真・画像・イラストを無断で使用することを禁じます。Copyright © Life Without A Prescription - 処方箋無しの人生 All Rights Reserved