"Walk, Walk, Fashion, Baby"!!


"Work it, make that 'mean-sprited lady'* crazy."

They are lyrics from Lady Gaga's recent single,
"

Bad Romance.

"

I love fashion!
And I haven't blogged much about it, so today is the day!

* Given the demographic of my blog readers,
I omitted the word that rhymes with "Mitch,"
the same word that the French people often pronounce
as "beach."
Before the semantic shift of the word,
the prime meaning of the word used to be "a female dog."



I love the "Bad Romance" music video!!
It's captivating, to say the least.
Plus, she's wearing Alexander McQueen straight out
of the runway in several scenes.

Paris, Milano, NYC...
I wish I had strings to pull to attend fashion weeks...

Well, no strings attached, so the second best thing
for me is to go to luxury brand stores.

When life is a little rough around the edges,
I don't go for booze, I go for tangible items.
That's my life-crisis remedy.

After Steven recovered from his surgery,
we went to get this.


Key Pouch Complice from Louis Vuitton.
I got this key pouch in Damier Azur canvas with their LV trunk label.
Steven got the Key & Change Holder, similar to mine,
but a little smaller and without the label.
We didn't wanna be totally matchy-matchy.
This key pouch is very functional because I can keep my keys,
coins and tram tickets and stuff like that all in here.
The lining is lime-colored leather, and I think it's cute.

When we took the trip to

Düsseldorf

,
my main objective of the trip was to shop.
I had been looking for some gloves, and I went into practically
every shop on Königsallee with no success.
I went into the Gucci store for the second time.
I was examining a pair of jeans when this friendly store-person
came to me and asked me if I wanted to try them on.
I declined the offer by saying, "Oh, I'm looking for something darker."
Then he volunteered to go look for some other jeans in the back.
A few minutes later, he came back. Those pants were lovely,
but not lovely enough to pay the price. In my modest defense,
I said, "Oh, these are lovely, but I think I have similar pairs already..."
When he protested, I feebly asked him if he had any gloves.
"I think I have just the thing," then he disappeared into the backroom.

I thought about running out of the store at the moment...
But that wouldn't be polite, would it? So, I stayed.

He came back with these luscious looking gloves, and I couldn't resist.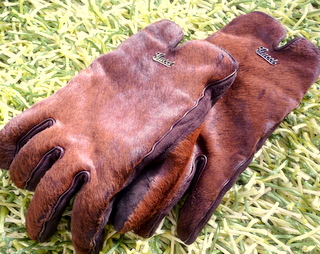 These gloves are made with chestnut color cowhide outside and
cashmere lining inside. The "Gucci" logo in script adds a nice touch.

And then I was on the roll. I found another thing I wanted to buy.
Unfortunately, they didn't have the right size and color in stock,
so the following day, I left for Cologne to purchase the item.

After much wandering around to find the store,
I realized it stood right under my nose.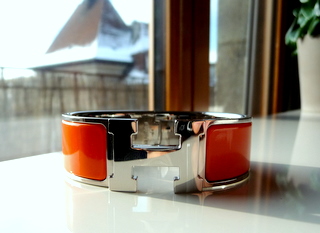 Enamel Bracelet from Hermès.
Totally and definitely adorable. I love how vivid this orange color is.
And it basically goes with clothes of any color, maybe except for lilac.

Soon after the trip, Christmas came.
Santa gave me this backpack this time.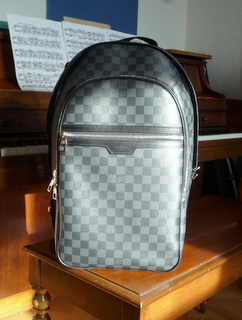 The "Michael" backpack in Damier Graphite canvas, from Louis Vuitton.
Unlike other bags I have, this one is super practical.
I can actually put heavy things in it!!
The main compartment zipper is a little stiff,
but I don't have to worry about pick-pocketting.
Now the smart-casual look got even smarter.

I feel that there's a fine line between blogging and bragging.
But I hope you find this interesting and maybe helpful to read.
Not annoying and obnoxious ...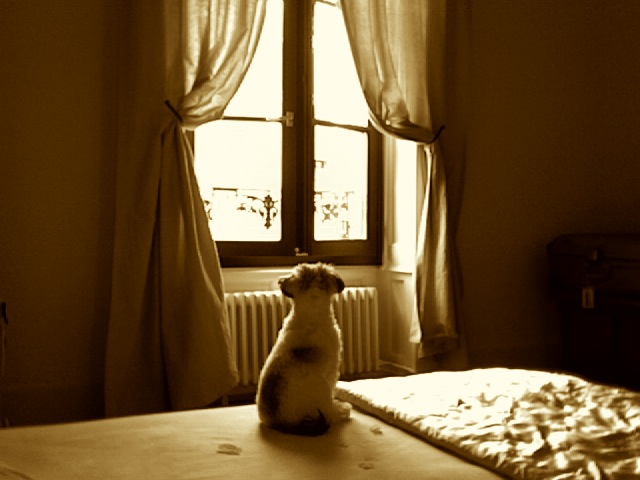 気まま我儘に生きるYasの人生を、正直率直に、そして飾らなく語るブログです。 This is a blog where Yas talks about his life in a foreign land seen through his bizarre and frivolous, yet sincere eyes
by Yas-Unprescribed
ブログパーツ
このブログに掲載されている写真・画像・イラストを無断で使用することを禁じます。Copyright © Life Without A Prescription - 処方箋無しの人生 All Rights Reserved