The Quest for the Perfect Souvenir


It was quite easy getting around in Prague.
Basically, everyone spoke English to some degree.
Impressive, I think.
We didn't need to struggle to decipher this exotic language
since menus were written in English, also.
But this convenience triggers my tourist-trap alarm...



When I lived in Paris, I had a hard time
finding a good restaurant.
My French friend took me out for a dinner,
and when the dishes came, he said,
"Oh, this is frozen food, and I know how much
this costs at a supermarket."

When a city gets too touristic, it's that much harder
to find something authentic.

So, my traveling mantra has been,
"Don't go into a restaurant with a menu written in English."

Well, English menus were very helpful, if they weren't there,
we would've never known what to eat.

Yet, it was trying to have "authentic" cultural experiences.

Buying souvenirs is what travelers usually do, right?
The Old Town Square was surrounded by cheesy souvenir shops.
Some of the workers were aggressive and didn't leave us alone.
And why should we buy products made in China,
when we are in Czech, to commemorate this trip?

So, we looked and looked.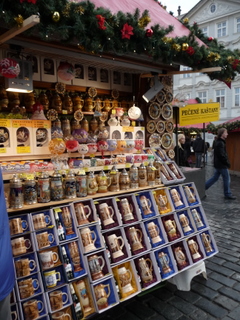 Steins at the Christmas Market.

They'd make a good souvenir for Steven's Dad,
but too fragile to ship and irrelevant to Prague.

Next.

This is relevant but cliché.
Some marionettes?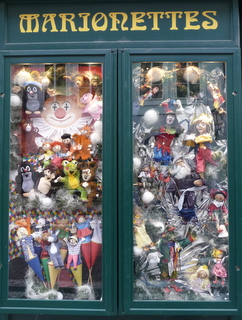 Hmmm, I find them a little creepy...
Plus, these affordable marionettes are not made here.

Next...

We hit allegedly the biggest mall in the "central" Europe.
Steven was happy to buy some items from Marks& Spencer.
And I almost got a Starbucks Prague coffee mug, but didn't.

Next..........

Back in Old Town, Steven got this cookie that read,
"Greetings from Prague!" in Czech for his Dad.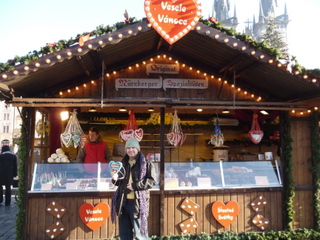 A cute vender, a cute cookie, a decent price.
Pretty good.

Next!!

We still needed to get a souvenir for his Mother.
Bohemia is known for its beautiful crystal products.
In a big crystal speciality store, we got her a crystal nail file.
According to the signage written in Japanese nearby,
this is the number 1 popular souvenir item.

Next!!!!

We've seeing many ushanka hats around,
and so we started looking for one.
On our way to one store we found online,
we stumbled across this store called "

Manufaktura

,"
and they sell locally-made hand-crafted items.

Awesome!!
I bought a Christmas ornament for ourselves and
a table cloth with folk-artsy patterns for my parents.

As a cherry on top of souvenir extravaganza,
we bought this for Steven.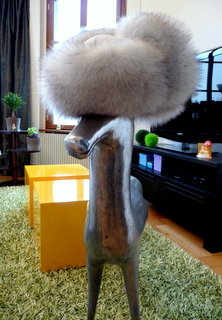 A Ushanka hat with blue fox and rabbit fur.
Since it wasn't exactly priced like the fur hats
in the generic souvenir stores, Steven had to think
about the hat for a day or two to be sure.
But, this is the perfect souvenir from Prague.

At the Prague Airport, we realized we had 448 korunas left.
I went to a crystal store by our gate, and found this.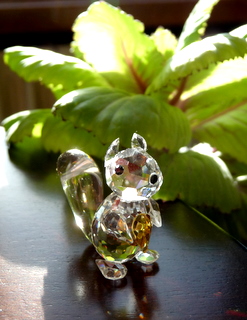 A crystal Squirrel.
This was priced at 450. So I was lacking 2 korunas.
Mustering all the charm I got, I said, "This is all the cash I got."
She gave me a discount ; )

Sometimes it is time consuming to get souvenirs,
but it's a fun adventure.
We got lucky and found what we liked this time.
But even if we didn't, we'd always have wonderful
souvenirs of places we visit inside our heads.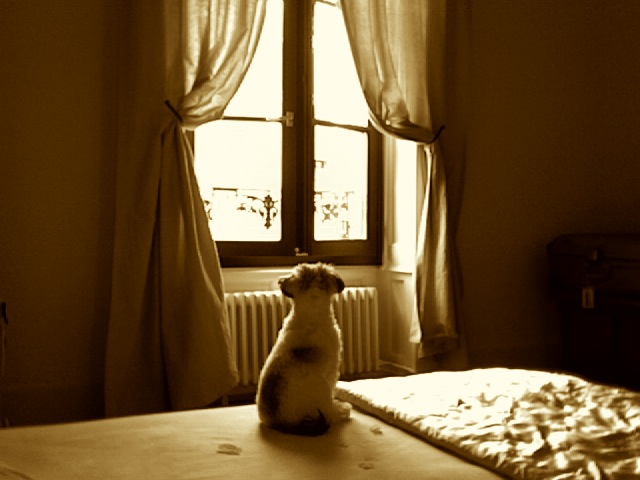 気まま我儘に生きるYasの人生を、正直率直に、そして飾らなく語るブログです。 This is a blog where Yas talks about his life in a foreign land seen through his bizarre and frivolous, yet sincere eyes
by Yas-Unprescribed
ブログパーツ
このブログに掲載されている写真・画像・イラストを無断で使用することを禁じます。Copyright © Life Without A Prescription - 処方箋無しの人生 All Rights Reserved