My First Trip to Italy: Milan


I'm rather well-travelled.
But I had never been to Italy before this trip.

So, although people say Milan is not typically Italian,
I couldn't help but expect that Italian "dolce vita".



Before getting there, I did some research.
I read some blogs about Italy and what not,
and some remarks like "The Japanese are always ripped off",
or "I was harassed by men selling pigeon food at the Duomo.",
made me a little nervous and anxious.

What if I become a victim of these things??

"Well, you were worried about pick-pocketing in Prague,"
Steven said to me,
"but nothing bad happened!!"

Right, he's right.

I tend to worry way too much.

So, I thought,
"Let's not worry about the pigeon men or the hotel being old."

Plus, I had my personal guide who was going to accompany me.
Sheeta, that's her name, let's say.
We used to hang out a lot in San Diego until she moved back
to Milan a few years ago.
It was really awesome to see her again.
And even though she modestly insisted that she was a bad guide,
I think she was quite good at giving me the historical facts.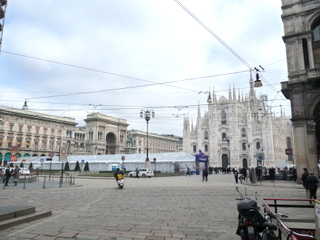 The famous Duomo and Galleria Vittorio Emanuele II.

Duomo di Milano took five centuries to complete.
So, the building is a mixture of various architecture styles.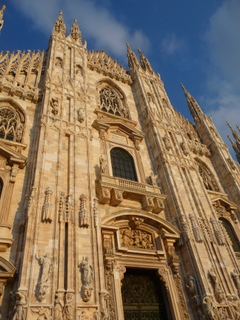 Duomo in the twilight.
I was amazed how clean and white the building was.
Sheeta told me they just cleaned it a few months ago.

Galleria Vittorio Emanuele II is a glorious shopping arcade.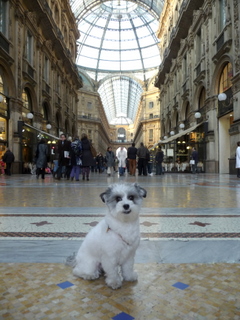 The floor is beautifully tiled, and some of the luxury brand stores
are found here. Like Prada, Gucci, Louis Vuitton, McCafe(?).

One of the thing to do there at Galleria is this.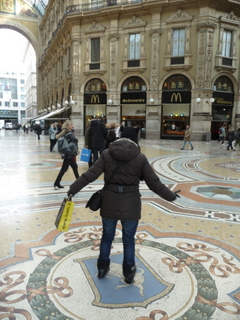 Sheeta stepping on bull's balls.
It is said that if you turn three times on the balls of the bull mosaic,
it'll bring you good luck.
Because so many people do it, the "precious" pieces are missing,
and they have to be replaces every year.

After lunch, we went here.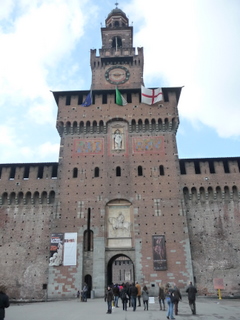 Castello Sforzesco.
It's a castle build by the Sforza family.
The castle is surrounded by a dried moat.
The moat was now inhabited by numerous cats.
We saw at least 10 of them. It was kind of eerie.

Because I haven't been to any other Italian cities,
I can't say for sure, but Milano seemed plenty Italian to me.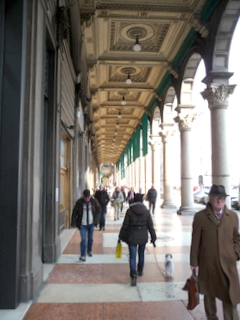 Especially a picture like this.
Sheeta and Truffle walking in a columned passage.

We regrouped in the evening to go experience something
typically milanese: Aperativo.
Starting 5 p.m., bars and cafes in Milan starts offering
Aperativo, also known as Happy Hour.
You can go to a bar, buy a drink, and you are welcomed to
enjoy all you want at the buffet. They don't offer serious food,
but depending on where you go, you can eat plenty.

We went to a bar called "Roialto".
Very crowded and very chic.
We were now joined by Sheeta's brother and her boyfriend.
The brother, Asbel, had made a reservation for us,
but apparently, the person who answered the phone didn't
understand Italian very well, and our reservation wasn't found.
Anyway, we enjoyed being there and each other's company.

Then we went to a restaurant.
Asbel drove, but that was a thrilling ride, to say the least.
I don't think I could ever drive in Italy. It's horrifyingly disorderly.

But aside from the Italian driving rules (or the lack there of),
I had a fabulous day in Milan. Mainly thanks to my wonderful amica.

Although my so-called 4 star hotel room smelt stale and art-deco,
it didn't bring down my excitement for the following day.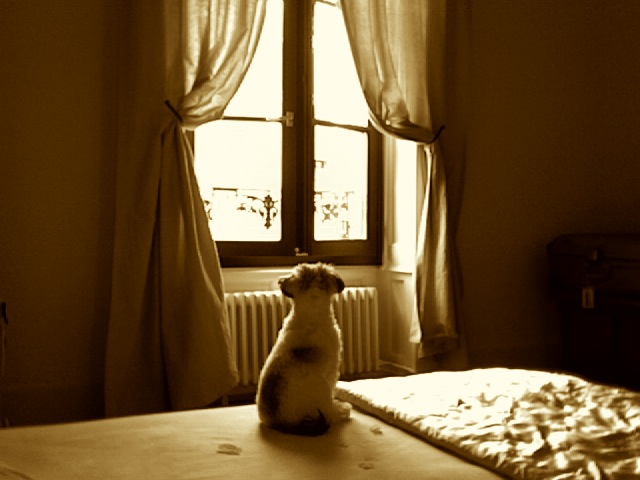 気まま我儘に生きるYasの人生を、正直率直に、そして飾らなく語るブログです。 This is a blog where Yas talks about his life in a foreign land seen through his bizarre and frivolous, yet sincere eyes
by Yas-Unprescribed
ブログパーツ
このブログに掲載されている写真・画像・イラストを無断で使用することを禁じます。Copyright © Life Without A Prescription - 処方箋無しの人生 All Rights Reserved