Festival du Chocolat vs. My Chocolate Cake


Chocolate.
It is fundamentally Swiss.

It's no surprise that they have a festival for it!!






Of course, again, it's Steven.

He always comes to me, his eyes shiny and hopeful,
with proposals of these miscellaneous festivals or what not.

But unlike last time , I was more than willing to participate.

Who can resist chocolate?!

When I was little, I didn't like sweets, except for chocolate cakes.
Mommy got me chocolate cakes all the time from the nearby patisserie.

I've known some people who doens't like or are allergic to chocolate.
A true misfortune, I'd say.

The festival was in a town called Versoix, 6 miles away from Geneva.
Steven's friends picked us up in a car, and we were there in no time.

The festival was held inside a huge temporary tent,
and the inside was full of people and chocolate when we got there!!

But my goodness, so many people.
Getting samples was like a war. A lot of pushing and shoving.

At first, I was enthusiastically trying everything, but it got old quickly.
After my 5th sample, everything started to taste the same.
I love truffles, and I was disappointed to find only one stand with
truffle samples. But I did find some good stuff.

Like this.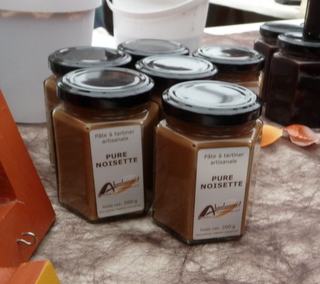 Pure Hazelnut Spread.
Creamy, rich, and heavenly.

I thought of buying it, but I had just bought Nutella, so I passed.

Next,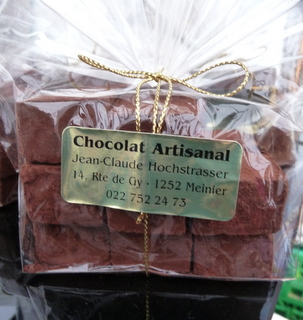 I really liked this one.
Lovely texture, it just melts in your mouth. Mild and not acidic at all.
But when I saw the price, I decided I didn't like it THAT much.
That little bag of chocolate cost about 13 - 15 dollars, I believe.

Yeah, this is what struck me as odd: How much chocolate costs here.

One expects, when the supply is high, the demand is satisfied,
and so the price remains low. But this is not the case.

Maybe what I'm saying here is like,
"Oh, since sushi is from Japan and Japan is saturated with sushi,
it must be cheap in Japan." And of course it's not the case.

First of all, it was stupid of me to have expected anything to be cheap
or affordable in Switzerland.

Maybe I should be grateful that there was no entry fee
and there were free samples.

Look,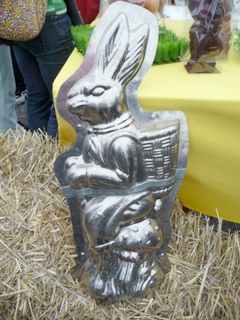 A rabbit-shaped mold.
Isn't this adorable?! It would make a great home décor.
Since Easter is just around the corner, there were quite a few
egg- and rabbit-shaped chocolates there.

From adorable to beautiful.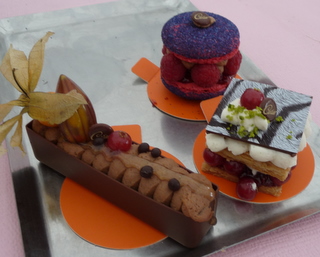 Some stands were offering beautiful cakes like these.
Again, we thought of getting some, but we didn't.
And the reason is not entirely about the price.
It was because of this.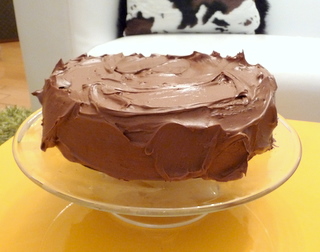 My first homemade chocolate cake.

Because we still had half the cake in the fridge,
we didn't want more temptations at home.

Since this is my very first real cake that I baked,
I made some errors.
(like I used egg white instead of yolk, then after realizing the mistake,
added the yolk, so by the end, I used a whole egg.)
Yet, overall, I think I managed ok.
To be honest, it was more to my liking than a lot of cakes in Geneva.

Another point for Yas, and still no point for the Genevois pastries!

Because all of us got burnt out of chocolate rather quickly,
we came out a lot quicker than anticipated.
Maybe we spent 30 minutes in the tent?

Outside, I found this bizarre thing.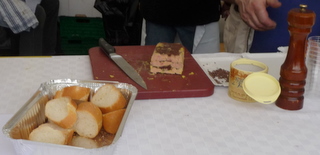 Liver pâté with chocolate.

I wonder what it tastes like.

I was a bit disappointed in the festival,
but at least it was something new to try.

Now the cake is all gone, tonight, I made truffles at home
like the ones I liked from the festival.

I'm not gonna upload the picture of the end product here.
The chocolate and the oil separated and it doesn't look pretty.

Better luck next time



So I guess that's a point to the Genevois chocolatiers!!
This battle will continue...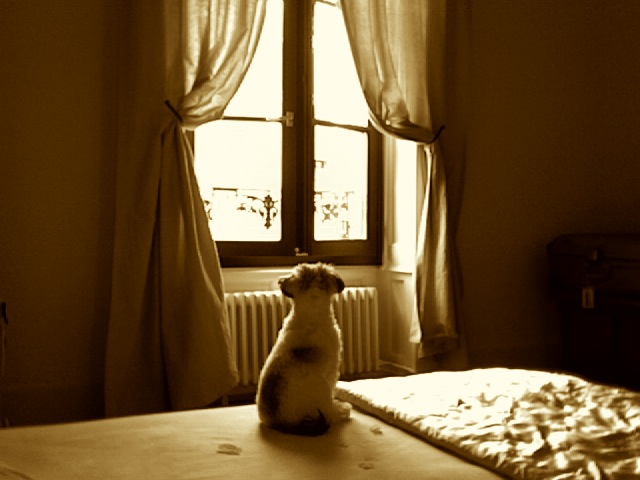 気まま我儘に生きるYasの人生を、正直率直に、そして飾らなく語るブログです。 This is a blog where Yas talks about his life in a foreign land seen through his bizarre and frivolous, yet sincere eyes
by Yas-Unprescribed
ブログパーツ
このブログに掲載されている写真・画像・イラストを無断で使用することを禁じます。Copyright © Life Without A Prescription - 処方箋無しの人生 All Rights Reserved