Rainy Désalpe in Charmey


During the Summer months,
cows go up the mountains for a grazing retreat.

Now that Autumn is setting in, they're back.

This Désalpe, "descent from the mountain pastures",
is a must-see, traditional and authentic Swiss event.



We left early in the morning for Charmey.

In rain.

The weather forecast was miserable.
Rain. Temperature wise, Highest was 8℃ and lowest 2℃.

So out came our winter gear.

Fully protected from the cold, including Truffle's paws,
we got there just in time for the first parade.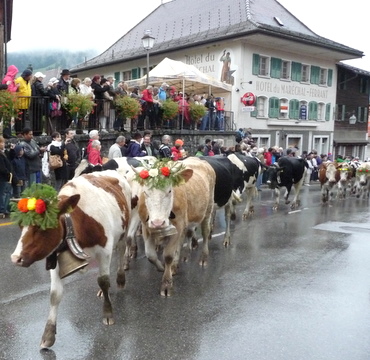 Holy cows!!

The Armaillis, the cattle shepherds, are dressed
in their traditional wear called "Bredzon".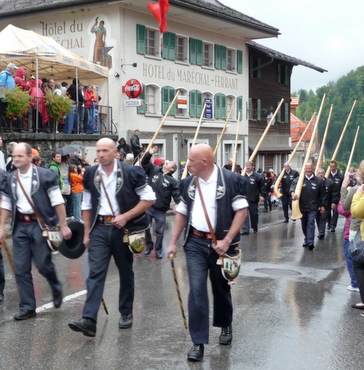 These navy colored jackets are embroidered with edelweiss on the lapels.

Traditionally, these shepherds go up to the mountains for 4 months,
staying in a chalet, taking care of the animals.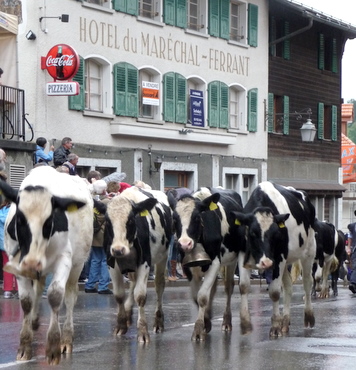 The parade took place throughout the day.
Different herds and farmers marched through the town every so often.
I had thought they would all come at once.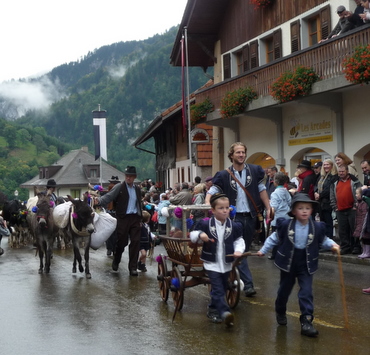 Even young kids were dressed up and helping out


Donkeys in the back were doing their parts, too.

Sometimes the cows got a little excited and started to run,
but mostly, they were mellow and well-behaved.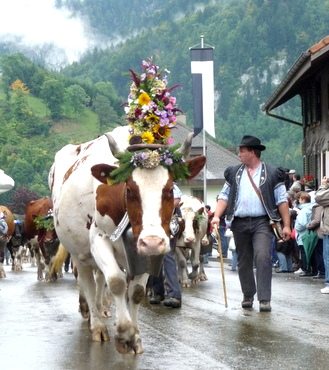 I thought this one was very pretty in particular.
Many of the cows were decorated with flowers, and of course, cowbells.

I thought men in the bredzon looked quite sexy.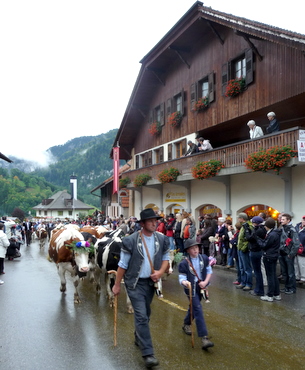 The women also wore their traditional attire called Dzaquillon.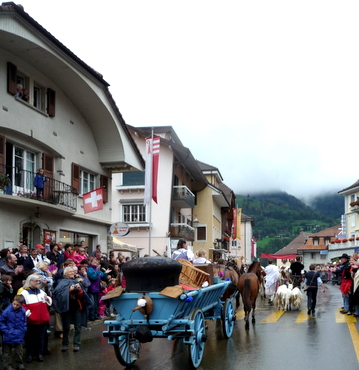 There weren't many ladies in the parade,
and so I couldn't get a good picture of the costume.
But it's a criss-cross patterned dress with a single colored apron.

In between the parades, there were music and other entertainment.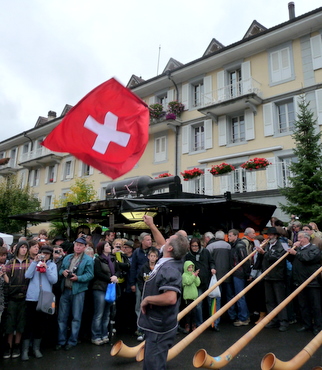 Flag throwing and the alpine horns.

Oh how Swiss was the day.

Although it sprinkled the whole time we were there,
the weather was totally manageable.
I thought the mist and the fog added certain romance in the air.

At first, we were discouraged by the weather.
But I'm glad we came. It was worth it.
Pretty cows, lovely dairy products and sexy men.
Can't complain



Thanks for reading my blog!!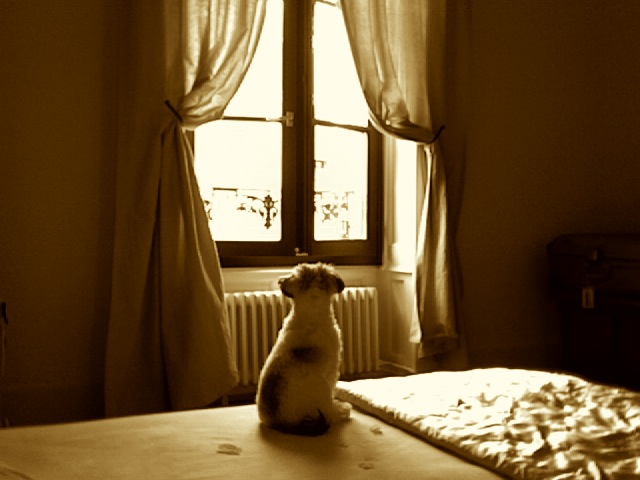 気まま我儘に生きるYasの人生を、正直率直に、そして飾らなく語るブログです。 This is a blog where Yas talks about his life in a foreign land seen through his bizarre and frivolous, yet sincere eyes
by Yas-Unprescribed
ブログパーツ
このブログに掲載されている写真・画像・イラストを無断で使用することを禁じます。Copyright © Life Without A Prescription - 処方箋無しの人生 All Rights Reserved