Shinjuku Early Birds

By 7:30, we were out the door.
By 8:30, Steven was on the Skyliner to Narita.

This was the morning he left Japan.

But I didn't have time to lament.

I had a plan.
So, I headed for Shinjuku.

By the time I got there, I was starving.
Guess what I had?

This!!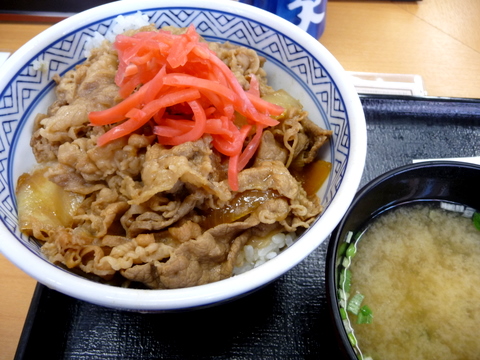 Gyudon at Yoshinoya.

Some of you might think it's a bit too early for this?
9:00 at the time.
Very satisfying, it was.

I was gonna go to an Internet / Manga cafe for a while,
but a new change prevented me from doing that.
I needed to sign up to be a member, and I need a picture I.D.
Since all I had was my Swiss I.D., I couldn't register.

Instead of Mange cafe, I came here.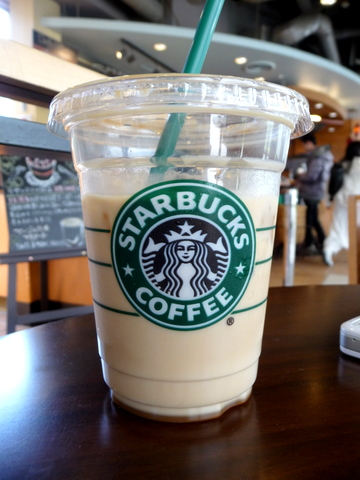 Starbucks at Southern Terrace.
Predictable, am I?

That day happened to be their 17th (I think?) anniversary.
I didn't realize this branch has been there that long.

After an hour or so of relaxing,
my friend Colline arrived in Shinjuku.

It'd been almost two years since I saw her last.
She's become more Japanese AND sexy.
The sand from San Diego beach is thoroughly washed off of her.

Straight away, we hit Yodobashi Camera.
Even the banality of buying a new fridge
was turned into an adventure with her



Once mission accomplished, we were ready for lunch.
After wandering around sky-scrappers,
we arrived at the target restaurant.
Pizza Salvatore Cuomo & Bar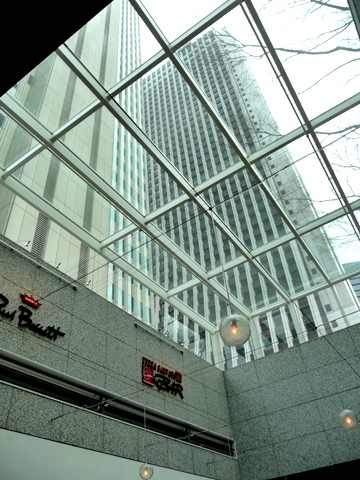 Colline said "we'd be buried underground if a major earthquake hits"
And I said looking at the ceiling,
"All the glass panes would break and fall over us."

What happy thoughts...
But in times like these, I'm sure everyone wonders about that.

This Italian buffet is known to be popular and is always full of people.
But that wasn't the case when we were there.
I thought, "well, I guess in times like these..."

Before I could finish my thoughts,
we were standing in line with plates in our hands, eager to eat.

Now, here's what Colline had.


Nicely plated, wouldn't you say?

Now, look at mine...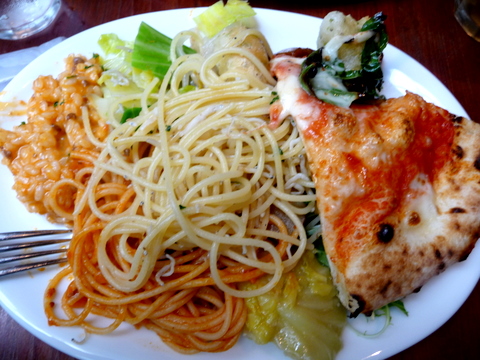 Compare hers to mine!
After a quick survey of the restaurant,
I noticed that I'm the only one person
who pell-melled the food into a pile of mess.

The damage has been done, I felt a bit embarrassed...

I remembered the first time I went to a buffet in the U.S.
I was shocked by the amount of food people served on the dish.

Now who's talking??

Everything was well made, I especially enjoyed the pizza!!
After the 3rd helping, I was desperately stuffed.

When we left, the empty restaurant was no longer so.
There was a line of people waiting to get in.
We were lucky to come early enough



After we bid sayonara, I stood alone on the platform of the Chuo line.
Suddenly the feeling of forlornness washed over me.
In uncertain times like these, I felt even more disquieted.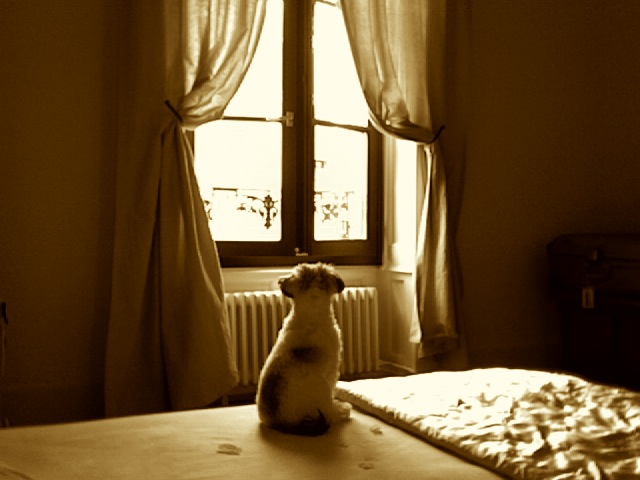 気まま我儘に生きるYasの人生を、正直率直に、そして飾らなく語るブログです。 This is a blog where Yas talks about his life in a foreign land seen through his bizarre and frivolous, yet sincere eyes
by Yas-Unprescribed
ブログパーツ
このブログに掲載されている写真・画像・イラストを無断で使用することを禁じます。Copyright © Life Without A Prescription - 処方箋無しの人生 All Rights Reserved