There is a luxury resort not too far away from our house.

Since Steven's parents were more than happy
to take care of the doggy prince,
a date night was in order.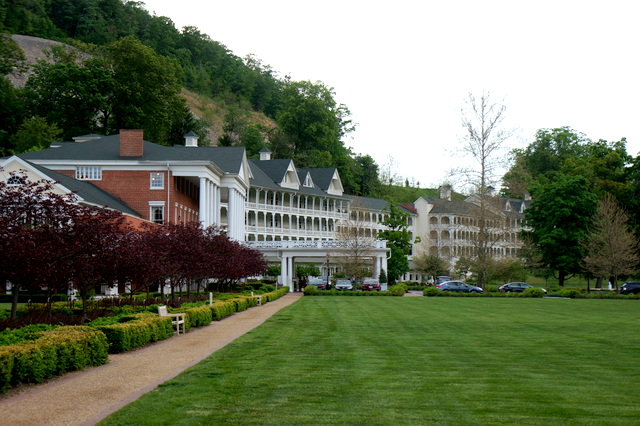 The hotel recently spent 90 million dollars for renovation.

The interior was decorated beautifully.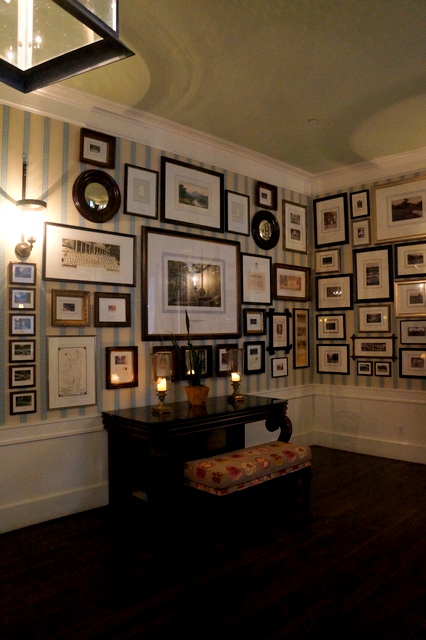 Colonial chic, is it?

We drove there in a pick up truck.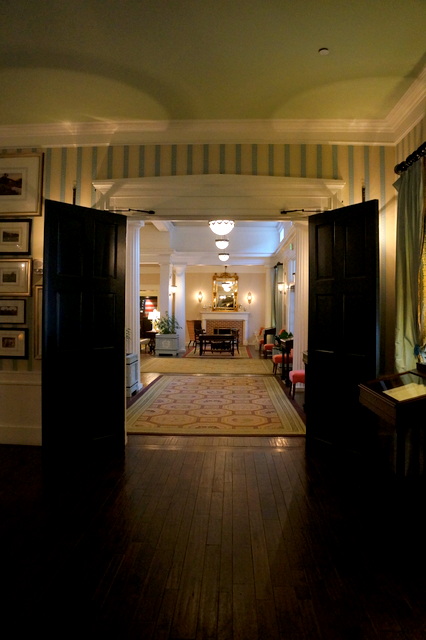 Not the most romantic choice of vehicle, but practical, I guess.

Our seats were actually a sofa.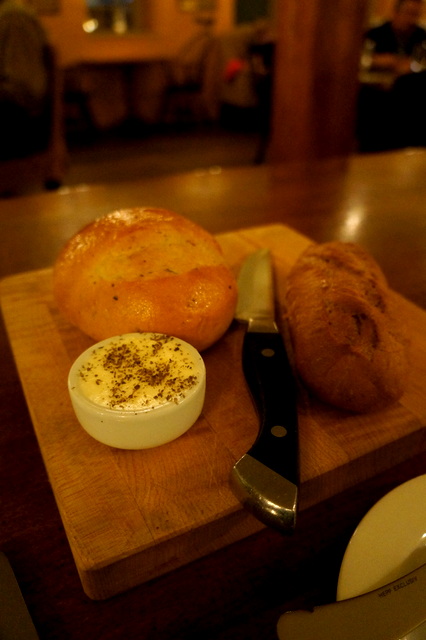 We sat side by side, looking out at other guests.

Comfy.

I wasn't that hungry,
but since everything sounded good,
and because they seemed to be reasonably priced,
I ordered a lot.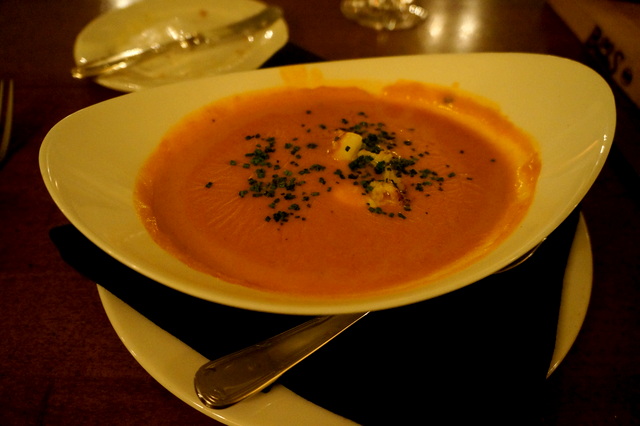 Lobster bisque.

Caesar Salad.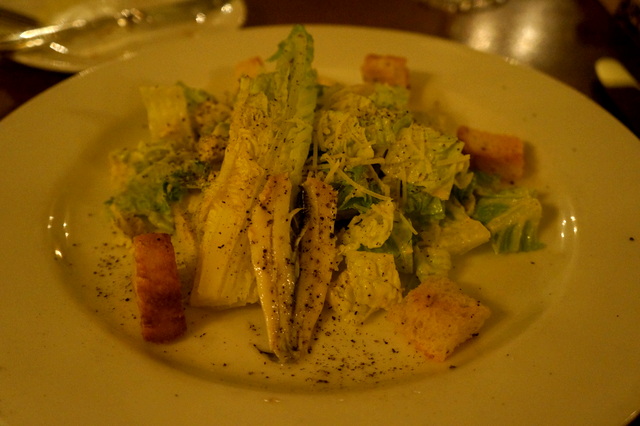 When I ordered, I forgot about the portion size.

By the end of my salad, I was ready for the check.

But.

This came.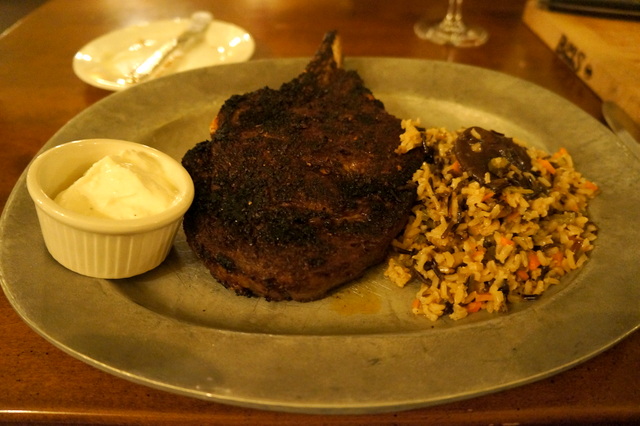 HUGE.

The meat was delicious.
Charred outside, pink inside.

The rice on the side wasn't very good, though.

I probably had 4 bites.

If I had one more bite, I think I would've gotten sick.
"To go, please!"

As we were leaving, it started to rain.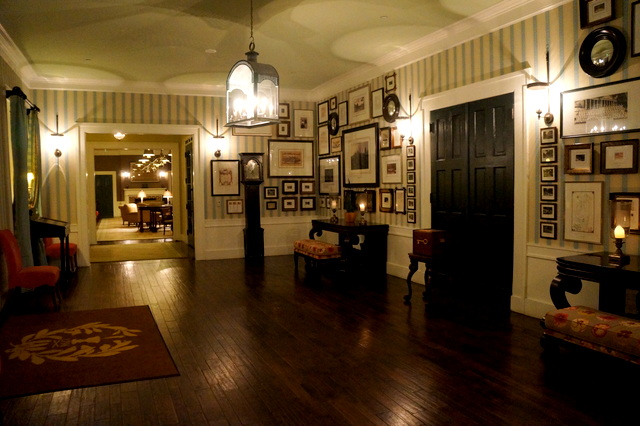 I love to have a foyer like this.

The car navigation sent us somewhere obscure,
and I felt like I was in a horror film.

We were in the middle of nowhere.
The road was no longer paved, and if we weren't driving a 4x4,
we would've gotten stuck.

Dark, quiet, just rain.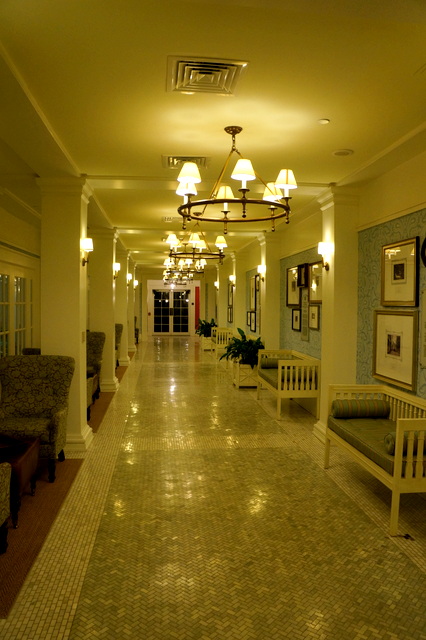 In a typical horror movie,
the car would break down.

Then when we are completely stuck and isolated,
they would come to kidnap us.

They would eat Steven alive while I watch.
After he's devoured, it'd be my turn...

Well, thankfully, we made it home in one piece.
But I tell you, I was seriously scared.

Or do I have an overly active imagination??




2週間半の日本滞在はあっという間に過ぎ、
一息ついたと思ったら今度はアメリカへ。 

ま、お里帰り。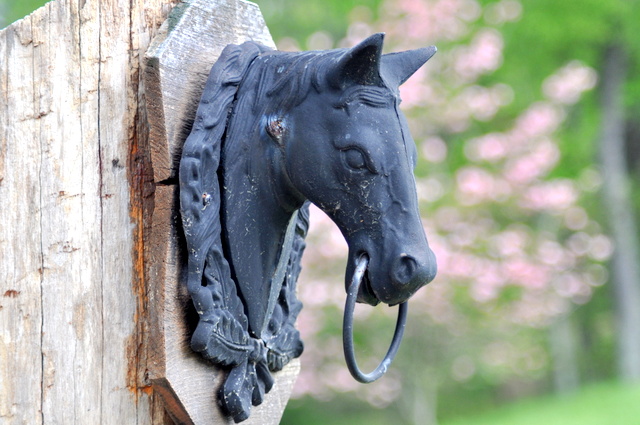 ヨーロッパに居ると、反米の人が本当に多いけど、
僕にしてはやはりアメリカは第二の故郷的な存在。 

問題は有るのは、どの国だってそう。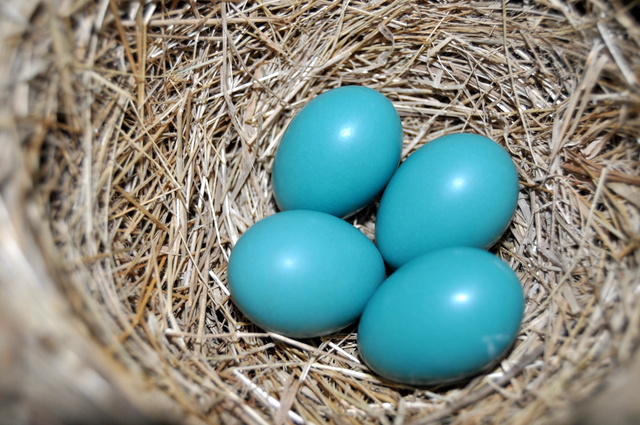 毎日凄く忙しくて、ゆっくりのんびりダラダラしたかった僕には、
こ〜んなド田舎に来るのは実は好き。

とっても鮮やかなアメリカロビンの卵。 
孵化するちょっと前。

今回はDC郊外のモール、アウトレット、
実家から1時間先のアウトレットにも行ったし、
なにしろ付く前からオンラインで買物したから、
行きの手荷物は少なかった。
(だって、ワイシャツ8枚ネットで買ってあったしね。)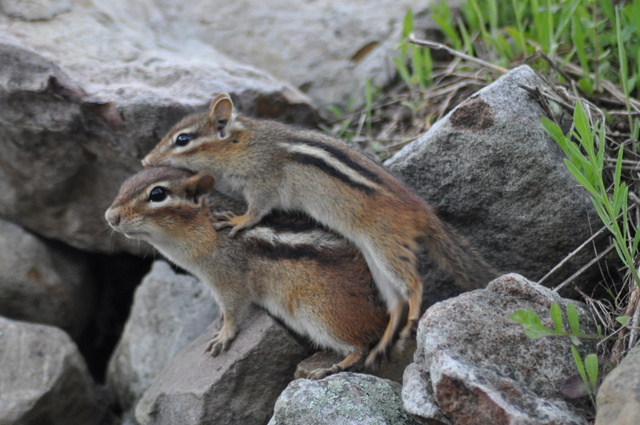 スティーブンは先に行って、3週間弱。
僕は後から来てほぼ2週間いたのかな。

足りません。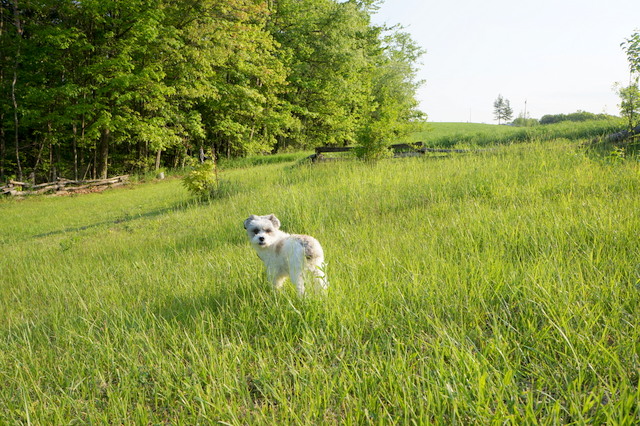 やっぱり綱無しに走り回れるし、トリュフもここに来るのが大好き。 

義理両親もトリュフの事を孫の様に大事に扱ってくれるしね。
(トリュフにこーしないで、あーしないでって僕が言ったり。)
子供とかわりがない。。。

子供と言えば、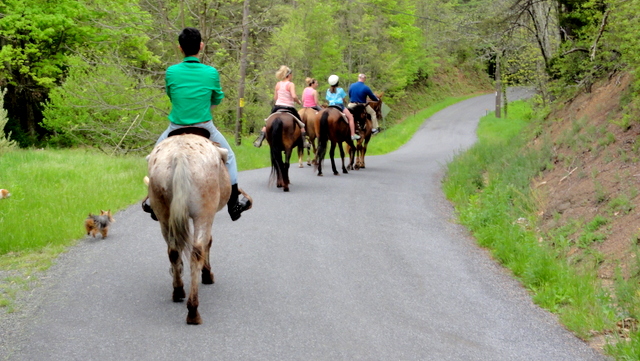 今回は義弟家族がみんなで遊びに来ていて、
ちびっ子達。3人とも女の子。 

みんなで乗馬に行って来た。

11、8、5位の年齢かな?
全員ませてます。

僕は基本的に子供が苦手だから最初は不安だけど、
慣れるとやっぱり可愛くなる。
そして何故か懐かれる。。。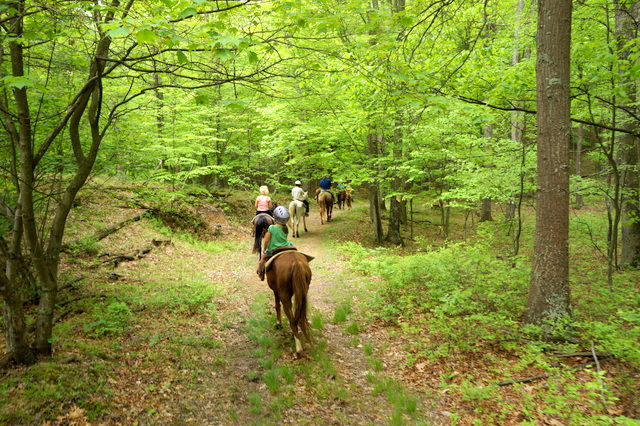 スティーブンの実家は本当に山の中。
だから、乗馬をするにも、山越え、森を抜け、川を渡り、
草原を横切りと、乗りごたえがある。 

馬を借りた牧場にて。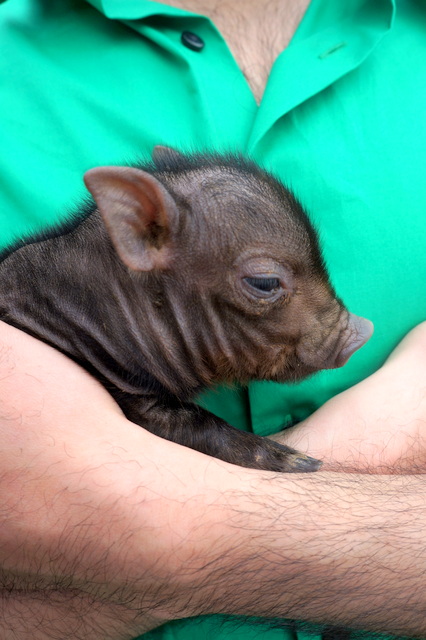 豚の赤ちゃん。

子供達+スティーブンは大興奮。
パパラッチ状態。

僕は別にどうでも良かったけど持たされて写真も取られた(苦笑)

でも、

抱いてしまうと感情移入してしまうみたい。 
かわいい〜〜



やっぱり抱いてしまうと感情が入るのは人間。
って、ちょっと違う?

約8キロ乗馬したせいで、お尻がチョ〜痛かった。
座るのもひと苦労。
ぜったい痣になってた筈。

そんな同日、今度は違う乗り物。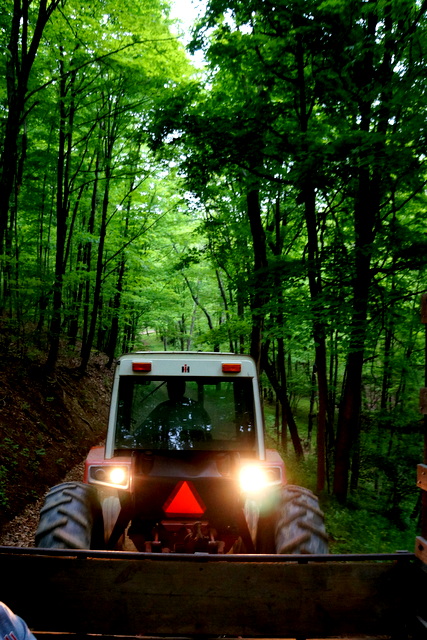 夕方はHayride。

スティーブンのお父さんが知り合いに頼んでトラクターを手配。
後ろの貨車には、藁のブロックを積み重ねて席にしてみんなで乗る。

それで山の中をゆっくりとドライブし、みんなでビールを飲んだり。
15人くらい乗ってパーティータイム。 

ドライブ自体は景色が綺麗。
なんか(赤首)ディズニーランドのアトラクション的。

とってもカントリーな一日でした




I missed this event the last time I was in Japan,
so I was glad to have made it this time.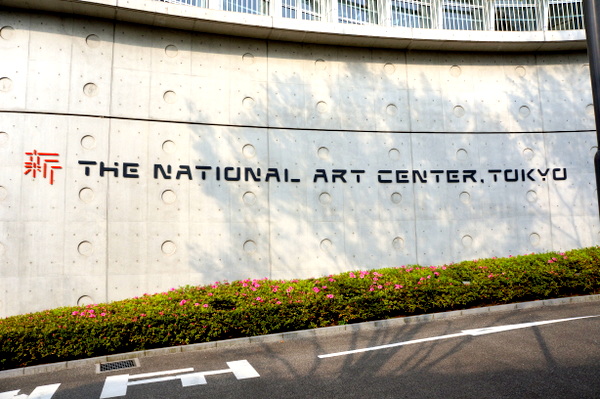 My first destination: The National Art Center

During the Roppongi Art Night,
most participating venues are free to enter and stay open later than usual,
and there are shows and events throughout the day + night.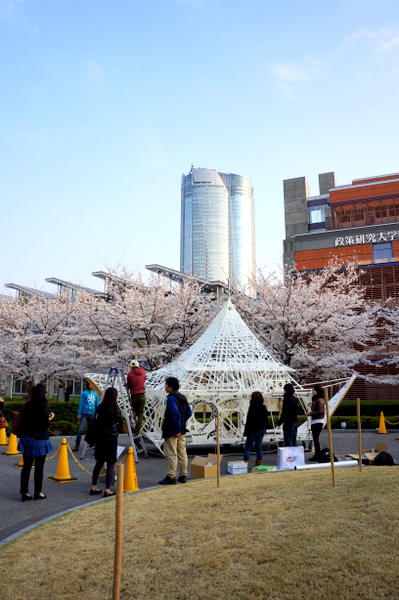 Just for one night.

When I arrived, it was rather warm.
But a couple days later, it'd become cooler.

Because I was gonna stay out all night in Roppongi,
I came fully equipped.

Foldable down jacket, big camera, scarf,
iPad mini, various adapters and chargers, etc.
My bag was so heavy...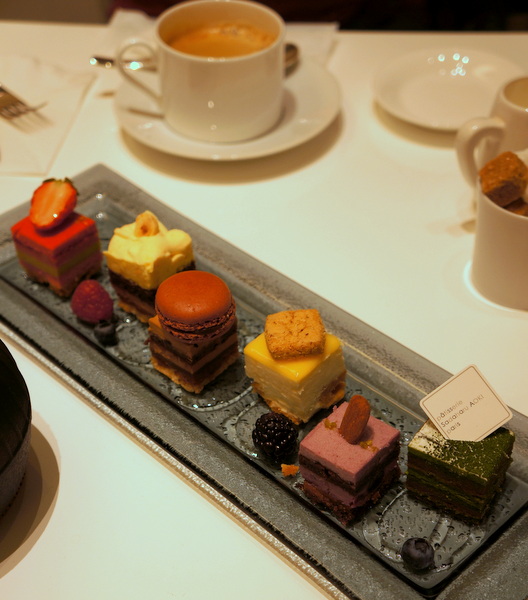 I also enjoyed edible art



Jet-lagged and walking non-stop, I needed this break.


It was nice to catch up with an old friend.
Schedule conflict prevented our annual get-together trip,
but I'm glad that I got to see her.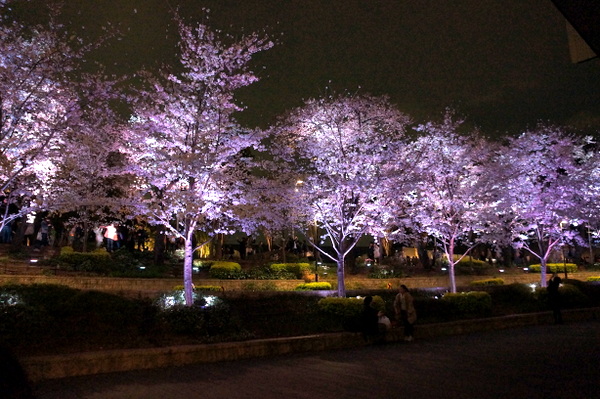 Thanks to this unpredictable, bizarre weather,
the night was blessed with the cherry blossoms.

Soon, it was past 8.
I was quickly loosing steam and needed to refuel.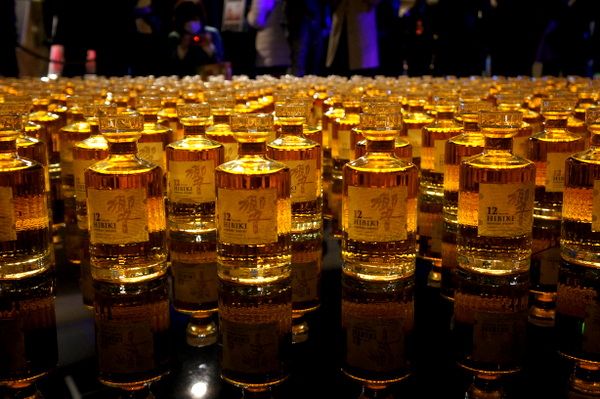 No, not with whiskey.

But with some Italian food.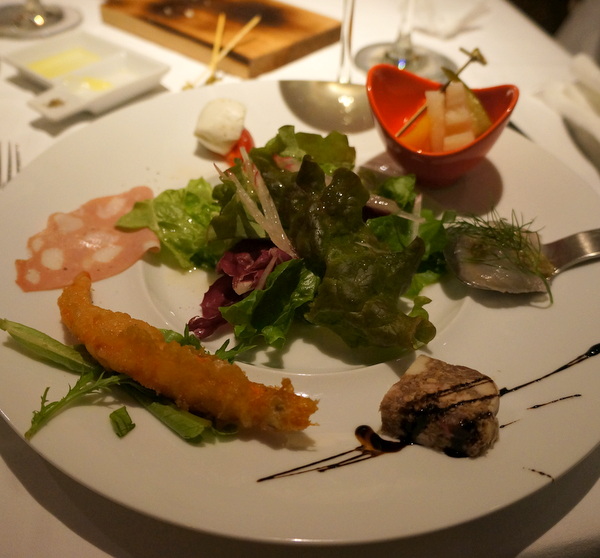 A bit of this and a bit of that.

Pizza Margherita.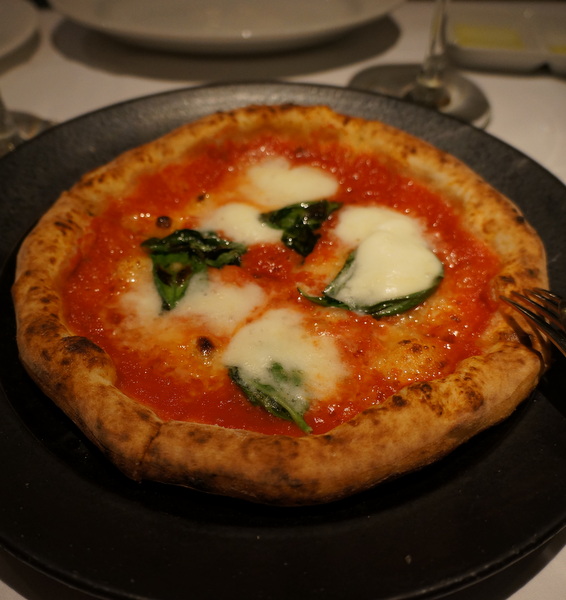 Carb 1.

Spaghetti Bolognese.


Carb 2.

Ice cream.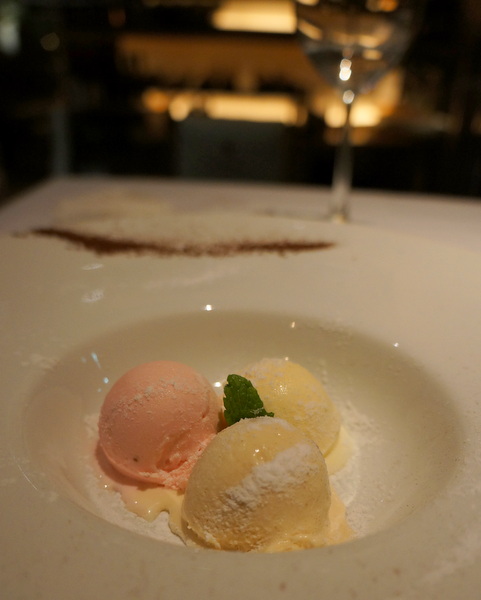 Carb 3.

By the end of the meal,
I was ready to go home.

My boots were killing my feet and I was about to fall asleep.
Like any sensible person, I took the train and went home



I'm not young anymore, am I!?

Being in Roppongi reminded me of the time I used to work here.
That was more than 10 years ago.

How time flies!!!




It's been a week since I've come back to Geneva,
but I had been gone to Japan for almost a month.

This time, I arrived at Haneda Airport instead of Narita.
I thought it'd be convenient, but the bus I wanted to take,
was not available for three more hours.

So, I decided to hop on a bus that goes to the Sky Tree.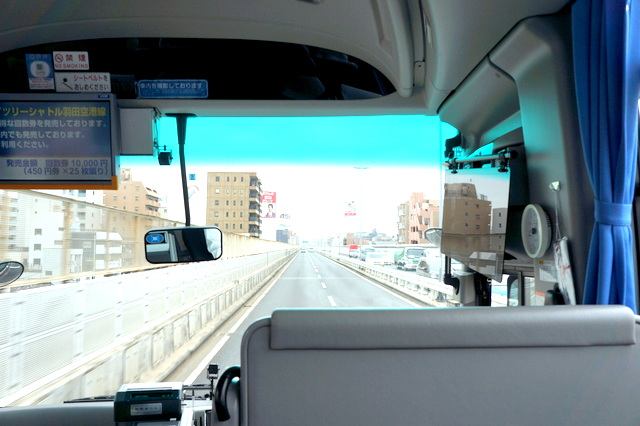 It was less than 10 francs one way.

And horrifyingly, I was the only passenger on the bus.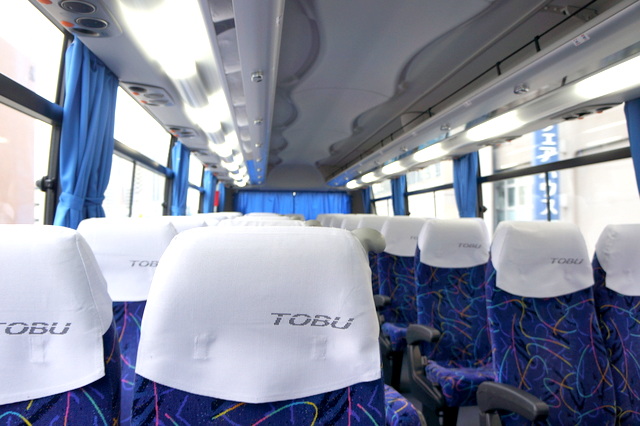 OMG.

The driver, gas, highway fee and everything included,
all that cannot possibly be covered by my 800 yen ticket.

Luckily, it was a holiday and there was no rush hour nor traffic jam.

What a bizarre way to go home.
What a bizarre way to start my visit in Japan...

I have to say I did enjoy the quiet




昔、この写真に写っているアパートに住んでいた。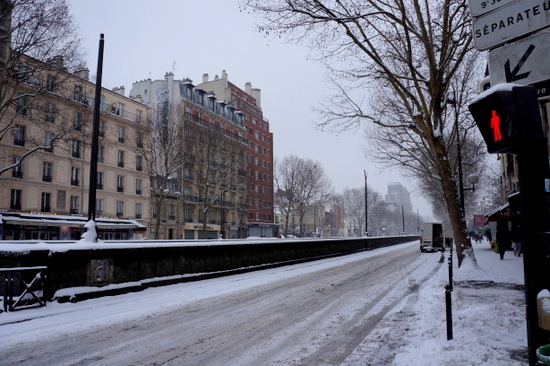 3ヶ月だけだけど。

でも、超有名なクリニョンクールの蚤の市が
直ぐ近くに有ったのを知ったのはごく最近。

珍しく今回は日曜日のパリに居たので、足を伸ばしてみた。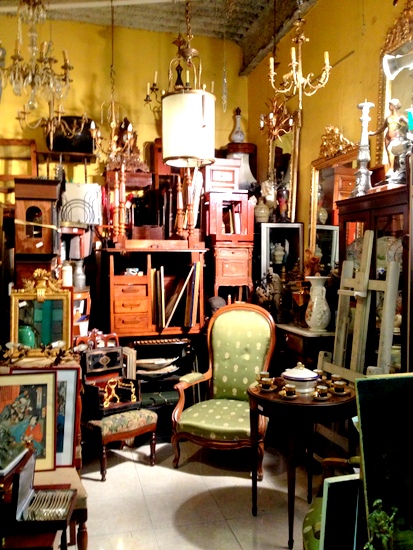 極寒。。。
僕の足が余りにも冷たいからスティーブンの靴と交換する程。

もっと屋内の市に来ると有る程度はましに。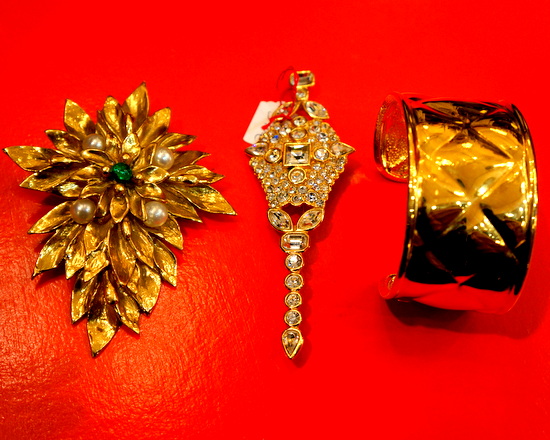 ヴィンテージのファッションアクセサリー

欲しかったけど結構なお値段。
ここの蚤の市は観光客が多いから値段も高いと有名。

でも、確かに品揃えは素晴らしい。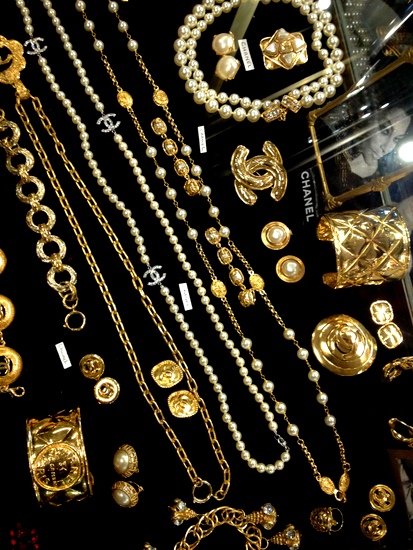 全部ヴィンテージ・シャネル

見応えが有るお店が多いなか、特に僕の目を惹くお店が。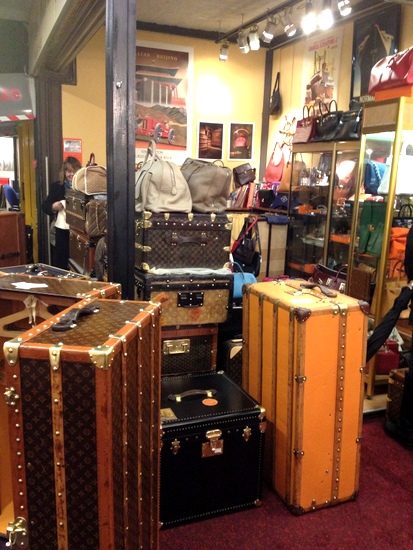 これまた古いトランクが一杯。 
こういうのを一つ買ってコーヒーテーブルにしたい。

このお店はこんな物も置いてある。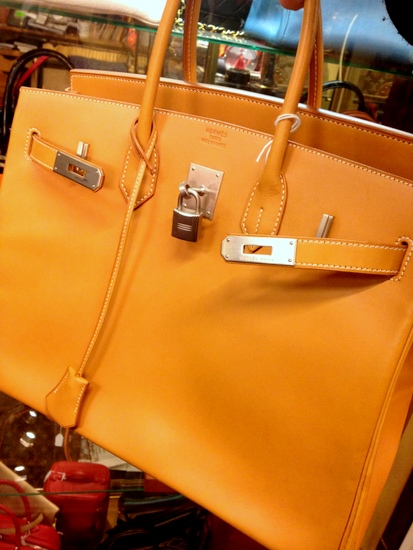 バーキン。

これは35、ヴァシュ・ナチュレル、マットメタル。 

こういう色は余り好みじゃないけど、でも手触りが非常に良い!
この金具、ユニークだし、不思議にマッチしてて、
見れば見る程に魅了される。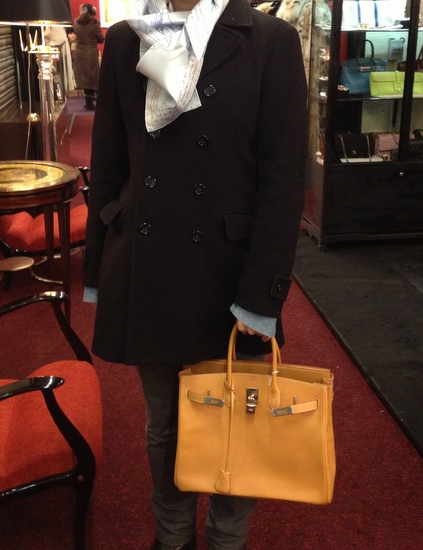 でも、サイズ35、僕には小さ過ぎるんじゃないかな? 

エルメスに行っても、35と40が両方ある事はまずない。
だから、サイズの比較検討が出来ないけど、ここには40もある。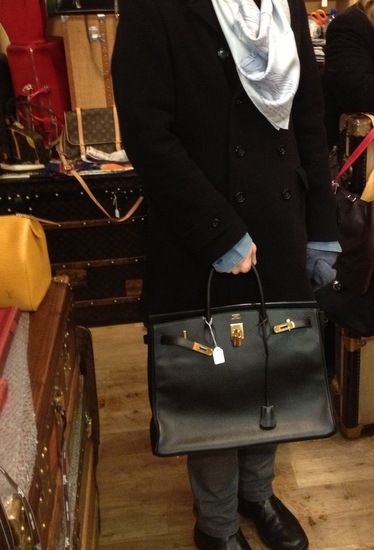 う〜ん。。。 やっぱりまだ決められない。。。

前には40の方が僕の身長には良いって言われたけど、
でも35でも別にいいんじゃないかな? 

35の方が軽めだし、運び易いし、
純粋にバッグのプロポーションを見た時には美しい。

ただ、バーキンはバーキン。 
所詮は女性物のカバンだから男が持つなら40? 

い〜ったりきたりで埒が開かない。 

でも実はこの時には既にバーキン40を注文済みだから、
今更迷ったってしょうがないけど。

でもこのバーキン35、僕が余りにも愛おしそうにみてたから、
スティーブンは

「欲しいなら買えば? 後悔しない様にね。」

って。

そんな事言われても(いつ来るか分からない)新品注文してあるし、
金具の下の所に、傷が付いてるし、こんな大金蚤の市で叩けません。 

また極寒の中、(懐は暖かいけど)手ぶらで、後にした僕ら。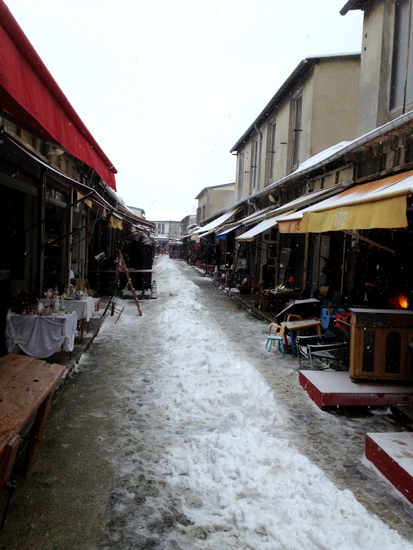 帰り道に、
またスティーブンが、
「あんなに気に入ってたんだから、買えば良かったのに。」


なにそれ。 
地下鉄に乗ってから言うなよ。
もっと押してくれないと清水寺からは飛び降りれないよ。

ま、結論として、35と40の両方を持つのが最善ですかね。 
言うのは簡単だけど成すのは楽じゃないけどね




After the more-than-hearty lunch,
we made our way to the department stores.

On the way, we walked by one of my Paris favorites.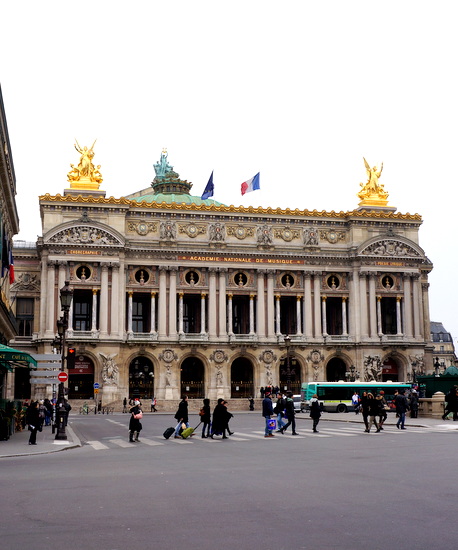 L'Opéra Garnier.

I love the splendor of this building.

Right when I was taking this picture,
I smelled something funny. Something...burnt.

This was the source of the smell.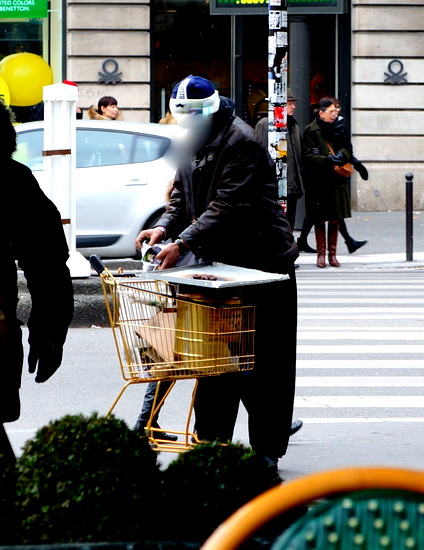 A guy roasting chestnuts on a shopping cart.
An instant roasted chestnut stand!!!

The fumes coming from it seemed toxic.

I know unemployment is bad in France.
But I guess it's all a matter of ideas, huh?

Here's the ultimate question, though.

Who buys chestnuts from this?!






Happy New Year!!!
明けましておめでとうございます!!!
Bonne année!!!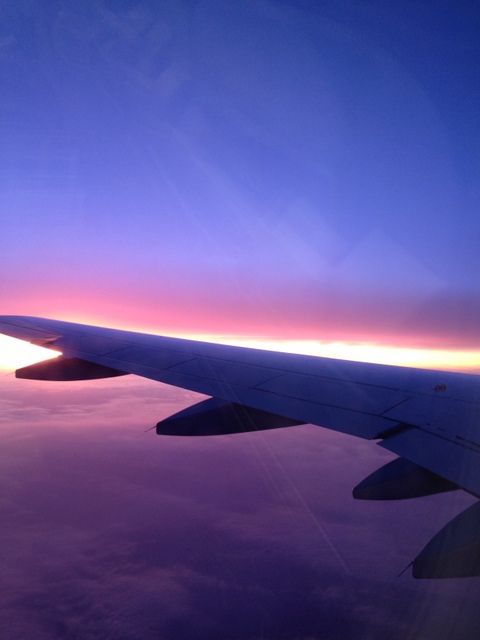 Wow, can't believe it's 2013 already.

I feel like 2012 was a blur!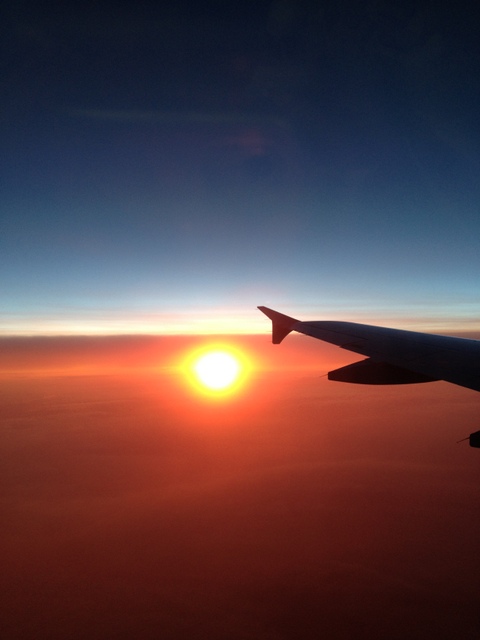 These pictures were taken on the way back from Berlin.

Life makes me tired sometimes.
But then, seeing the sun rise above the horizon,
seeing the colors of the sky change before my eyes,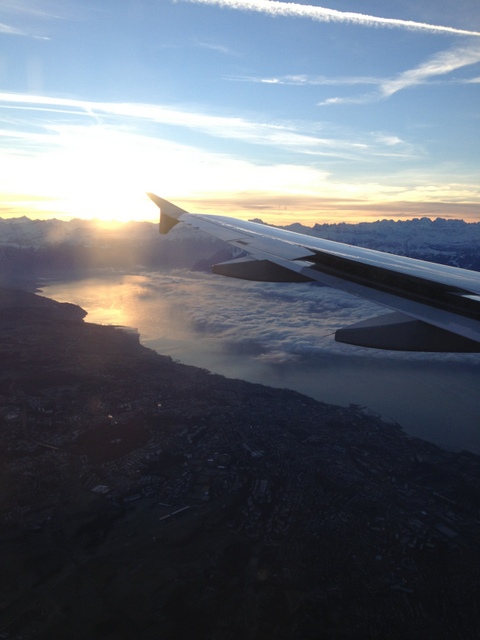 makes me feel that it's worth getting tired for.

I have the horrible tendency of bitching about practically everything.
Well, that's not a nice way to live, is it.
I wanna try to embrace life a little better than now.

After all, I have a wonderful life parter, supportive families,
and patient friends who love me and bear to be friends with me



I have a feeling that this year is gonna be great



Since 2013 is the year of the snake,
Steven created this to take to the last dinner of 2012 at friends'.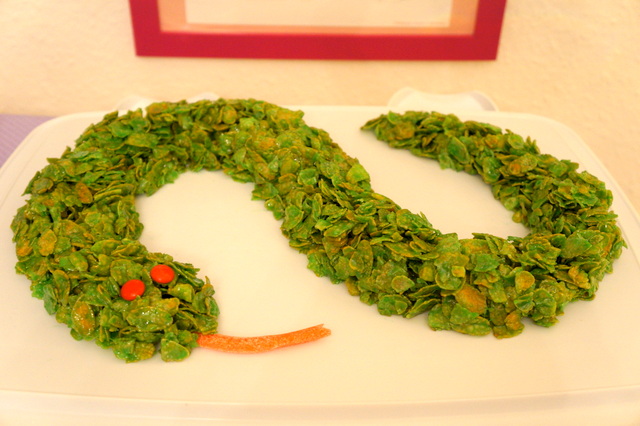 Rice crispy treats made with corn flakes, shaped into a snake!

At the lovely dinner, Truffle made a new friend


We had a great end of 2012 and a promising beginning of 2013.

May your new year be filled with happiness and wonderful surprises!!
今年もどうぞよろしくお願いします




This happened on the last Saturday in August.

We were supposed to go have drinks with the Scottish People.
Around 9p.m.

But the drink didn't go as planned.
Our friends' friends were to arrive in Geneva at 7p.m.
but their flight never left London on time.
By 11p.m, we gave up going out and instead,
I had my late night snacks.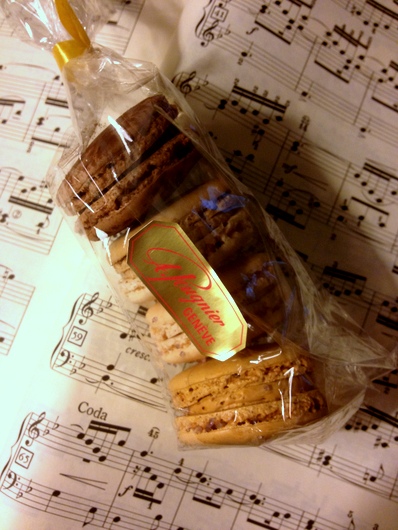 Macarons, of course! It was the weekend after all.

Right around when the carriage started feeling a bit pumpkiny,
we got a text from the SP.
"They're here, we're going out now!"

Steven and I looked at each other.
It's almost midnight. Do we wanna go out??

I was a bit tired, but what the heck, we only live once, right?
We got dressed quickly and left the house.

When we arrived at the Rue de l'Ecole-de-Médecine,
I was speechless.

Young people were spilling out from cafes and bars onto the street.
I didn't know Geneva was this lively at midnight.
But really, it was only this particular street.

By 12:20, I sat down and had a drink.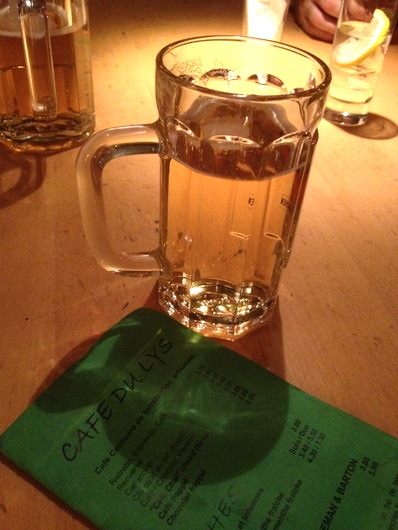 Panaché at Café du Lys.

The friends of the SP were really nice, too.
(from here, known as the Scottish Gays)

We talked about Scotland and Geneva, how our lives are different,
and suddenly, the server comes to us and tells us it's time to go.

It was 2 a.m. already!

Outside, we continued to talk.
"What now?"
"What do you wanna do?"
"What could we do now?"

Well, like I said, it was 2 a.m. in Geneva.
There's nothing we could do.

Or so I thought.

As a joke, I suggested, "We should go dancing!"
To this, the Scottish Lad says, "Oh, we could go to Chat Noir!"

Huh?

Apparently Chat Noir is open till 5 in the morning.

Nobody said "That's a great idea, let's go!"
Nobody said "I wanna go home."

We all didn't want to be the first one to say "I'm tired."
So, this "dare" dragged on, and...

Voilà!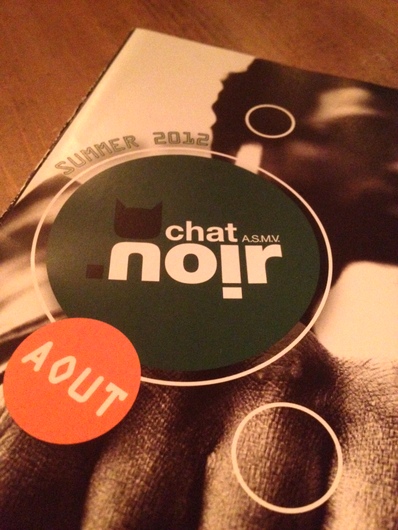 We had to walk about 20 minutes from the previous bar to this bar.

At 2:30.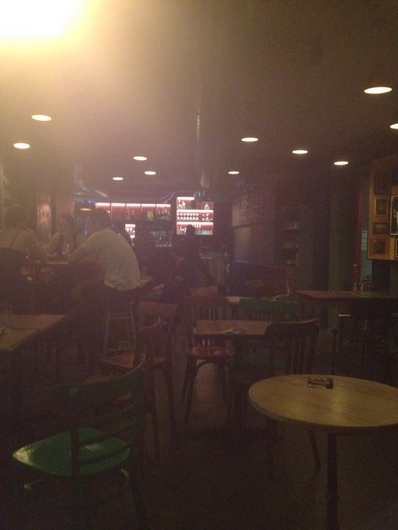 I only had coke here.
I mean, coca-cola zero, just to be clear.

So, by this time, we were a bit too hyper from fatigue.
Probably a large quantity of beer helped as well.
We stayed here until they closed at 5.

Why?

Because we wanted to eat breakfast,
and we needed to kill time.

There we were again, walking through Geneva at 5 a.m.
We were hungry.

I was desperate for something greasy and savory.
Kebab sounded good to all of us, especially to the Scottish Gays.

Geneva was so quiet in the early morning.
But I had a hunch where we could get kebab.
Where some people were still working at that time of the morning.
Prostitutes and drug dealers, to be more specific.

Paquis, of course.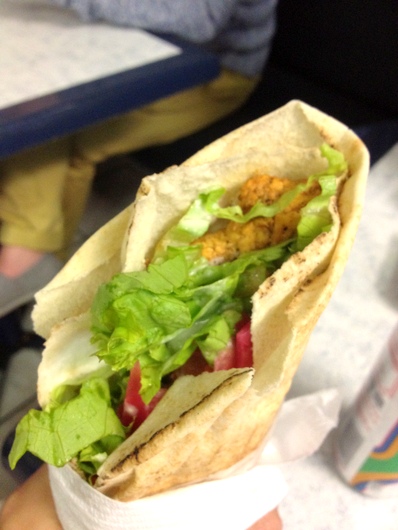 I was right!! There were several places open for business



Oh the chicken shwarma tasted so good at 5:40 in the morning.

After this pit stop,
we walked through Paquis among shady characters,
to get to this place.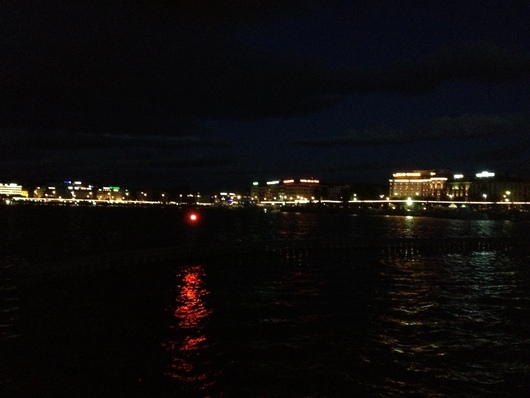 Still dark at 6:07. Can you tell where this is?

Maybe now you can?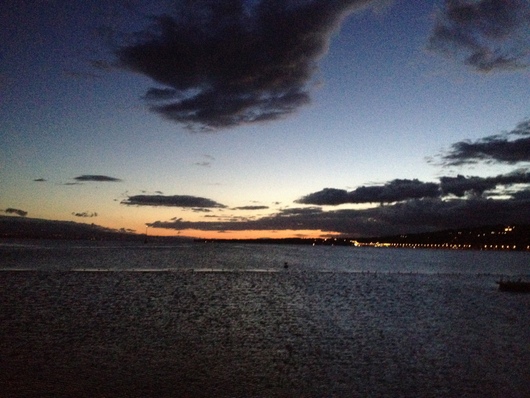 6:09.

We came to Bains des Paquis to watch the sunrise.
They offered sunrise concerts during the summer at 6,
so there were quite a few people around.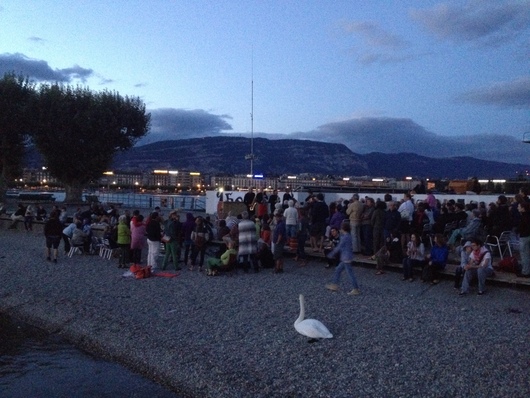 6:24.

The buvette was offering free drinks.
Some of us had coffee, I had ginger tea.
Sipping warm tea while the sky changed colors,
it was a bit chilly but I felt alive.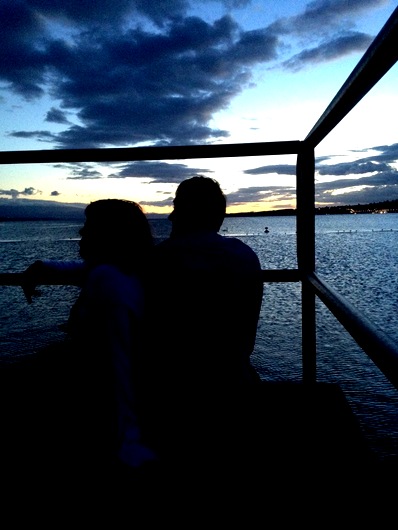 The Scottish People seemed to be still in love with each other
even after years and years of being together.

It must be truly meant to be.

The air at the lake was too cold to be exposed to for a long time.
So we headed home.
The SC and SG were supposed to go to the circus at 2 p.m.!!
Crazy.

Steven and I were still hungry when we were close to home,
so we bought some pastries at a nearby bakery.
Eating a pain au chocolat after all-nighter is a sinful delight.

We finally went to bed at 8 a.m.


Who knew we could stay up all night and have fun in Geneva?!

Click here ↓if you are inspired and wanna try this




The moon appeared exceptionally beautiful
just the other night.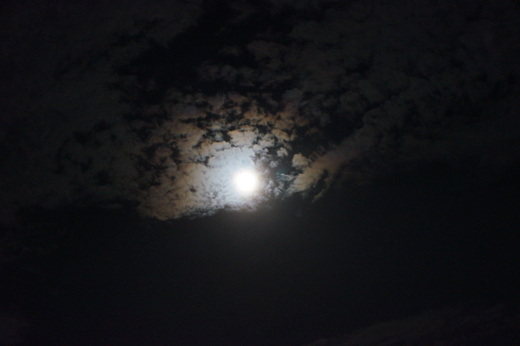 What's remarkable was how bright it shone.

The last few nights have been very warm inside the apartment,
we left all the doors and windows open.

Except for the glow of the TV and the computer,
moonlight was the sole guiding light.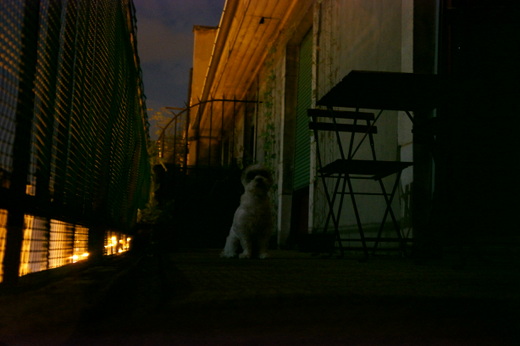 Noticing the commotion, Truffle came out with me.

Full moon captivated the thoughts of foregone story-tellers,
inspiring them to write tales of the moonlit nights.

It could've been just my imagination,
but Truffle seemed extra active that night.
He was agile and fully alert, kept wanting to play with me.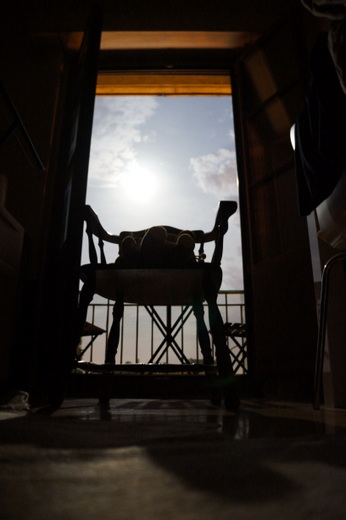 It wasn't just Truffle, though.
My mind was going wild and receptive.

Come to think of it,
I tend to like music that evokes the night.


And somehow,
summer nights are more lyrical and tragic
than those of winter.

Is it because summer nights are more frail and momentary?

Out on the balcony, the air was fresh and pleasant.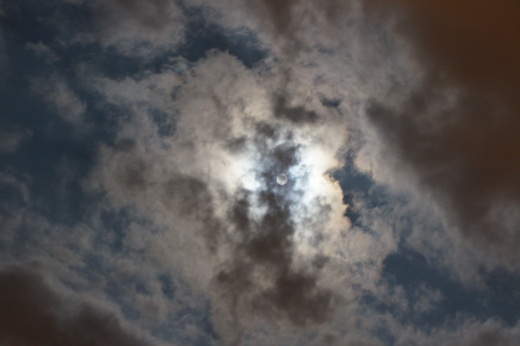 Once again back inside, it was still warm and muggy.

I could almost hear the silence from these pictures.
For someone like me who detests the heat,
I wish that the night never ended.

I had crazy dreams and nightmares that night...

Ô nuit mystérieuse.


Click ↓if the moon drives you crazy!!!




日本で、暑い時には熱い物を!
って、良いますよね? 

発汗→体温の低下が狙いなんでしょう。

さ、別にそこを狙って選んだ訳では全く有りませんが、
スティーブンがアルゼンチンへ出張なので、インド料理!

と思い、
Assiette Genevoiseを利用して
インド料理屋さんへ行って来ました


行ったのは、Eaux-vivesにあるBombay Palace
ベジタリアンのセットがあって色々含まれててお得そうだったので、
それを選択。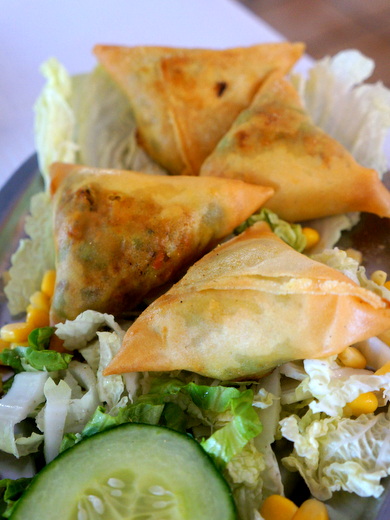 カレー風味の具が包まれて揚げてある前菜。  
久しぶりのカレーの風味がとても新鮮に感じます。

ところで、スティーブンは自称カレーアレルギー。
食べた後に口の中がちょっと痒くなるみたいです。

余り信じてない僕。

いつも、「ふ〜ん、そうなの〜。」と真剣には取っていませんが。
そう言っても、良き夫で有りたいと願う僕は、料理にカレーを使いません。

だから、「スティーブン=鬼が居ぬ間に、洗濯=カレー」と言う構図。

お友達とメインは2皿を分けたけど、膨大な量。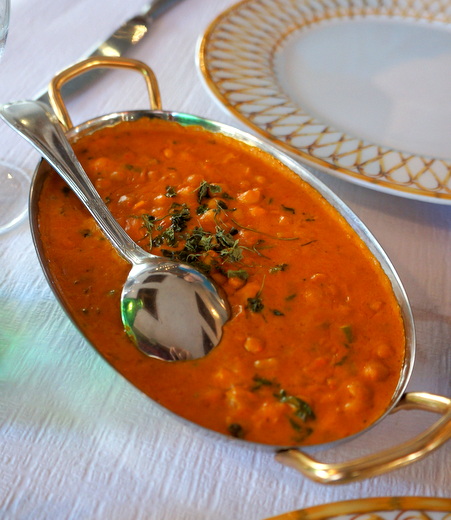 ひよこ豆のカレー。

それと、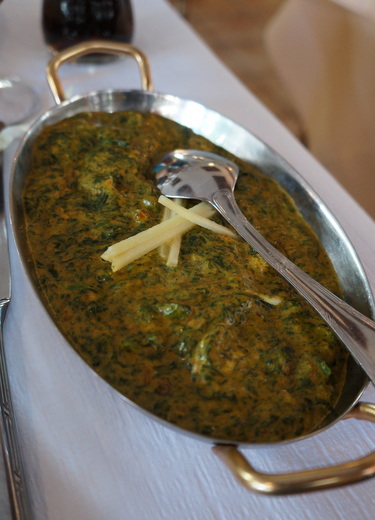 ホウレン草とチーズのカレー。

両方とも美味しかったです


ただ、贅沢を言うならもっと辛かったら良かったな。

チーズのナンとライス。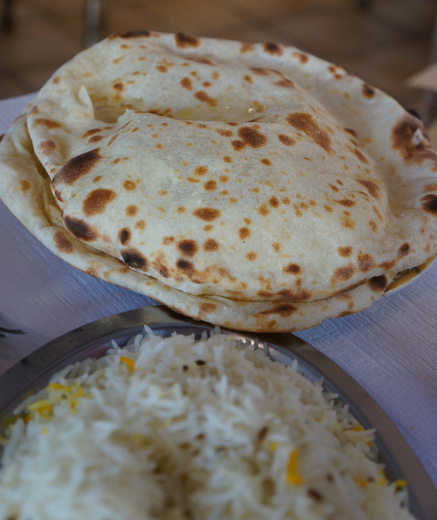 凄い量でしょ??

クリーミーなカレーだったからちょっと思い、
そしてその内飽きて来る。
ちなみにホウレン草のカレーの方が好みです。

やっぱりもっと辛ければな〜。 
お友達と「スイスだから辛くしないのかもね〜。」って言いながら
〆のデザート。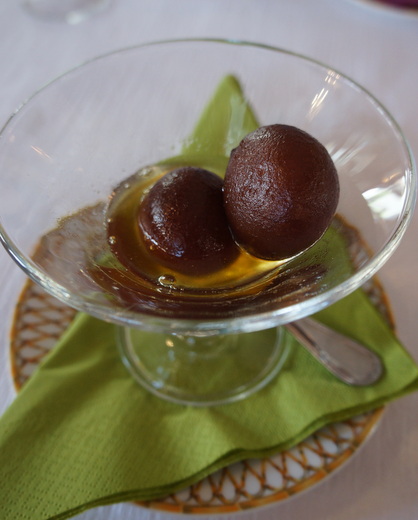 甘くて温かいスポンジケーキ?? 

あ、甘い。。。
喉が焼ける様な甘さ



お腹一杯だったし食べるのを止めれば良いのに、
話すのに夢中だったせいか、目の前にあったせいか、
平らげてしまいましたが。

さ、気に成るお会計は確か、一人22.5フラン!

店員さんも感じが良かったし、
料理も美味しかったし、この値段なら大満足



スティーブンがアルゼンチンで美味しい物を食べている間、
僕も対抗心を燃やして美味しいもの食べますぞ!! 


食べるのだ〜い好き

 にボチッとお願い致します。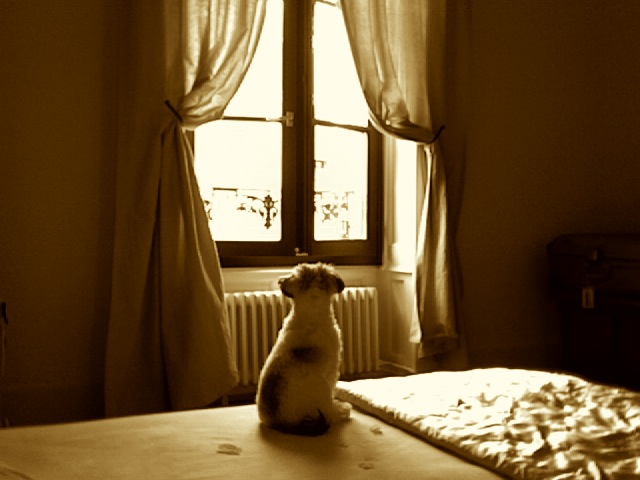 気まま我儘に生きるYasの人生を、正直率直に、そして飾らなく語るブログです。 This is a blog where Yas talks about his life in a foreign land seen through his bizarre and frivolous, yet sincere eyes
by Yas-Unprescribed
ブログパーツ
このブログに掲載されている写真・画像・イラストを無断で使用することを禁じます。Copyright © Life Without A Prescription - 処方箋無しの人生 All Rights Reserved