僕のブログってファッション要素が高い(??)のが
本来のコンセプト(?!)だったのに、
最近はただの(ゲイの)食いしん坊さんのブログに。。。

だから、今回はちょっとファッション。

皆さんもご存知の我が息子。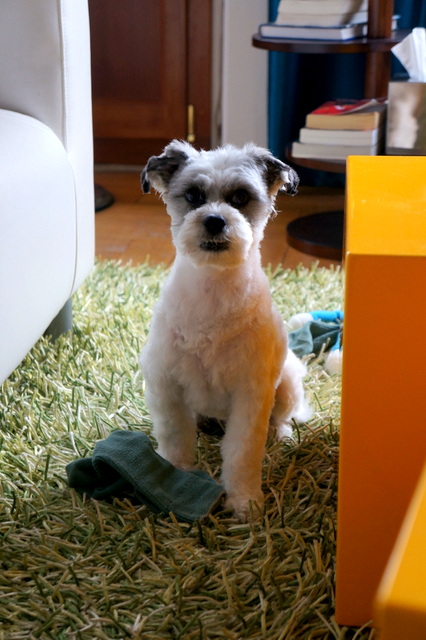 相変わらず可愛いでしょ?

可愛いアライグマちゃん。

って、親ばか丸出し。

今秋冬の色は、緑ですよね。 

何処を見ても緑のオンパレード。 
僕は青、緑、その中間色全て好きだから嬉しい限り。 
どこのブランドも鉱山物の名前を使ってますね。
Van Cleef & Arpelsはマラカイトを使ってるし、
Hermesは同名の革を出してるし、
色んな所でエメラルドって色を見る。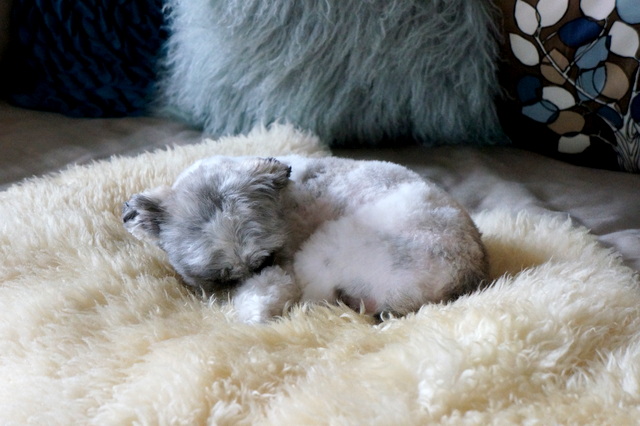 「僕は芸者です。」と言わんばかりに顔を隠す。

そんな中、とっても衝撃的なカバンを発見。 
友達に見せたら、「ゴジラみたい。。。」って。

スティーブンに見せたら、「Swamp Thingみたい。。。」って。

どっち道怪物的って事なんだ。

僕にとっては非常に美しいオブジェ。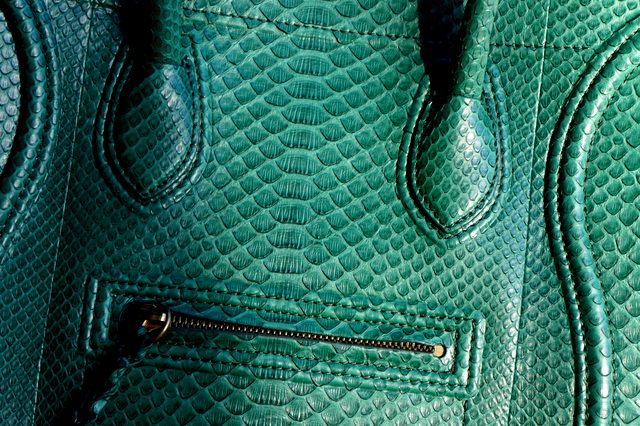 セリーヌさんのお宅から引き取って来た怪獣君。

犬を入れてみた。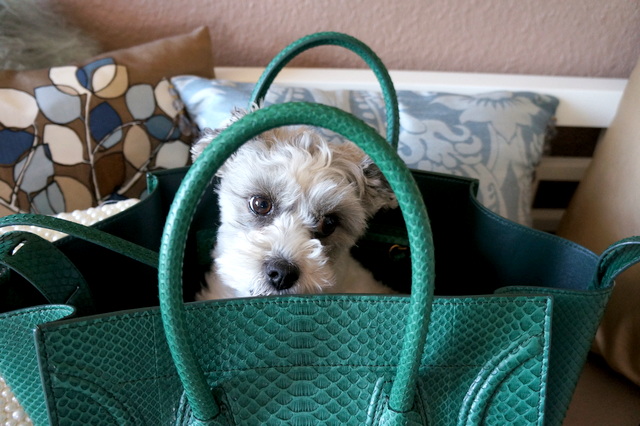 きゃ、カワイイ



緑の蛇革カバンに入ったモーキー、
These are a few of my favorite things




I always feel luck at Le Bon Marché the Department.
Especially at Chanel there.
That was the case last summer,

and the last time...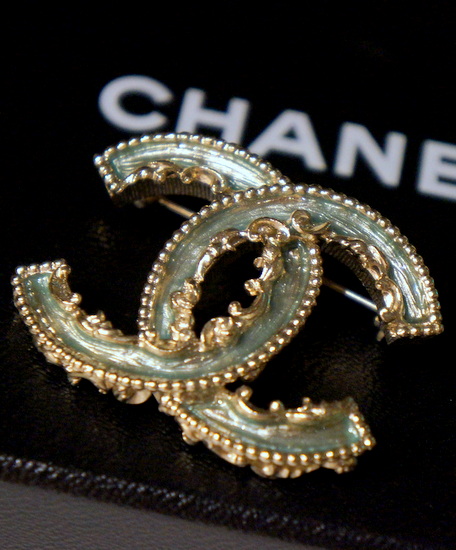 Brooch from the Spring Collection 2013.

I was told there is gold powder in the glass to give extra shimmer.
A perfect addition to my wardrobe!

And I waited to wear it until today, Valentine's Day,
because Steven wanted to give it to me for the occasion.

On the night of the 13th,
Steven also said to me,
"Don't open it until lunch time," and handed me a paper bag.

The bag was from a pastry shop, so I knew it was a dessert.

The following day, the 14th, at lunch.
I was having lunch with some friends,
and after my meal, I went to get the bag and opened it.

This is what I found inside.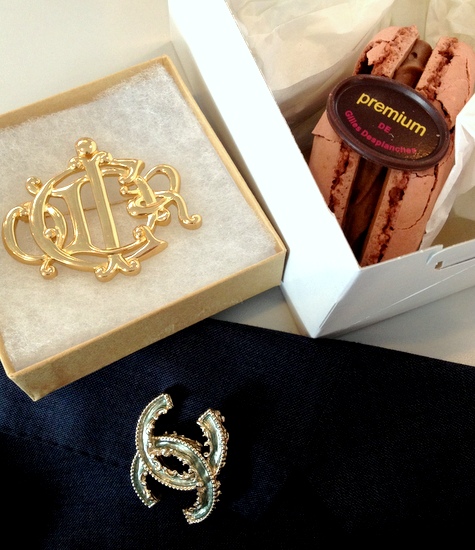 Big macaron cake,
and another brooch!!

The bag I thought contained only a dessert also had a gift in it.
Surprise surprise!

It's a vintage brooch.
Something that I'm into these days



I was pleasantly shocked,
but my friends were dramatically reactive.

"OH MY GOD, He's so sweet!!!"

they said.

He sure is sweet,
but I wonder if he's as calculating as he is sweet



Happy Valentine's Day, everyone




ジュネーブのお店での接客は酷い。 
カスタマーサービスが弱いと評判のパリに比べても劣るんじゃ?

そんな中、唯一赤いヒールのルブタン屋さんは良いと思う。 
店員さんみんな、って訳ではないけど、でも一人の兄ちゃんは
必要以上のカスタマーサービスをしてくれる。
(って書くととてもイヤらしく聞こえるけど。。。)


この前、お店に行ったら、こんな物をくれた。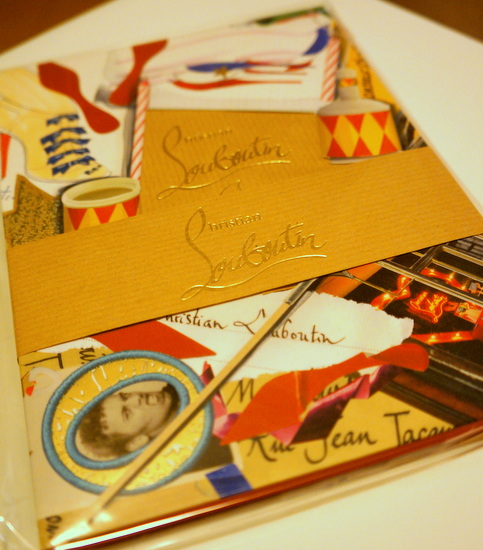 ルブタンのノートブック。

カワイイ〜



超カワイイ



「ところで、この前買った靴って防水スプレーとかして良いの?」
って聞いたら、



「うん、あ、良いスプレーがあるよ!」

って裏でガサゴソ。

持って来たスプレーを見て、「じゃ、頂きます。おいくら?」
って尋ねると、



「あ〜、いい、いい、あげるよ〜。」

って。 

ジュネーブで無償で何かを貰うと無性に嬉しい



ね、ここの土地にしては珍しく気が利くサービス。 

余計赤いヒールの靴が欲しくなったでしょ

??





To recap, I wasn't exactly thrilled to go to Berlin at first.

One of the things that I looked forward to in this trip was,
of course, shopping



The 26th, a.k.a. Boxing Day,
was very different from what we are used to before.
Every retail store was completely closed.

At least we had time to do sightseeing.

To make up for the time lost,
we shopped for clothes non-stop on the 27th!!!

To seem less obnoxious, supposing that is somewhat possible,
I'll show you the close up pictures of what I have purchased.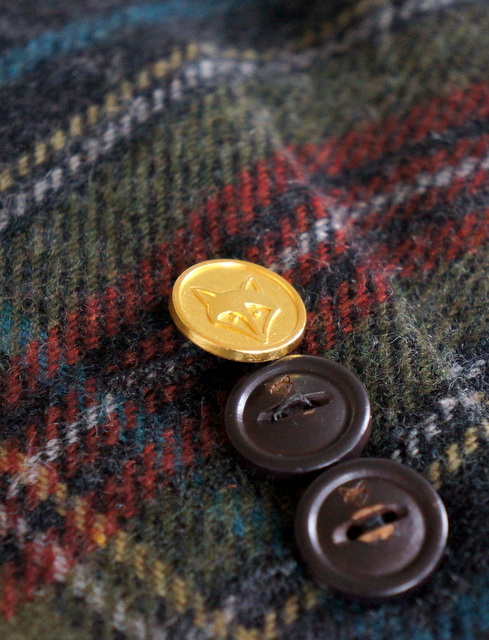 I love the color combination of this fabric.
And this is an obscure German label that no one would know here.
That's one great thing about shopping in a foreign country.

What's the fun in wearing the stuff you can buy anywhere?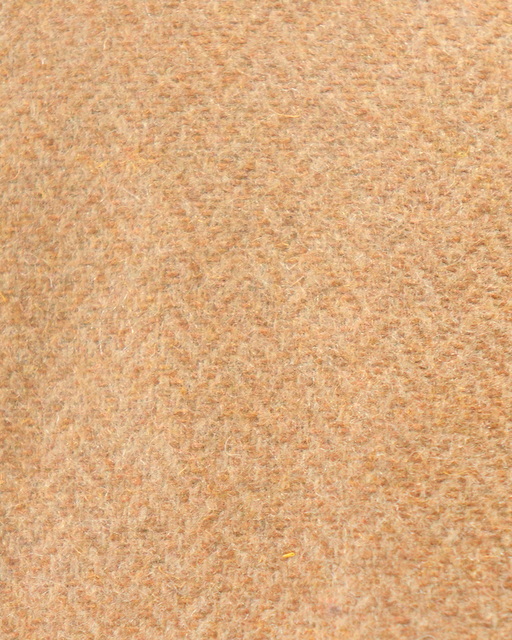 Well, sometimes you find a deal that is just too good to pass up.

There are so many stores in Berlin!!
Shopping in Geneva has become dull in the recent months,
so this change of scenery definitely recharged my will to shop.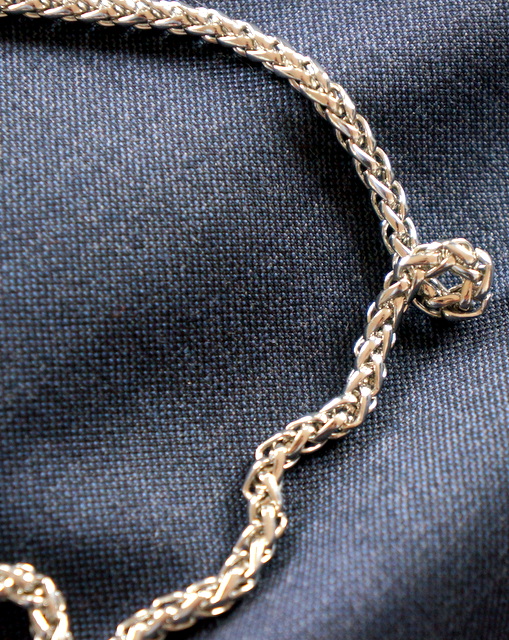 My wardrobe is a pell-mell of different styles.
But recently I like to find items that are classic but with a twist.

The color of the year 2012 for me was lagoon / turquoise.
For 2013, I think it's gonna be yellow.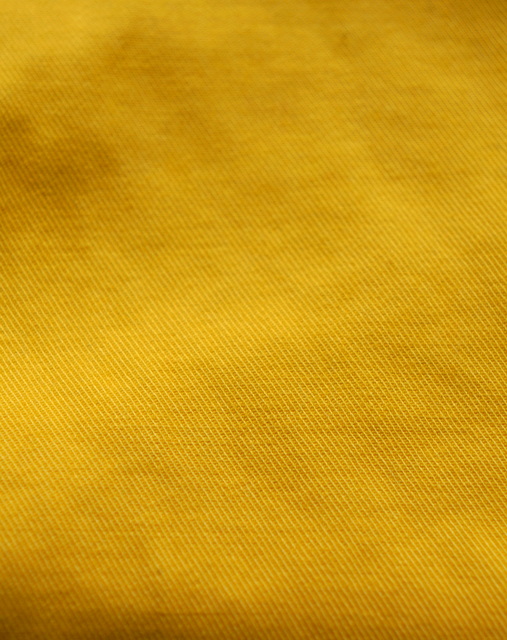 So vibrant and so cheerful.

I'm drawn to anything lemon yellow.
It's an in-your-face kinda color, though.
Pulling it off could be a challenge...

Yet I'd rather die trying.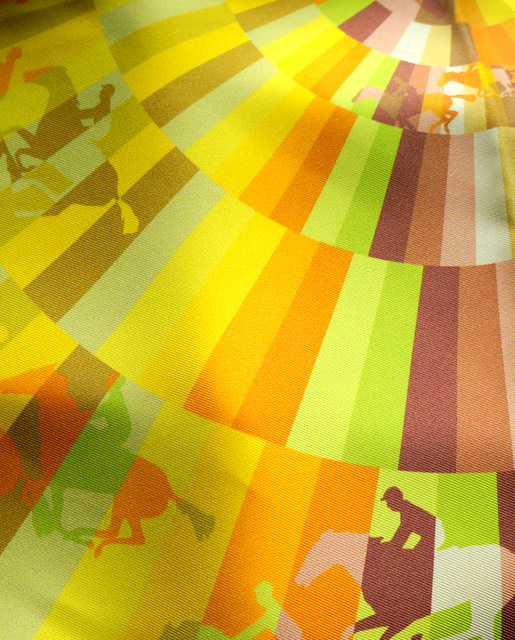 Steven gave me this for Christmas.

This is gonna be a wonderfully cheerful and yellow year




Summer is the season for sushi and parties



A while back, there was a deal on Buyclub.ch
for the new Mikado that just opened by Manor.

I had a hankering for sushi at that particular moment,
so Steven bought the voucher for us.

And voilà!!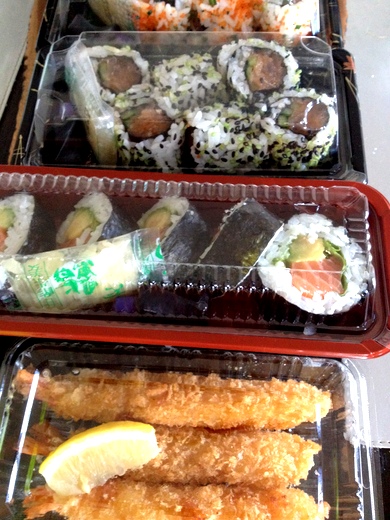 We paid 25 chf in advance to get 50 chf worth of food.

And more sushi!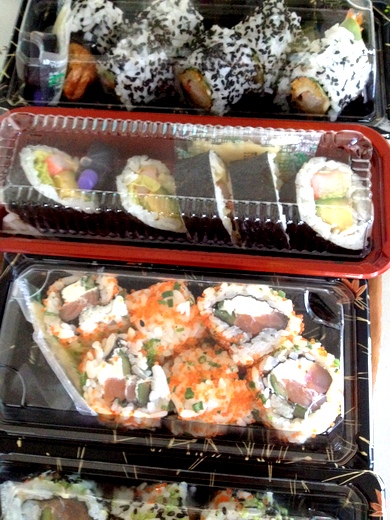 It was a lot of sushi.

The grand total was 54.10, so we paid 4.10 at the check-out,
which meant we paid 29.10 for all the food.
5 kinds of sushi + ebi fries.

It was a super deal



Usually, sushi is not very filling and yet pricy.
But not this time.

Talking about not filling and pricy,
Louis Vuitton sent me an invite to their cocktail party.

Hmm, we didn't know what to expect.
The last time wasn't that remarkable.

All the same, we got dressed up.
But maybe I under-dressed so that I didn't seem "trying too hard".

There was one thing I've been wanting to wear though.
And it's not exactly subtle.


Prada silk pants I bought in Italy.

Because the pattern is a bit loud and bold,
I wanted to keep the rest of my ensemble quite subdued.
So, I went out to find a shirt to wear with the pants.
The mission wasn't easy, but accomplished.
Found a white dress shirt at Globus on sale



My outfit for the cocktail party was:

Prada pants,
White shirt,
Uniqlo belt (!!),
Ferragamo shoes.

That's it.

Going to a Louis Vuitton cocktail party without a Louis Vuitton.
I felt like a criminal, breaking some kind of law,
but I don't have anything cocktail party appropriate.
They don't really make party clutches for men, do they.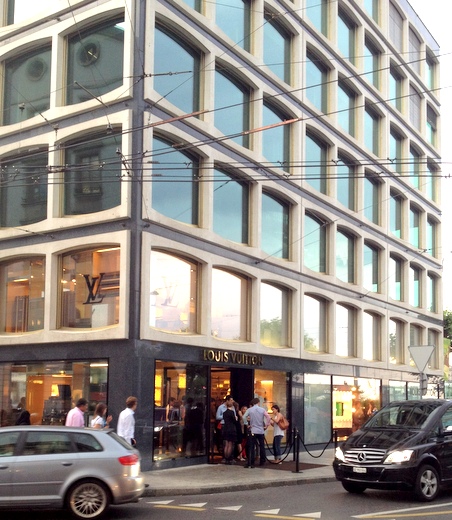 Once I was inside, I felt better, though.

The guests were either;

a) horribly tacky (2/3)
b) sadly dressed (1/3)
c) outrageously gorgeous (only a few)


What can I say about the party itself?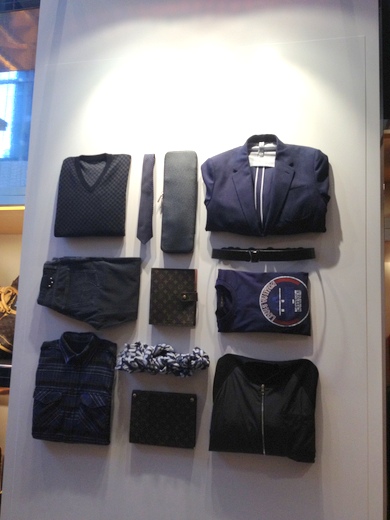 Champagne, cocktails, hors d'oeuvre.
Hot stamping demonstration,
and some displays about how much stuff their bags can hold.

After all, it's a small store.
right when I felt a bit tipsy (which doesn't take too long)
we left.

It being a thursday, stores were open still.
I stopped at Globus to get a dessert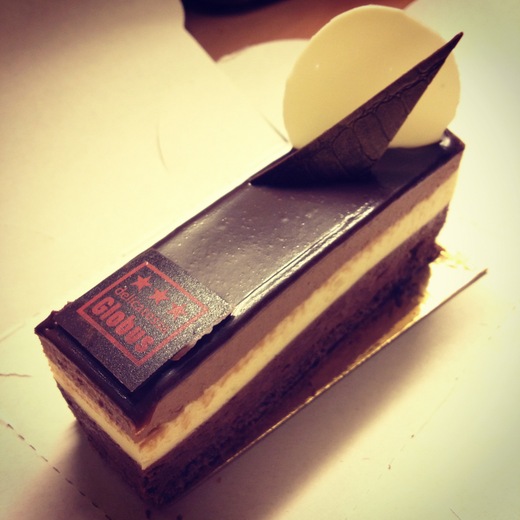 I asked the store person to box it up to go.
When he put the price label on the box,
I sobered up.

7.30 chf for such a small strip of cake?!

I was too nicely dressed to say, "You know what, never mind."
(And my desire to eat the cake was over-powering.)


I savored the expensive piece of cake late that night



I hope there are more fun parties to come this summer!!

Thanks for visiting my blog




Hmmmmm......

I haven't gone to bed yet and it's 5 a.m..

Because it's late/early, I feel like maybe I should go line up
for this event....


Desigual Undie Party.

Enter the store half-naked and leave fully clothed.
Meaning, you get the clothes free of charge.
An interesting concept.

It starts from 9 a.m., so if I wanted to go, I should leave soon.
The 15 minute walk to the store at 5 a.m. doesn't seem too bad.
Especially since there is hardly anyone out.
(But isn't it a crime walking around in just the underwear?)

I can't believe I'm actually considering this.

I don't even like the brand.
Their clothes are too loud and too casual.

But why am I still considering??

Plus, standing there in just underwear in public?
(Well, I guess it's like a bathing-suit on the beach.)

I think what I like the "free clothes" part.

But trying to get something in exchange for exposing my flesh,
that basically would make me a cheap stripper.

Do I want to be a whore for a couple of over-priced garments?


YES.

NO...

YES.

NOOOOOOOO.

It's too cold out anyway.
If it was for Paul Smith or Marc Jacobs, sure, but not for Desigual.

I will not sell my body for clothing.


Steven could've been my pimp.
He's the one who told me about the event and told me to go.

Who does he think I am??
A fashion whore??

(Well, he's not wildly wrong...)


Thanks for reading my blog!!




Have you heard?
The Marni x H&M collaboration line will be released
this coming Thursday.

I was a bit disappointed that mens line is bordering on boring.
(My taste may be a little eccentric, so I guess it's not their fault)



Anyway, I was going through the lists of products offered.
The lists in Japanese yen, Euros, and Swiss Francs.

Of course the items are most expensive in Francs.
As always.
Like with everything else



The inflated prices of things here sicken me



For example,

Take this dress.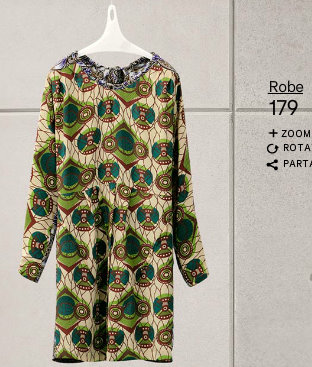 (Photo credit: H&M)

I think the dress would look cute with a cream-colored coat over it.

179 francs in Switzerland,
across the border in France, 99 euros (roughly 120chf).
Rather a big difference, right?

Some items don't vary much.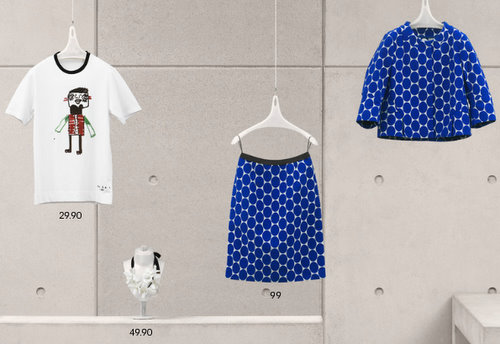 (Photo credit: H&M)
The polk dot blazer and skirt are cute.

T-shirt, 29.90chf = 19.95euros (25chf)
Necklace, 49.90chf = 29.95euros (37chf)
Skirt, 99 = 59.95 (74chf)

The more expensive, the bigger the gap in prices.

However, 25% of the revenue generated by these T-shirts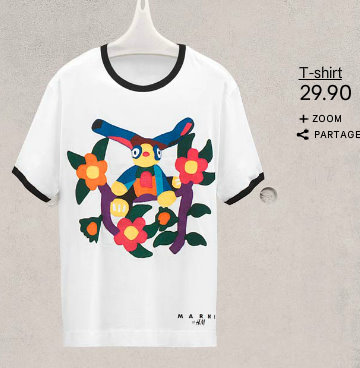 (Photo credit: H&M)
goes to the Japanese Red Cross.

So, it's not all evil




I thought this vest was interesting.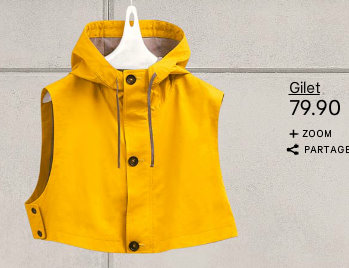 (Photo credit: H&M)
79.90.
In France, 59.95euros, which is roughly 74chf.
The least ripped-off item of all, probably




But one of the most inflated would be this.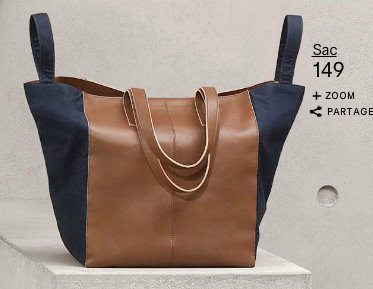 (Photo credit: H&M)
Tote bag made with leather and cotton.

149 chf over here,
79.95 euros over there (roughly 98).

I would buy it for 98 chf, but at 149, I'm not sure if I want to.
Maybe I'd rather pay 6 times more and get a Céline cabas.

In any case, I won't be going to Lyon.
I'm walking right into their trap to pay the Swiss proper prices.


Ou la la, la vie en Suisse


elle n'est pas exactement en rose...


Thanks for your click-click




For some seasons now,
I've been hoping to get something from Chanel.

The problem is that they don't make things for men.
Well, they do, sometimes, but very very few.

So, when these bags came out, I was so stoked.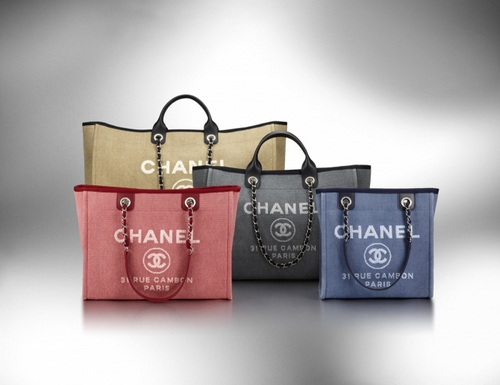 (Photo credit: Chanel)

Spring/Summer 2012 Cabas.

They're super cute, right?

I thought,
"Oh, the bigger bags especially, I might be able to pull them off!"

But the question is not whether I can pull it off or not.

It is whether I wanna (can) pay for it or not.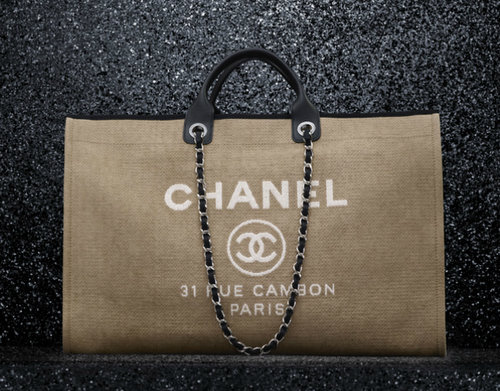 (Photo credit: Chanel.com)

I saw this bag in blue at the Chanel boutique just the other day.
I love blue.
No wonder I found it extremely adorable.

However, as always,
the price tag that came with it was not at all cute.
2150 chf (roughly $2300.)

Might I remind you this bag is not made of leather,
but of jacquard cotton?

Well, they're meant to be used on the beach, so of course.
Practical, I suppose.

Just like that, my Chanel romance turns sour.

But still, I'm caught in a bad romance.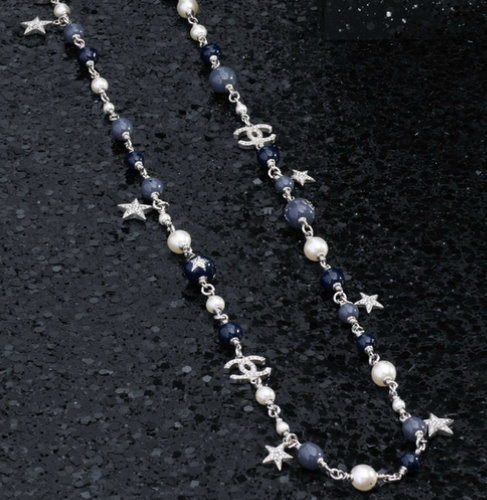 (Photo credit: Chanel.com)
They have cute jewelry, too!!
Stars are kinda my thing.
(Again, not male-friendly pieces. )

And so, my love for Chanel remains unfulfilled.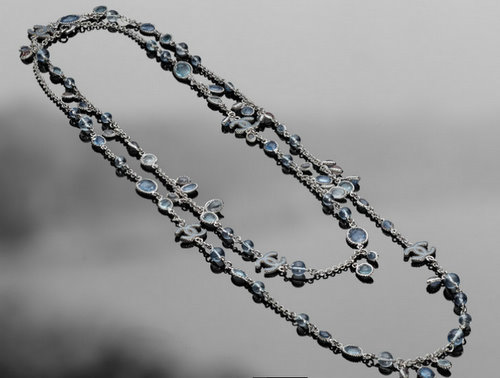 (Photo credit: Chanel.com)
So beautiful.
This shade of blue is quite enchanting.

Forget about pulling it off,
I don't care if I look like a raging homo like B-boy
I'll wear it everyday, just give it for me, please!!

Ahh *sigh*

Actually,
with a white dress shirt half way unbuttoned and blue suit pants,
I think I'd look pretty hot wearing this necklace.
(My chest hairs might get tangled up and could be a painful mess.)

At least I can dream.

For some men, Chanel love is reciprocated.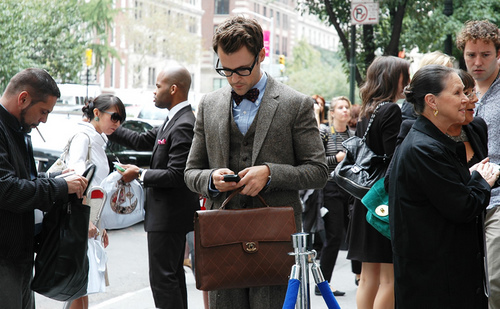 (I do not own the right to this photo. Source unknown.)

Brad Goreski with a vintage Chanel briefcase.
Apparently Rachel Zoe got him this exquisite bag from Paris.

My Chanel crush perseveres.
Until the day when I find a vintage Chanel briefcase like his.

Something to look forward to for the summer in Paris



Possibly the most love-charged day of the year just ended.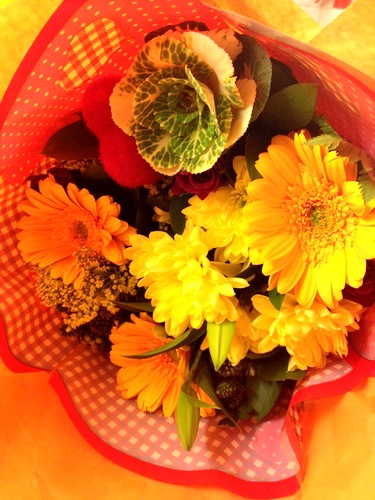 Steven brought me flowers



The cynical side of me thinks it's dumb
to be sucked in to this marketing scheme.

Nevertheless, the romantic side of me speaks louder.
After all, nothing wrong with having a day to celebrate love


(Well, it's easier to say that when you already have someone.)


Luckily, this year's Valentine's day fell on a Tuesday.
So, Steven and I decided to do something new.

For the very first time in Geneva,
we went to the movies.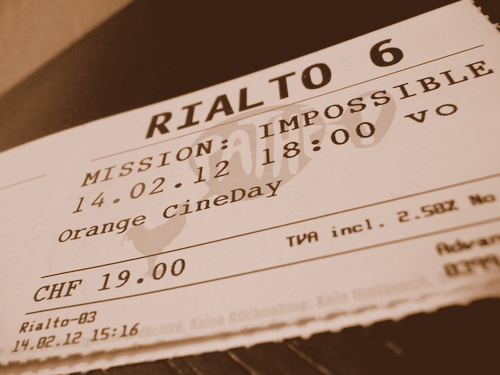 To see "Mission Impossible: Ghost Protocol"

Every tuesday, if you have a Orange phone subscription,
two can watch a selected movie for the price of a single ticket.

I had heard about the horrific subtitles here in Switzerland.
In Switzerland, films in a foreign language must be subtitled
BOTH in German and French.

Quite disturbing and distracting...

When the actors were speaking in Russian,
I would try to read the subtitle.

But then, for a second, (which is a long time for subtitle reading)
I would get confused as to which line I want to read.

I must confess.
After having watched the movie,
double subtitles weren't as annoying as I had anticipated.

And after the initial shock of the smaller theater size,
(compared to the humongous American theaters)
I very much enjoyed the film and the whole theater experience.

Ethan Hunt kept me on edge and I kept screaming


The silver screen, popcorn, macarons, my lovely date



The meal of the night was nothing extravagant or noteworthy...
We thought of going to a trattoria or brasserie,
but we were too spent from the high-thrill movie.
We got a take-out Chinese/Thai food and came home




Of course, the day can't end without gifts.

I gifted these to Steven.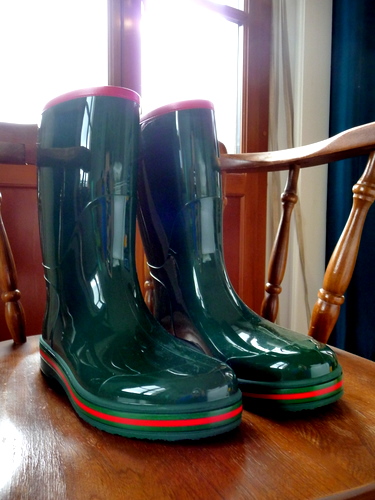 Gucci Rain boots.
A practical gift for a practical boy.


Since the streets have been so wet and slippery,
I hope they'll come in handy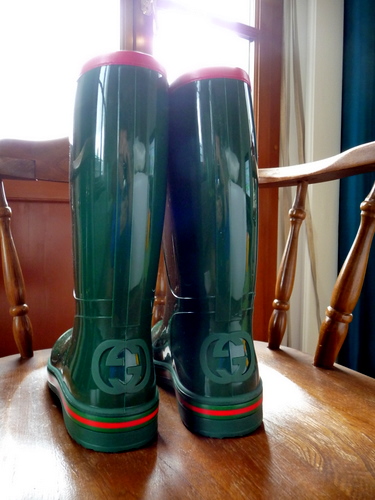 The Gucci green looks so rich and glossy on these galoshes!
Hopefully he'll get a lot of use out of them.


In return, Steven gave me this.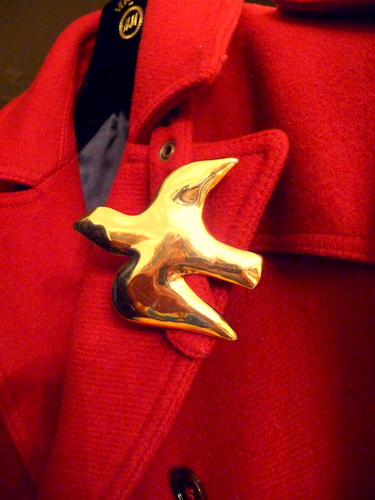 This is a vintage YSL brooch.
I've been into vintage stuff these days, so it's perfect.


A little gold birdie to give my blazers and coats a flight of glimmer.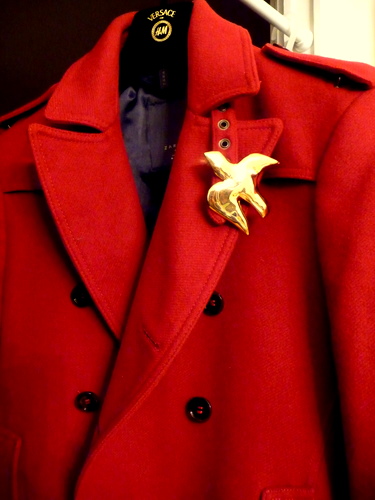 Cute, no?

What a happy, love-filled day it was in Geneva

for a change.



Greetings from Siberia!!


Nah, I'm just kidding.

But this cold weather is no joke.
It's absolutely nightmarish out there.


Out of any viable plans, we were house bound on weekends.

So, what does a loving couple like us do at home all weekend?


Make love?

Nah. Too predictable.
Something better, please!


Make a baby?
Sounds good



Actually, we made quite a few.


My first one.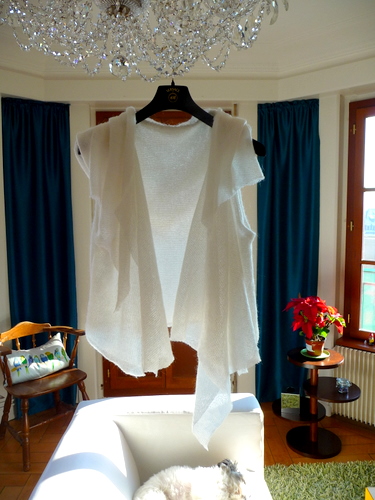 babies.
My experimental vest with drape panels and a hood.

The vest is constructed with a knit fabric I bought a long time ago.
I cut the fabric irregularly to give it an asymmetrical look.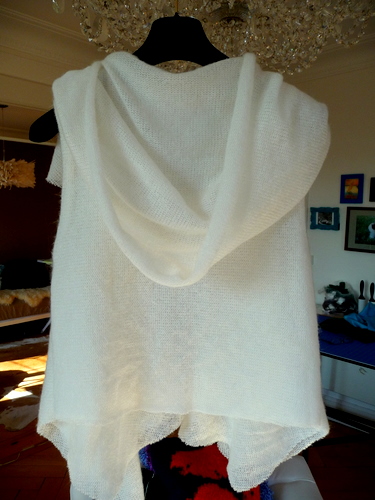 I like all these drapes and textures in this vest.
It's not weather appropriate at the moment,
but it'd be fun to wear for the spring.


These are Steven's first baby.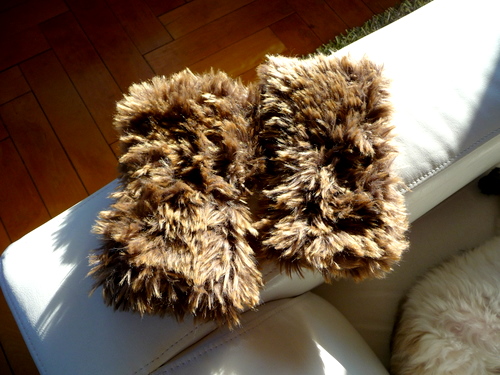 Furry!!
Can you tell what they are?

Yes? No?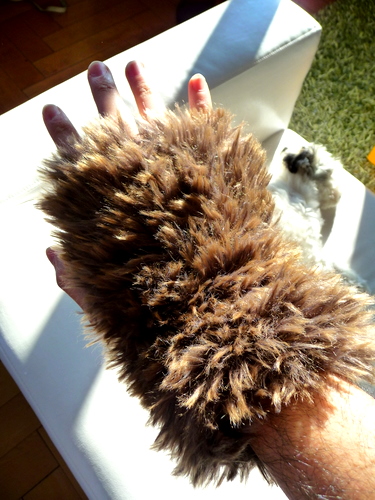 These are finger-less gloves that he knitted with a fake fur yarn.

He knows my hands are always cold, so they made them for me.
Isn't he sweet.

Unfortunately, I haven't used them yet.
Not warm enough for Siberia




My second baby.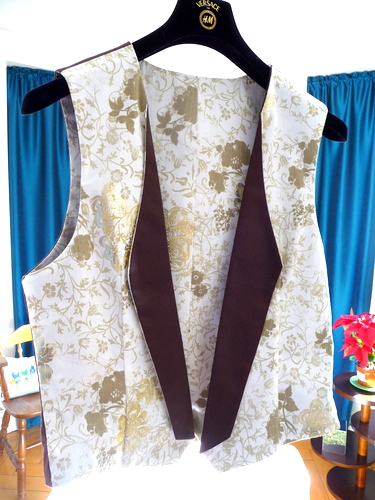 Another vest.
I know, I'm such a vest-phile.
I bought the fabrics in NY a while ago.

I love this fabric!!
You might be relieved to know that the back side of the vest is
a plain brown fabric which is same as the lapels.

Editing, editing.
An important skill when it comes to designing.


Then, because there was some left-over of the brown fabric,
I decided to make my baby #3.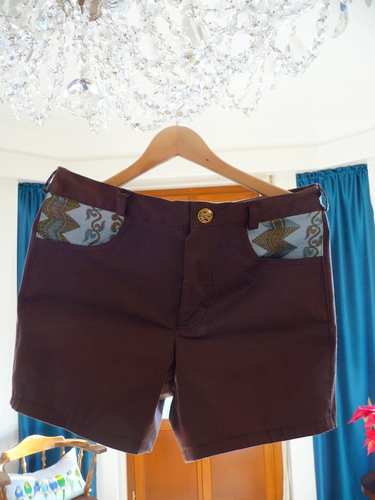 Short shorts!

I've been seeing these short shorts on the runway,
and I find them extremely cute.

Especially, ones from Burberry Prorsum inspired me to make these.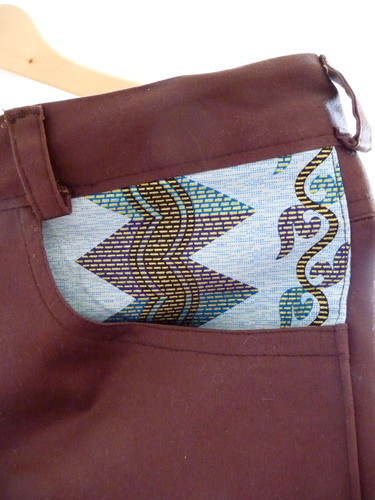 I used this batik fabric Steven bought in Singapore years ago.
It's got a gold tone on the dots which shimmer under the light.

Ah, I can't wait for the summer!!


Unlike an escapist like me,
Steven is practical.

Even his baby #2 is practical.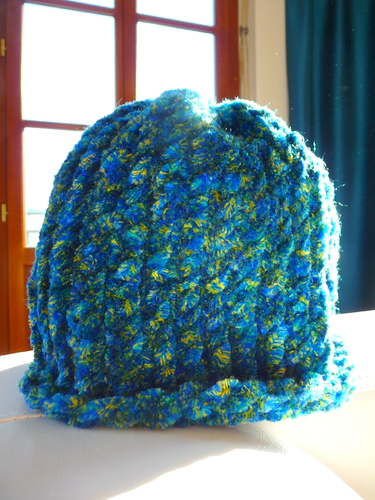 He knitted a beanie.
The colors in this yarn really bring out the colors of his eyes




My last but not least baby is this.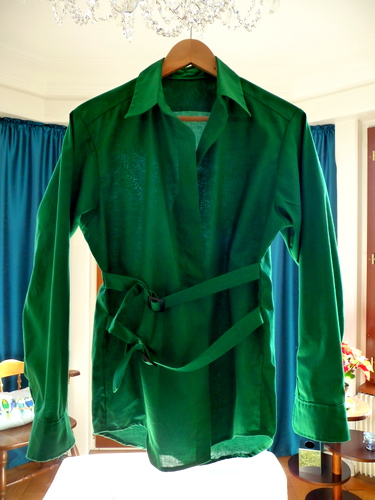 A dress shirt without buttons, but with waist belts.
I wanted to use gold brass belt loops,
but it being Switzerland,
I couldn't get the pieces...
A design compromise with the plastic black loops



Again, I purchased this green fabric a looong time ago.
Steven and I tend to stock up fabrics when we travel,
but often we don't use them right away.


This atrocious weather has been a perfect opportunity
to use up the stock



Every Siberian cloud has a silver lining.

Right

?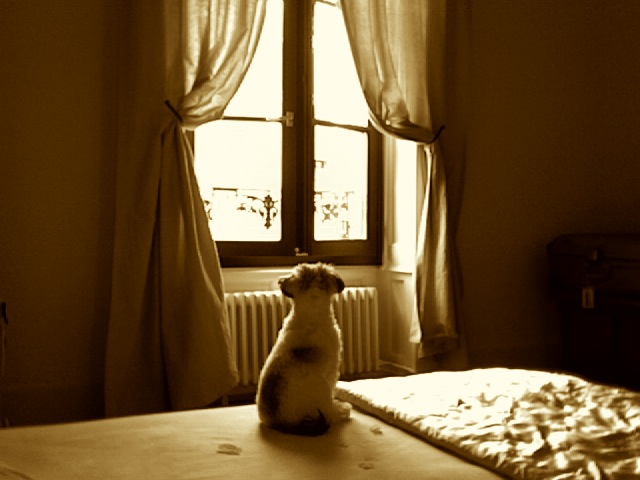 気まま我儘に生きるYasの人生を、正直率直に、そして飾らなく語るブログです。 This is a blog where Yas talks about his life in a foreign land seen through his bizarre and frivolous, yet sincere eyes
by Yas-Unprescribed
ブログパーツ
このブログに掲載されている写真・画像・イラストを無断で使用することを禁じます。Copyright © Life Without A Prescription - 処方箋無しの人生 All Rights Reserved