久しぶりに家事が早く終わったので


トリュフと長い散歩に出かける事にしました。

コースは、旧市街地を回ってバスティオン公園が最終目的地。

石畳の坂を上って旧市街地の素敵な雰囲気に浸って来ました

散歩の続きはここをクリック!!


Last year was all about "military" in the fashion world.
Maybe that's too "last year", but
in hopes of finding something military chic,
we went to the Swiss Army liquidation sale at Palexpo.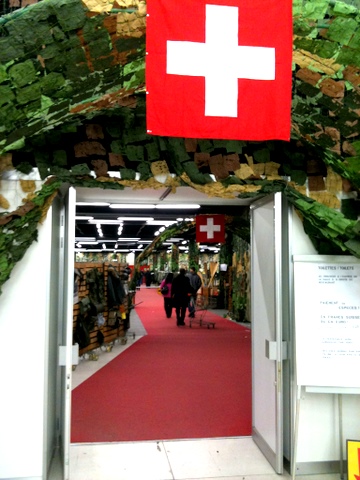 Here's the flyer of this event.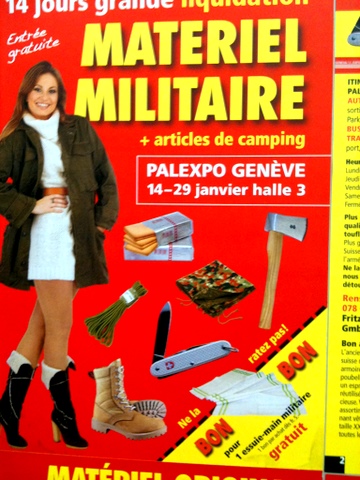 You can look at the online catalogue here.

People say "Sex sells".
I think that's the strategy they are applying here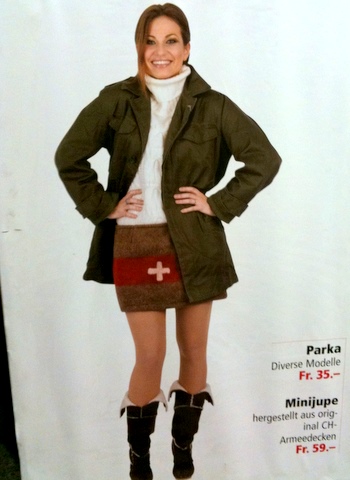 Kinda cute.
Cute, in the way cowgirls are cute.
Country cute.

I saw some button-up shirts.
The real military shirt.
I tried it on but the sleeves were way too short.
Why??

My plan to get "military chic" items wasn't a success


All I got is professional grade rubber gloves for cleaning
But if you need camping supplies, check it out



Thanks for visiting my blog!!




仕事をする事も無く、
家事もする事も無く、

する事と言えば、

食べる事、
寝る事、
遊ぶ事。

なんて素晴らしい人生なんでしょう。

注)決して、僕の事を話している訳ではありませんよ。

こいつの事です。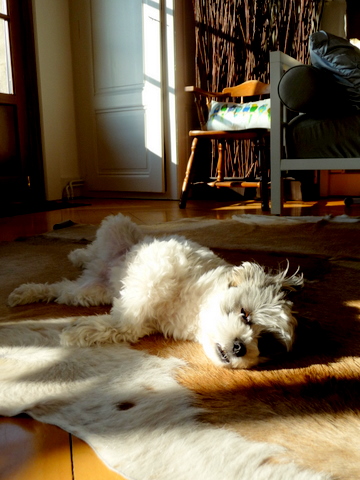 見て下さい、この様。

この日は友達がうちに遊びに来る予定だったので、
僕は一日中、クッキー焼いたり家の片付けに追われて大忙し。

そんな僕におかまいなく、日向ぼっこを楽しむ我が子。

なんて人生だ。

そして、友達がやって来ると。。。
嬉しそうに尻尾をフリフリ


落ち着いたと思ったら、今度は抱っこして貰いたいって。。。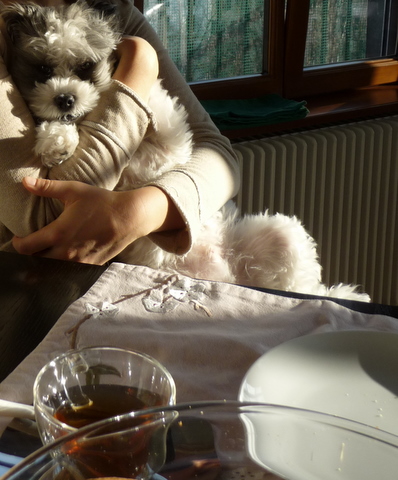 今度は友達にも可愛がって貰って、良い身分だね



嗚呼、トリュフ君、君の人生はなんて素晴らしいんだ




ポチッとトリュフの為に(?)クリックお願いします!




I strive to be stylish.
I also strive to be unique.

So, since I can't go anywhere without seeing at least
one item with the interlocking LV logo these days,
I thought it was about time to move on.

But then, something grabs me back.

Click here to see what grabs me!!






ちょっとした喧嘩をしてしまいました。

和解の意で、スティーブンが買って来た花を見て、また立腹

スティーブンがくれた花はこれ!!


When we travel,
we go around the city like a couple of banshees.

Naturally, we need to take a break.
And because we're often in a touristic area,
a coffee break at Starbucks is idiot-proof and comfortable.
(I hate to be ripped off more than anything.)
(I shall not be taken advantage of!!)

This Starbucks near l'Opéra was fabulously parisian


C'était trop chiiiiiiiiiic!!
Regardez!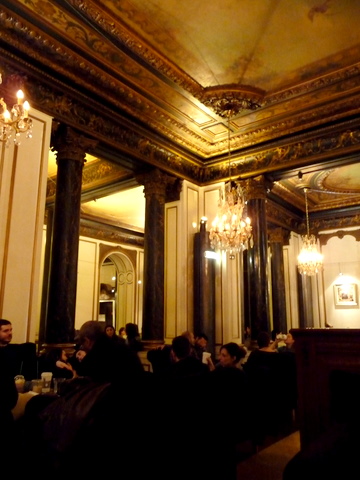 A l'intérieur.

Croyez-vous que cela soit Starbucks!?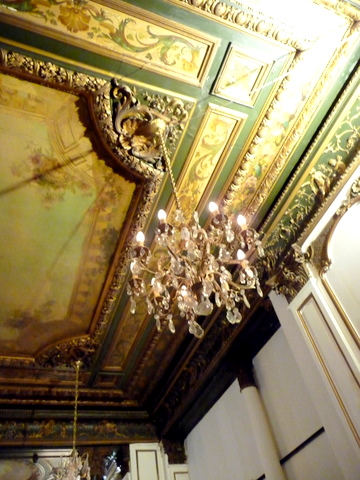 Aren't these lustres cool?
Even the ceiling is painted.

I was surprised that there were so many locals there.
I guess Starbucks is catching on even in Paris.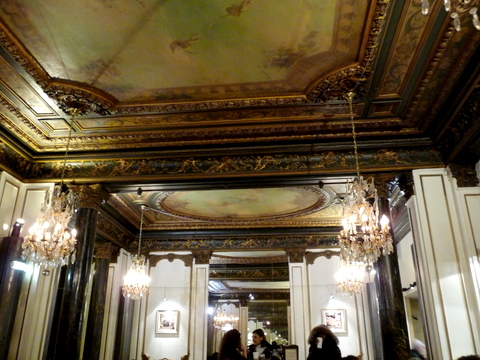 I love spending time at a random non-touristic café
and watch les Parisiens for a couple of hours,
but I enjoyed a break like this just as much!!

Thanks for visiting my blog!!




Disclaimer:

It's not like I've gone to every single ramen restaurant in Europe.

But, I've been around,
and ramen happens to be one of my favorite dishes to eat.

So we went to Lai Lai Ken, near l'Opéra in Paris.

First we got some gyoza.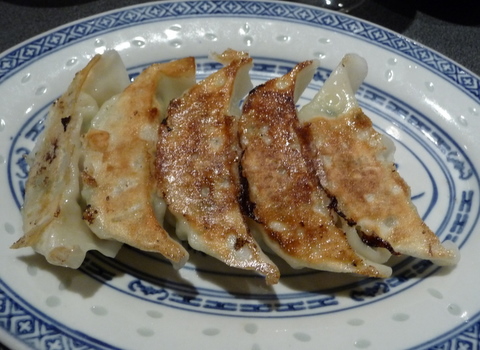 Good, but the skin could have been crispier.

Steven chose this.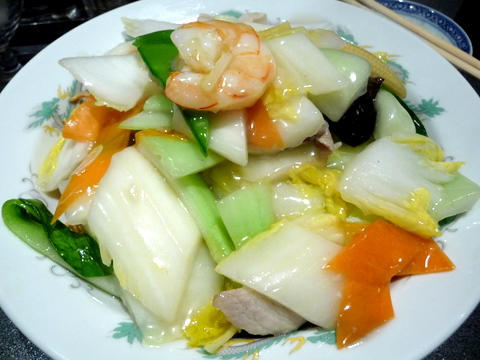 Pan fried noodles with shimp, pork and mixed veggies.
The noodles weren't to my liking, but Steven liked them.
The sauce was pretty good.

This is what I got.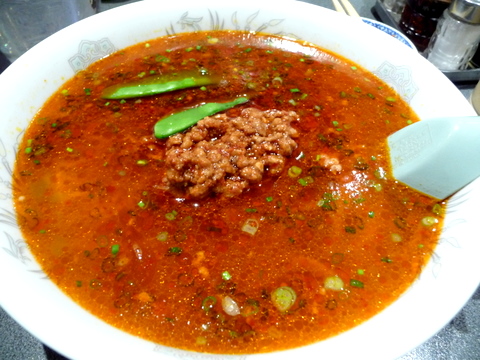 Shisen ramen with spicy meat topping.

This was GOOD!!!
The soup, good,
the meat, good,
the noodles, gooooooooood!!!

There wasn't any hint of gaminess or weird flavor in the broth,
and the noodles were thin, which is what I like,
and they had the right kind of firmness to them.

I would have liked to have some veggies in it,
but I'm not complaining.

It's nice to be able to eat ramen like this outside of Japan.

I thought it would be a budget friendly lunch,
but I was wrong there... But I highly recommend this place.

Lai Lai Ken
7 Rue Sainte-Anne
75001 Paris

Thanks for visiting my blog!!




パリ最終日、朝一番に行った不思議な場所。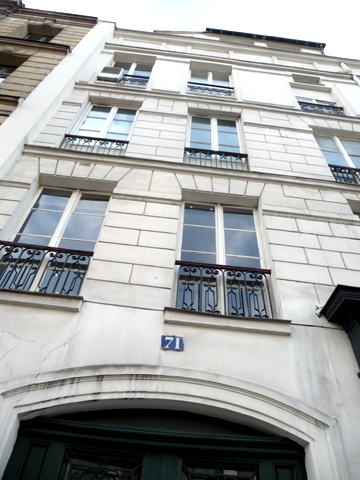 良く分からない地区にある目立たない普通のアパート。

何しに行ったか、続きはこちら!!






Merci,

is not only a French word meaning "Thanks",
but it's also the name of a concept store in Paris.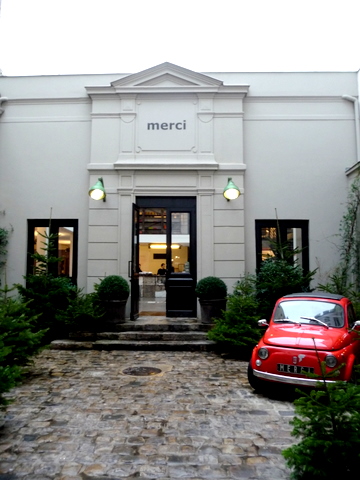 They opened this store to raise funds for poor women and children.
So, when you buy something there,
you are also donating money to charities.

To help out the cause,
YSL and other designers offered some collaboration items.
(which, I didn't see anywhere on this visit.)

But they have a lot of stuff inside,
from clothing to bedding, kitchen gadgets, and even furniture!!

I saw some interesting pieces of furniture,
but I wasn't there to shop for a new sofa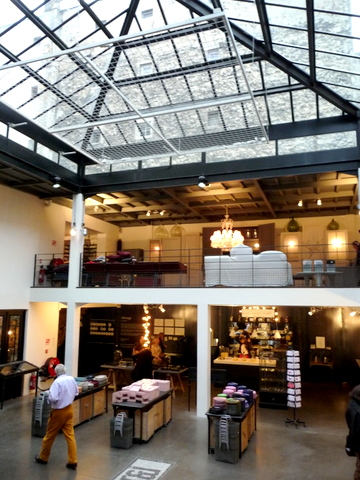 The men's clothing section wasn't too big,
but they got good deals. 50, 60, 70% off on most items.
I thought about getting a shirt from Comme des Garçons,
but I passed. I had a feeling that I got there too late.
Maybe the fashion savvy Parisians already swiped away the good stuff.
They had a small vintage corner,
and I found a stunning YSL trench coat!
But, too small


I also found a Hermès wool pancho,
but it was too woolly thus itchy...

In the end, all we got is this plastic plate.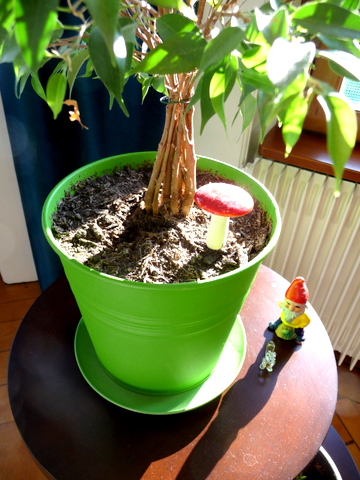 The pot is no longer sitting on a ugly faux terra cotta plate.
Thank goodness.

We got some souvenirs for friends, too,
but that has to remain a secret



I know we didn't spend much,
but we came out the store feeling good



Merci
111 Boulevard Beaumarchais
75003 Paris

Merci d'avoir lu mon blog!!!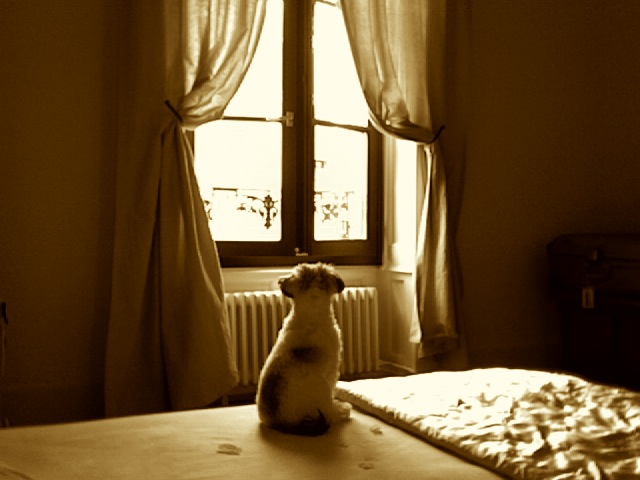 気まま我儘に生きるYasの人生を、正直率直に、そして飾らなく語るブログです。 This is a blog where Yas talks about his life in a foreign land seen through his bizarre and frivolous, yet sincere eyes
by Yas-Unprescribed
ブログパーツ
このブログに掲載されている写真・画像・イラストを無断で使用することを禁じます。Copyright © Life Without A Prescription - 処方箋無しの人生 All Rights Reserved