僕のブログってファッション要素が高い(??)のが
本来のコンセプト(?!)だったのに、
最近はただの(ゲイの)食いしん坊さんのブログに。。。

だから、今回はちょっとファッション。

皆さんもご存知の我が息子。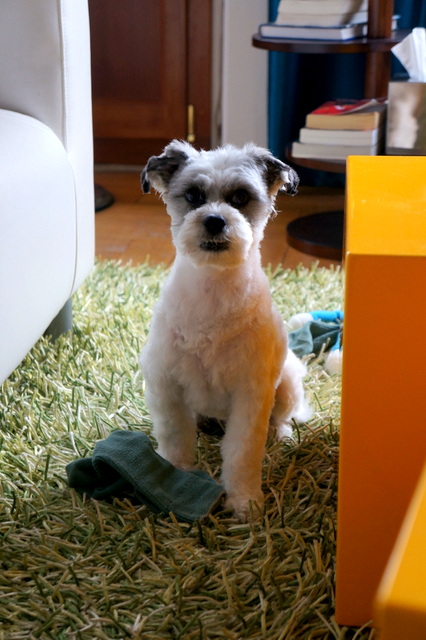 相変わらず可愛いでしょ?

可愛いアライグマちゃん。

って、親ばか丸出し。

今秋冬の色は、緑ですよね。 

何処を見ても緑のオンパレード。 
僕は青、緑、その中間色全て好きだから嬉しい限り。 
どこのブランドも鉱山物の名前を使ってますね。
Van Cleef & Arpelsはマラカイトを使ってるし、
Hermesは同名の革を出してるし、
色んな所でエメラルドって色を見る。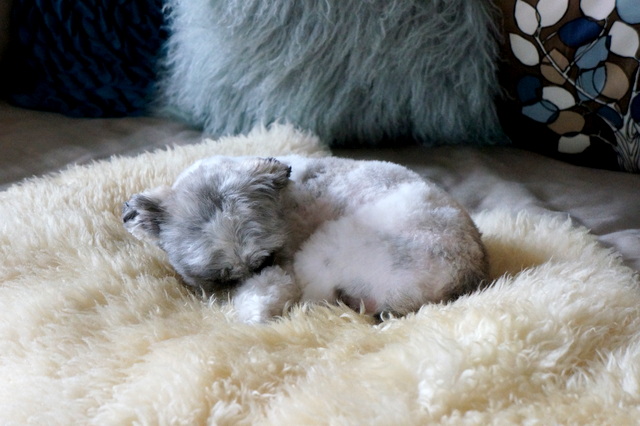 「僕は芸者です。」と言わんばかりに顔を隠す。

そんな中、とっても衝撃的なカバンを発見。 
友達に見せたら、「ゴジラみたい。。。」って。

スティーブンに見せたら、「Swamp Thingみたい。。。」って。

どっち道怪物的って事なんだ。

僕にとっては非常に美しいオブジェ。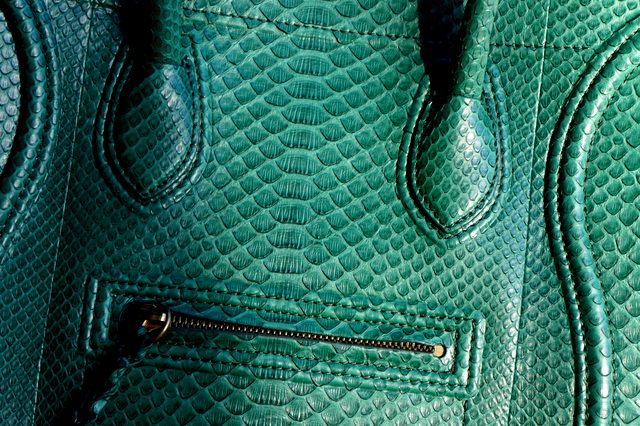 セリーヌさんのお宅から引き取って来た怪獣君。

犬を入れてみた。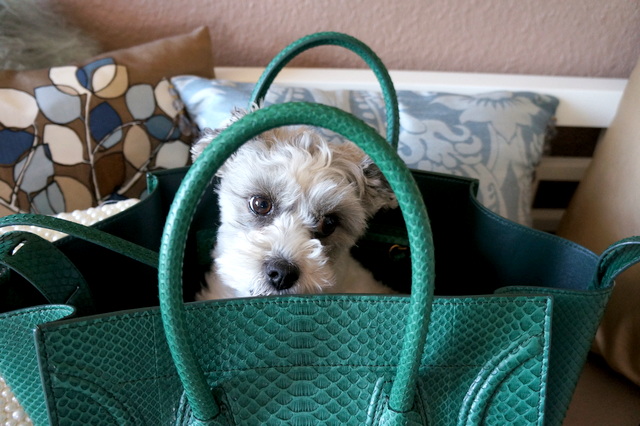 きゃ、カワイイ



緑の蛇革カバンに入ったモーキー、
These are a few of my favorite things




もう先月の話し。

バレンタインに、焼き肉行って来ました。 

なぜ焼き肉って? 

男二人の我が家はガッツリ食べれる方が好き


しかも、Buyclubのクーポンも有るから丁度良い。
マノーの横にあるBAPへ。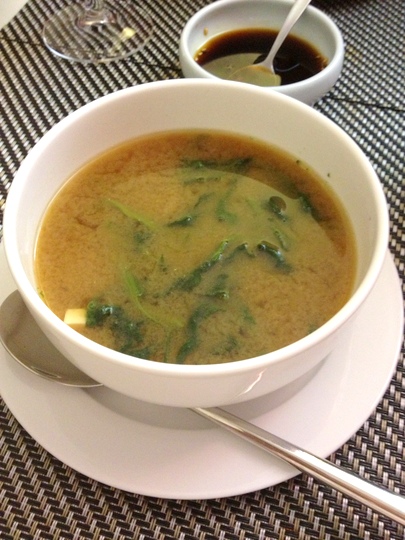 コースを頼んで、まず来るみそ汁。

韓国のみそ汁ってちょっと納豆ッぼい。
(でしょ?)
 
大体、バレンタインデーに焼き肉いかないでしょ、普通。
だから空いてると思って。

その後は餃子が来た。 


普通に美味しかった。 

やっぱり空いてた。

でも、一組、妙にドレスアップしたカップルが後から来た。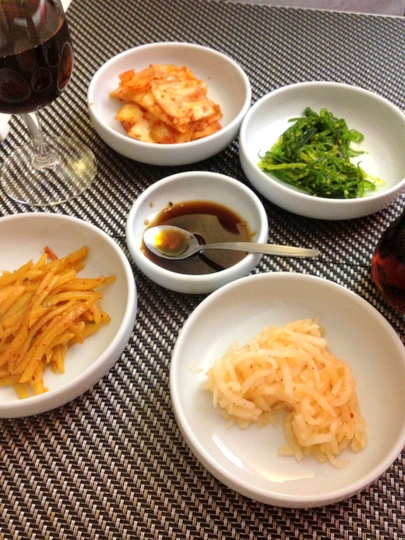 韓国料理はこの様々な付け合わせが嬉しい。

アメリカだとお代わりいくらでも出来るんだけどね。。。
(あ〜恋しい、カリフォルニアの太陽が。)


例のカップル、なんかういういしくて可愛い。 
ちょっと不器用でぎこちない感じ。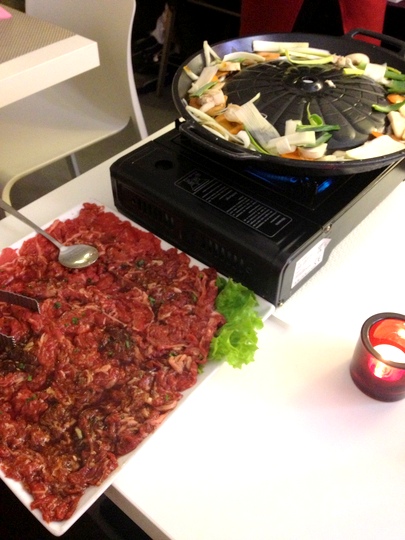 結構量が多い! 

僕達も10年前はあんな感じだったのかな??

野菜から水分が一杯でるから「焼く」ってよりは
「茹でる」って感じの焼き肉。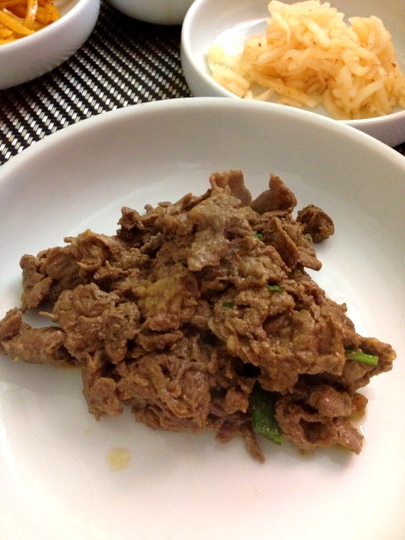 美味しいけど、なんかすき焼きっぽい感じ? 
柔らかい。

ガッツリでロマンスの欠片も無い様な食事だけど、満足。

終わりには、デザートが。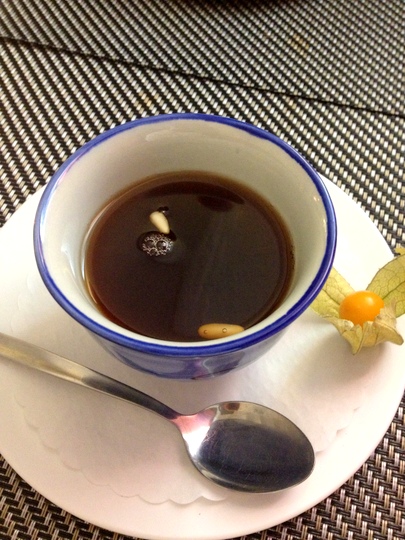 シナモンと松の実などの風味の甘いお茶。

やっぱりこのBuyclubってお得だよね。 

家に帰ってから服の匂いを嗅いだら、焼き肉の匂いがしなかった。
茹でてるから湯気だけで煙にならないからかな? 

そう言えば、ロマンスないって言ってたけど、
スティーブンは色々努力してくれたんだっけ。。。 

忘れてた。

えへ



霜降り牛が食べたいな〜




What? Plan-les-Ouates?
Why would we go there?
Because we had a buyclub voucher.

It didn't take too long to get there,
but it sure felt like we were going out of town.
To Time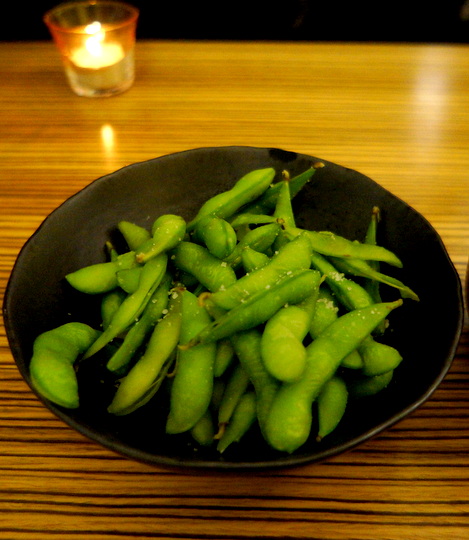 Edamame to start with.

The deal was a tasting menu for two.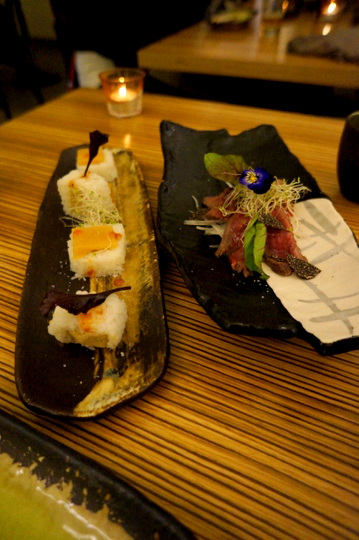 On the left is a fois gras roll.
And beef tataki with summer truffes.

I think that's what they were.
This was a few months ago and I don't remember the details anymore.

This one, I can't even recall what was inside...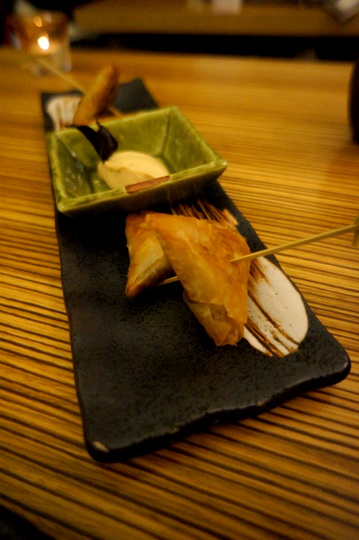 Some kind of fried stuff, stuffed with something.

Then, some raw fish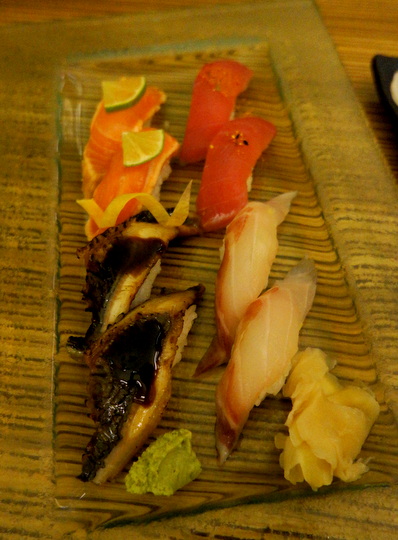 They were all good.
It's funny how I enjoy eating sushi now.
I really didn't care for it when I was younger.

After the cold dish, something warm.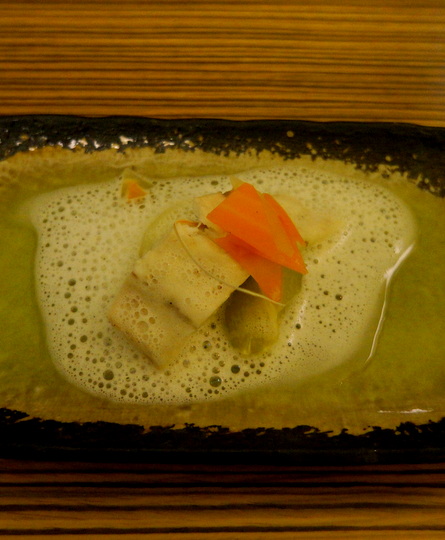 White fish in a thai coconut sauce.
Lemongrass and fish was a nice combination.

After fish, it was chicken.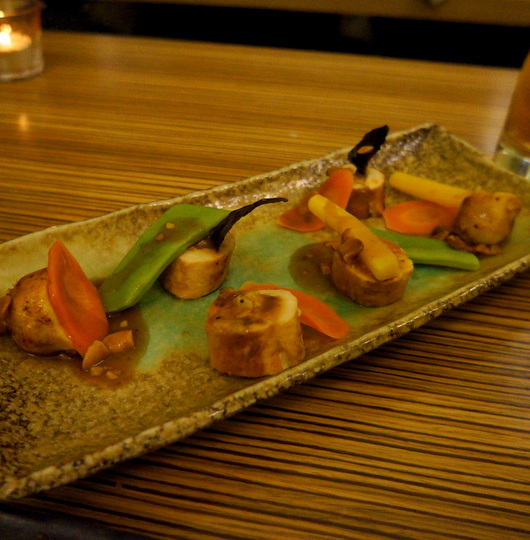 I remember this being a bit bizarre...
But then again, it wasn't too memorable and so don't remember how.

And this was how the night ended.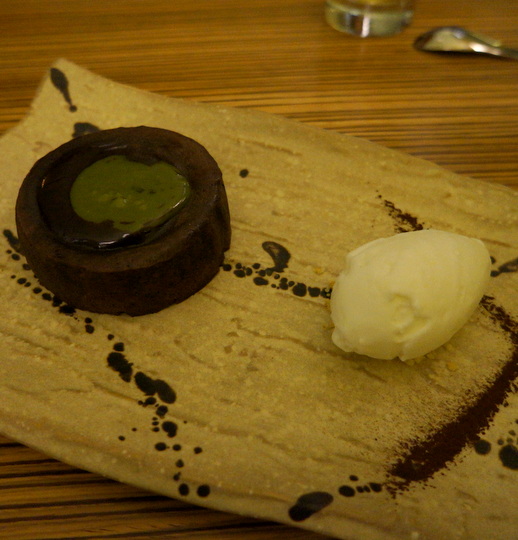 Chocolate fondant with green tea center and ice cream.

Another thing I don't remember, the price.
I can't say exactly what we paid for the voucher,
but I thought this was a great deal



We gotta do all we can to enjoy dinning out in Geneva, right




ジュネーブのお店での接客は酷い。 
カスタマーサービスが弱いと評判のパリに比べても劣るんじゃ?

そんな中、唯一赤いヒールのルブタン屋さんは良いと思う。 
店員さんみんな、って訳ではないけど、でも一人の兄ちゃんは
必要以上のカスタマーサービスをしてくれる。
(って書くととてもイヤらしく聞こえるけど。。。)


この前、お店に行ったら、こんな物をくれた。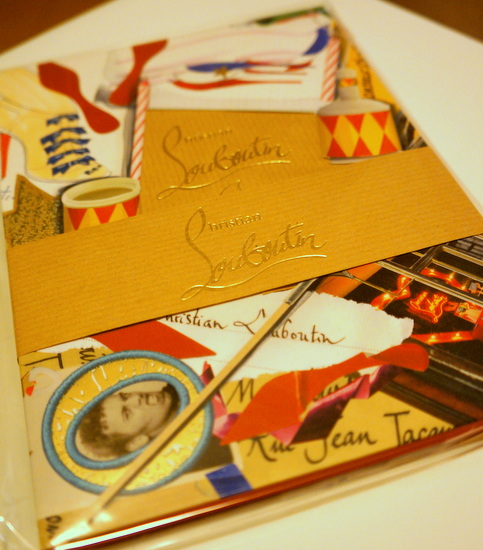 ルブタンのノートブック。

カワイイ〜



超カワイイ



「ところで、この前買った靴って防水スプレーとかして良いの?」
って聞いたら、



「うん、あ、良いスプレーがあるよ!」

って裏でガサゴソ。

持って来たスプレーを見て、「じゃ、頂きます。おいくら?」
って尋ねると、



「あ〜、いい、いい、あげるよ〜。」

って。 

ジュネーブで無償で何かを貰うと無性に嬉しい



ね、ここの土地にしては珍しく気が利くサービス。 

余計赤いヒールの靴が欲しくなったでしょ

??





Feels like ages ago now,
but before Christmas, we went to a Christmas party at
chez Vuitton.

On our way out at the door,
they gave us this.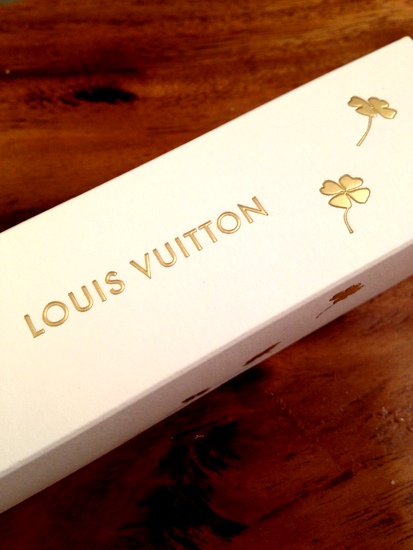 I was like,

"Oh! What would it be?! A paper weight?"

But it was something edible.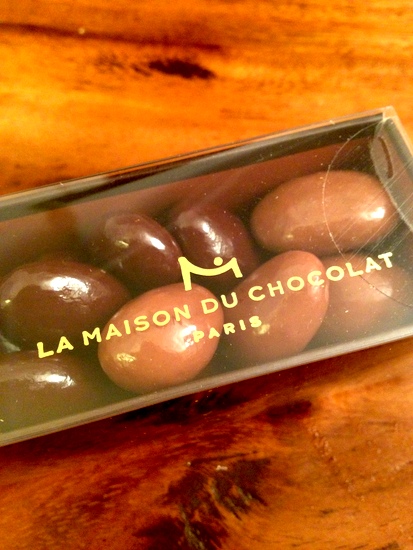 Chocolate from La maison du chocolat.

Chocolate covered almonds



They remind me of this.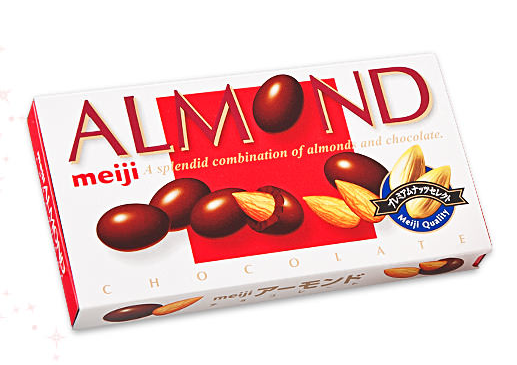 Meiji Almond Chocolate

I have to say I prefer Meiji.

But eating this LV chocolate brings me back
memories from my childhood.





Happy New Year!!!
明けましておめでとうございます!!!
Bonne année!!!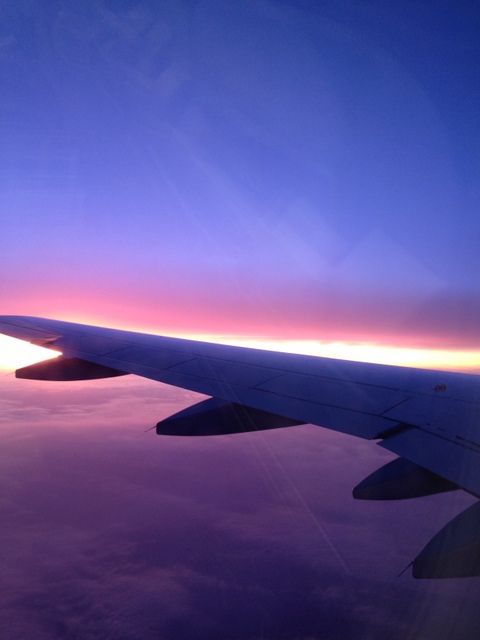 Wow, can't believe it's 2013 already.

I feel like 2012 was a blur!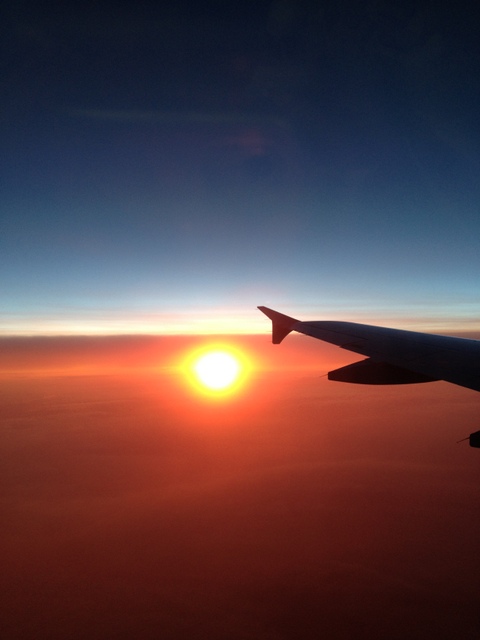 These pictures were taken on the way back from Berlin.

Life makes me tired sometimes.
But then, seeing the sun rise above the horizon,
seeing the colors of the sky change before my eyes,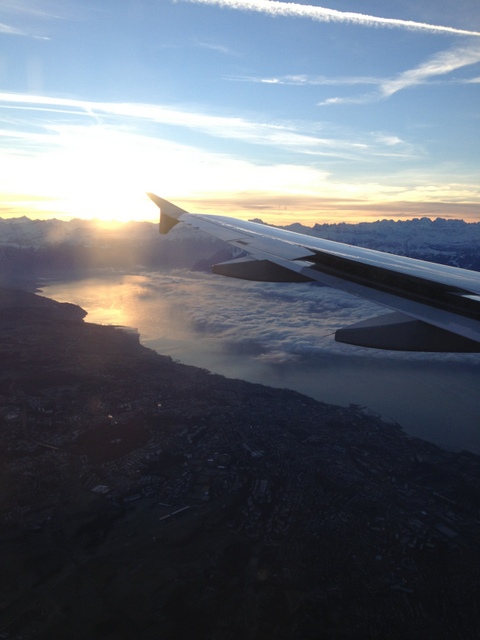 makes me feel that it's worth getting tired for.

I have the horrible tendency of bitching about practically everything.
Well, that's not a nice way to live, is it.
I wanna try to embrace life a little better than now.

After all, I have a wonderful life parter, supportive families,
and patient friends who love me and bear to be friends with me



I have a feeling that this year is gonna be great



Since 2013 is the year of the snake,
Steven created this to take to the last dinner of 2012 at friends'.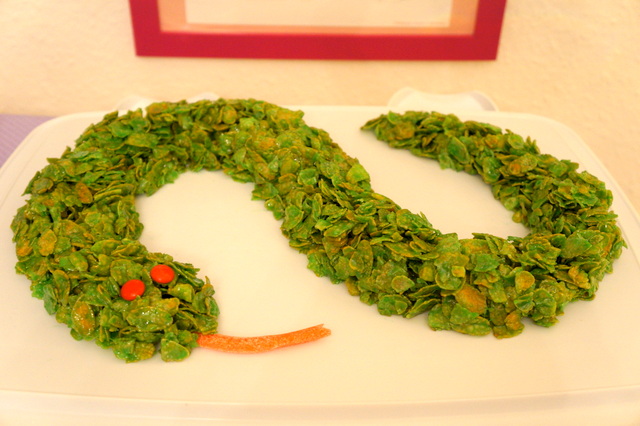 Rice crispy treats made with corn flakes, shaped into a snake!

At the lovely dinner, Truffle made a new friend


We had a great end of 2012 and a promising beginning of 2013.

May your new year be filled with happiness and wonderful surprises!!
今年もどうぞよろしくお願いします




Leaves started to fall.
That is a cue for eating more,
in preparation for the winter.

I saw a bunch of bright orange pumpkins at the market,
so I got some to make these.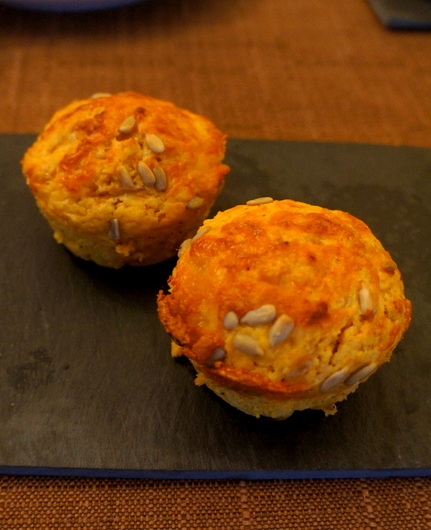 Pumpkin & Cheddar Muffins.

Unlike the Kabocha pumpkins we can get in Japan,
the one I got had a water-down flavor of pumpkin.
But with the richness from cheddar, it turned out pretty good.

Whenever I'm on the public transportation,
I see people coughing ALL THE TIME!
To boost my immune system, I squeezed an orange.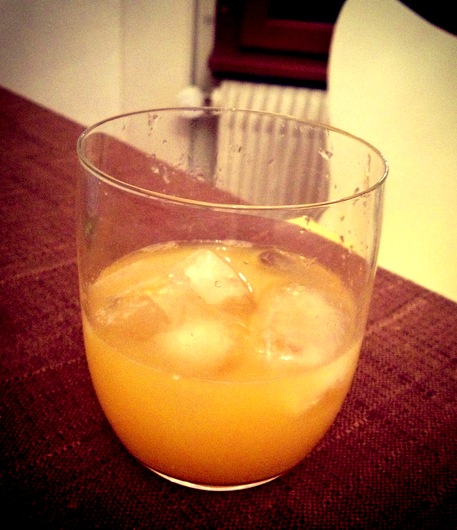 To make Amaretto Orange



Delish!!
It's like Airborne + NyQuil but with a much better taste!

There are still leaves left on the trees,
but some days, it's seriously cold.
Days like these, it makes me crave something warm.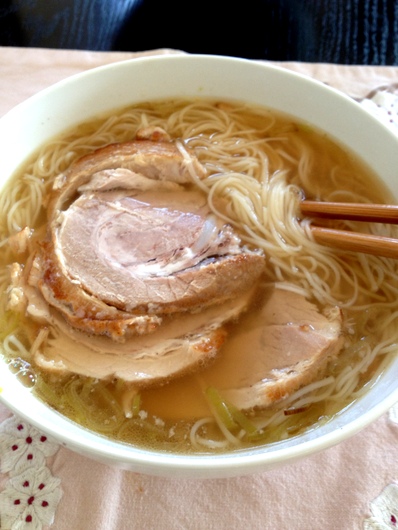 Home made ramen.

Instead of egg-based noodles, I used thin Japanese somen noodles.
The pork was tender, the soup was warm,
it was a hearty meal perfect for a cold day.

And an autumnal night can't be without a sweet ending.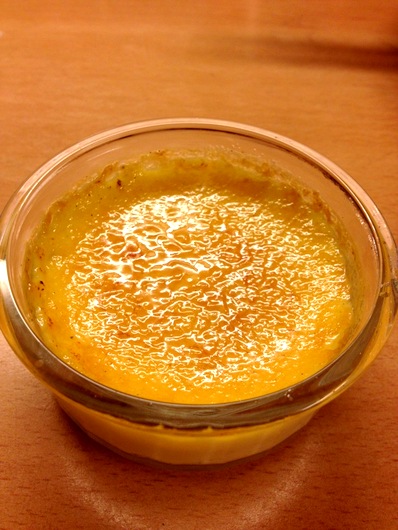 Crème brûlée.

My first attempt at making this.
I was a bit intimidated to cook anything custardy.
The fact that it turned out great makes it an even bigger victory



Apparently, it snowed near Geneva yesterday.
I saw a car covered in snow in town this evening.

Brrrrrr


Please don't go away just yet, Autumn!!


Thanks for reading my blog




When Steven and I walk past Olio,
he said "this place looks nice!"
So I told him,
"did you know this place was part of Assiette Genevoise?"

And just like that,
the restaurant for our next date night was decided.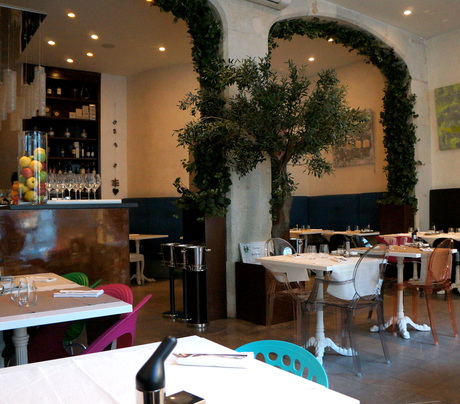 To be brutally honest,
I originally had no intention of going to this restaurant.
Just because the interior was cute and stylish for Genève,
I had presumed that the food would not live up to my standard
and the staff would be snobbish.

Well, that was NOT the case.

As we sat, our server brought a little snack.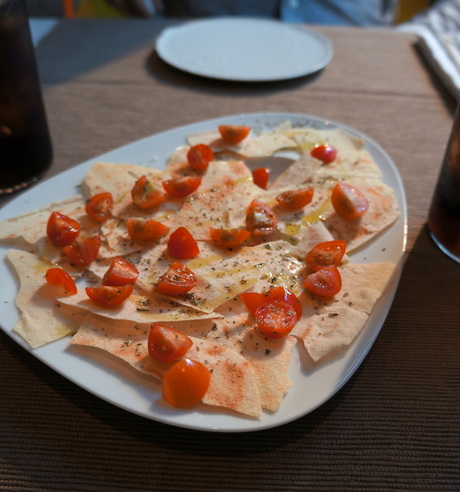 It was simple, but it's nice of them to treat us like regular dinners.

To start off, I chose something I rarely eat.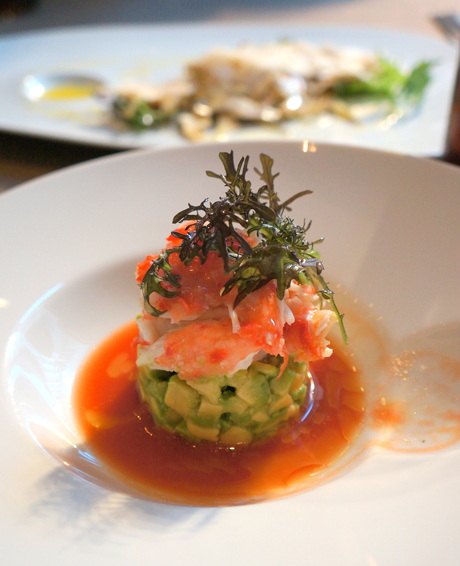 Crab avocado, tomato sauce.

I love crab, but I never buy it here
because the canned ones are too expensive
and I don't wanna deal with shelling it.

Uncomplicated and fresh.

Steven had this.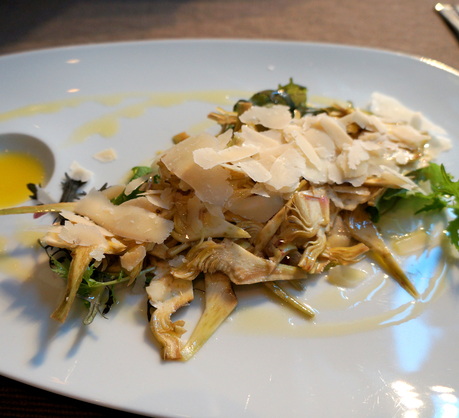 Artichoke salad.

The artichoke was a little undercooked.
Apparently it gave Steven a weird sensation in the mouth
after he finished eating it.

I was in the mood for seafood.
My main.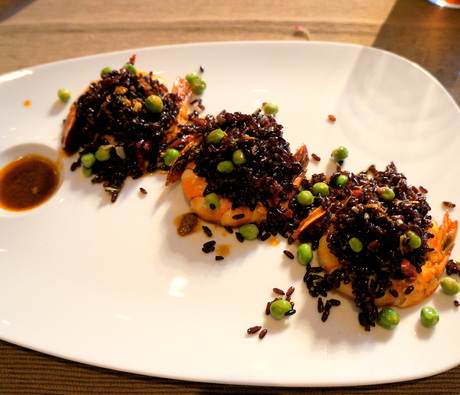 Grilled shrimp with cognac sauce with wild rice.

Simple, but cooked well and it was delicious.

Here's what Steven had as the main.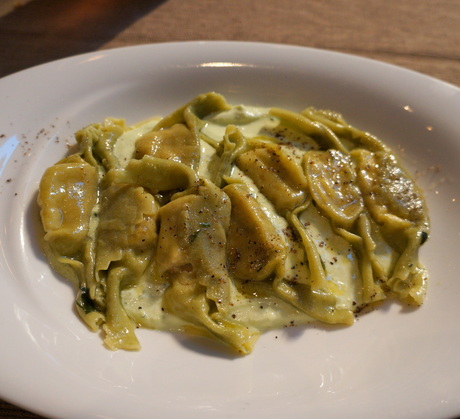 Wrapped candy type pasta, cheese inside.
The sauce was something herbal...
Basil and pine nuts with cream?

Not my thing, but he liked it.

We were pretty full by then.
But we managed to share this.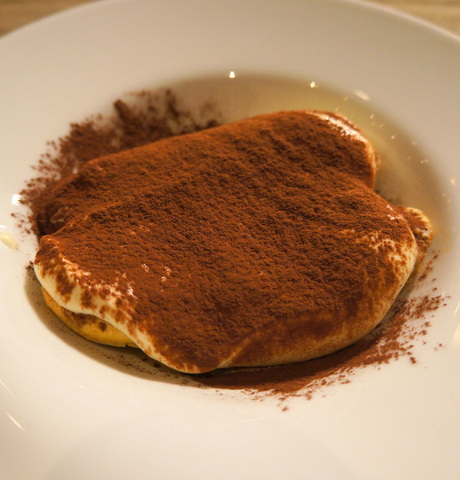 House-made tiramisu.

The coffee was too strong and the lady fingers were too soggy.
I prefer Luigia's much better.

But all in all,
the people were really nice and we enjoyed the food and the service.

For once, it was a nice dining experience in Geneva



Click here ↓if you like nice dinners at a discount




最近外食が多い我が家。

もう結構前の話しですが、ジュネーブがまだ夏だった時、
ホテル・プレジデント・ウィルソンに入っている
「アラベスク」と言うレストランに行って来ました。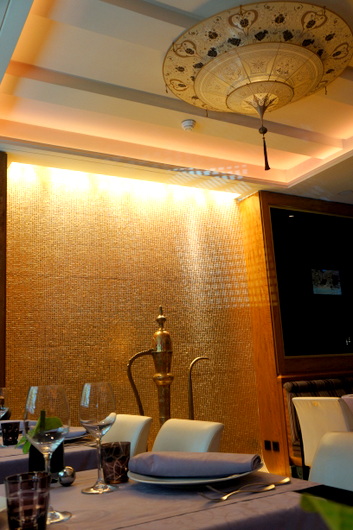 Assiette Genevoiseの参加店なのですが、利用出来るのはお昼のみ。
だからスティーブンが仕事の無い日に行って来たのです。

席に着くと、こんな物がやって来て。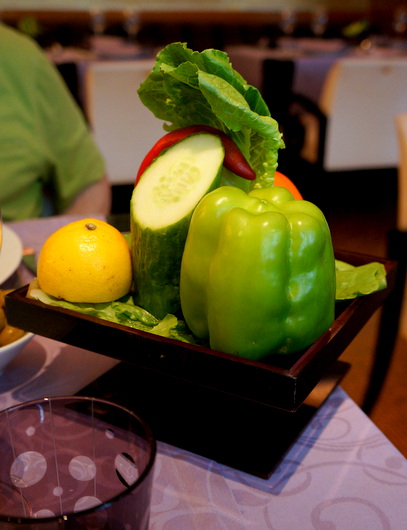 何、これ? 
飾り? それとも実際に食べるの?

高級レストランなんだから説明くらいしてくれても良いんじゃない??

僕は「ビジネス・メニュー」を。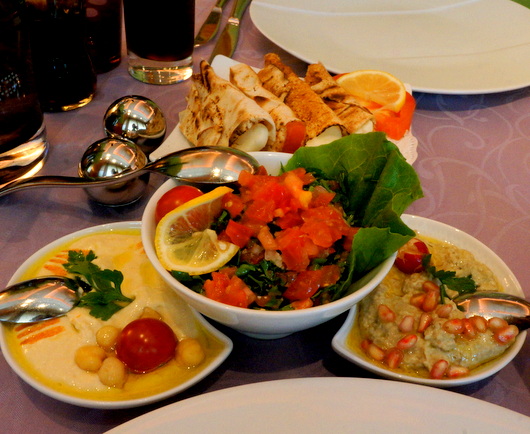 まずは冷たいメゼ。

ハマスやらタブレやら。 
上に移ってるのはアラカルトでスティーブンがオーダーした
ハルミチーズとトマトをピタで巻いたもの。

普通。全て普通。

その後は、又スティーブンの選択した、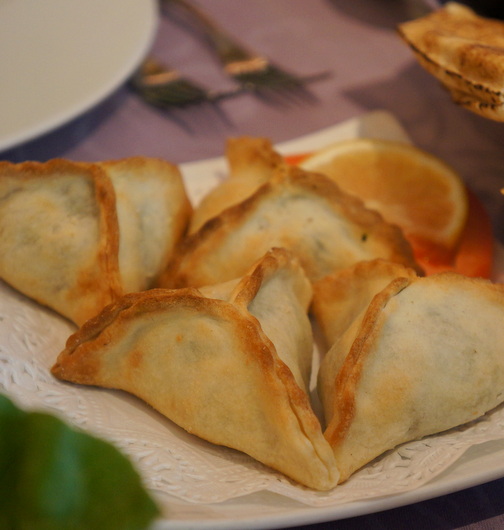 ホウレン草とチーズを生地で包んでベークした物。

乾いててなんか



そしたら僕の暖かいメゼが。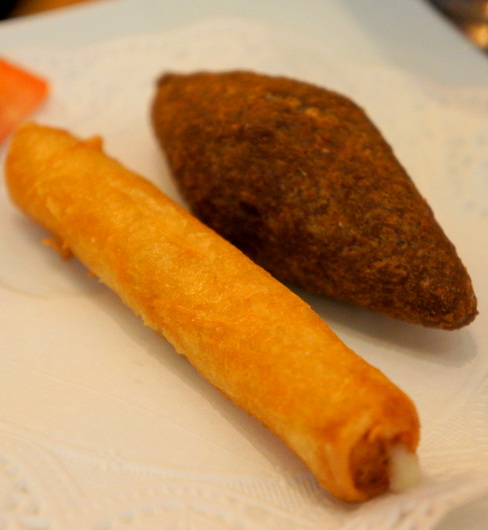 春巻きとラムのコロッケ。
春巻きは美味しかった、チーズが入ってて。

そしてメインの登場。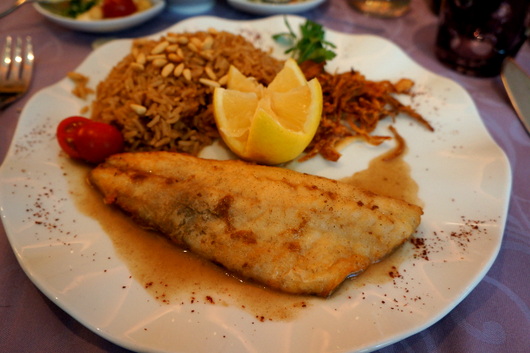 グリルしたスズキとライス。 

普通に美味しい。
ちょっと塩が強いけど。

それからスティーブンのメイン。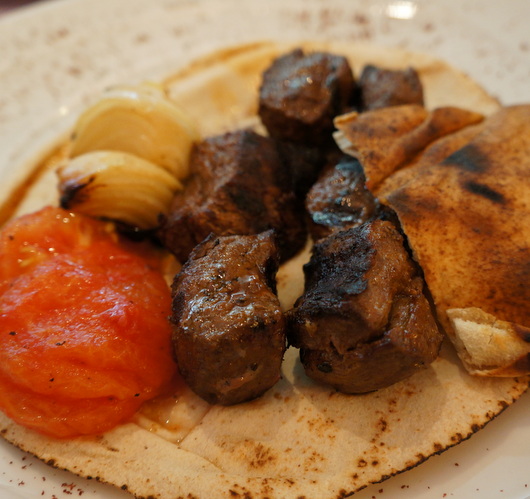 牛の串焼き。

デザート。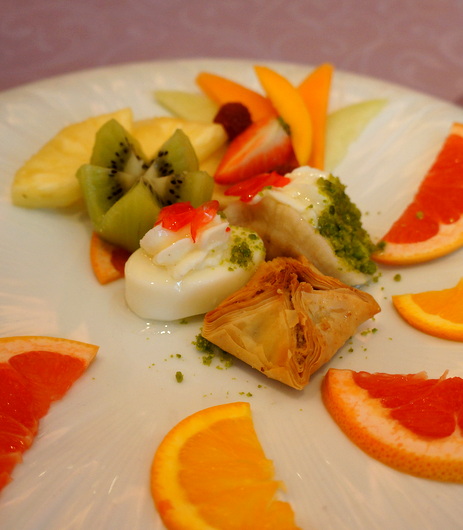 バクラバ、パンナコッタの様な物など。


なんかね、始めから終わりまでぜーんぶ普通。 
もちろん不味くて食べれないって事は無いけど、
高級レストランとは思えないほど「洗練さ」が欠けている。

しかもね、このカード無しで食べたら凄い値段なんだよ。
シェフを引っ叩いてやりたくなる様な値段。

このカードは飲み物だけは半額にならない。

僕とスティーブンはコーラ・ゼロを一本ずつ頼んだんだけど、
二本で驚くべき金額。

24フラン!


一本12フラン。
凄いでしょ??

日本なら同じ額で満足のいく食事が出来る。
場所が場所だから仕方無いんだろうけど。

ちなみにこのカードのおかげで70フラン安くなりました。
大きいよね。

でも、「行く必要性は?」って聞かれたら、

「別に〜。」って答えると思う。


70フランも浮いたなんて凄いね!って思ったらポチッとお願いします!




This happened on the last Saturday in August.

We were supposed to go have drinks with the Scottish People.
Around 9p.m.

But the drink didn't go as planned.
Our friends' friends were to arrive in Geneva at 7p.m.
but their flight never left London on time.
By 11p.m, we gave up going out and instead,
I had my late night snacks.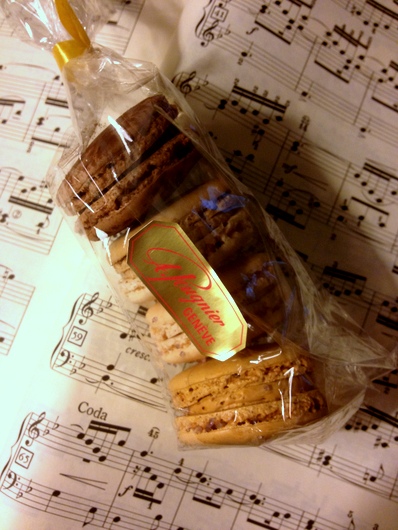 Macarons, of course! It was the weekend after all.

Right around when the carriage started feeling a bit pumpkiny,
we got a text from the SP.
"They're here, we're going out now!"

Steven and I looked at each other.
It's almost midnight. Do we wanna go out??

I was a bit tired, but what the heck, we only live once, right?
We got dressed quickly and left the house.

When we arrived at the Rue de l'Ecole-de-Médecine,
I was speechless.

Young people were spilling out from cafes and bars onto the street.
I didn't know Geneva was this lively at midnight.
But really, it was only this particular street.

By 12:20, I sat down and had a drink.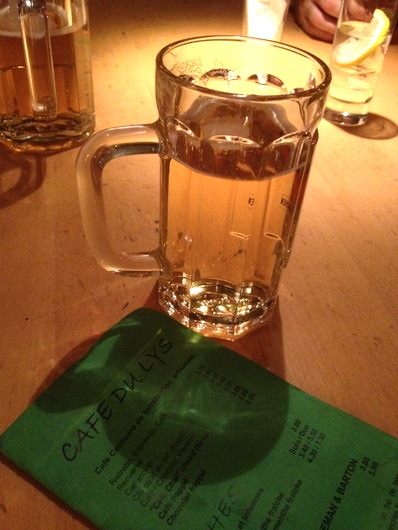 Panaché at Café du Lys.

The friends of the SP were really nice, too.
(from here, known as the Scottish Gays)

We talked about Scotland and Geneva, how our lives are different,
and suddenly, the server comes to us and tells us it's time to go.

It was 2 a.m. already!

Outside, we continued to talk.
"What now?"
"What do you wanna do?"
"What could we do now?"

Well, like I said, it was 2 a.m. in Geneva.
There's nothing we could do.

Or so I thought.

As a joke, I suggested, "We should go dancing!"
To this, the Scottish Lad says, "Oh, we could go to Chat Noir!"

Huh?

Apparently Chat Noir is open till 5 in the morning.

Nobody said "That's a great idea, let's go!"
Nobody said "I wanna go home."

We all didn't want to be the first one to say "I'm tired."
So, this "dare" dragged on, and...

Voilà!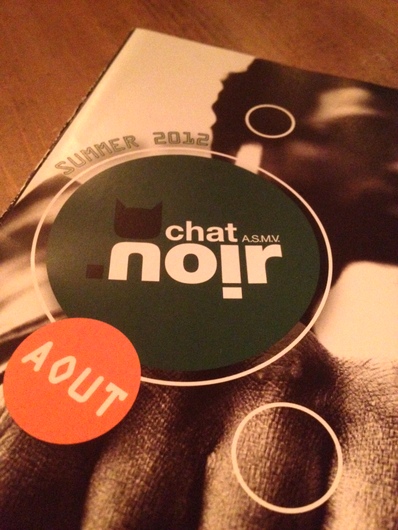 We had to walk about 20 minutes from the previous bar to this bar.

At 2:30.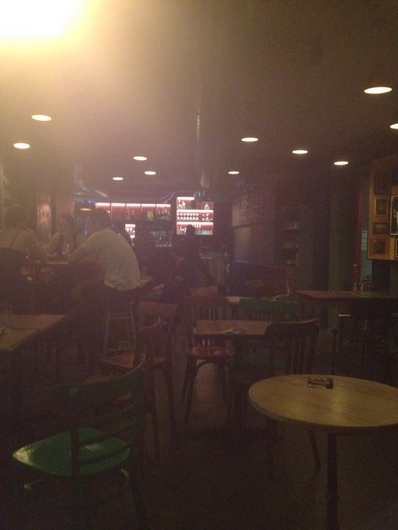 I only had coke here.
I mean, coca-cola zero, just to be clear.

So, by this time, we were a bit too hyper from fatigue.
Probably a large quantity of beer helped as well.
We stayed here until they closed at 5.

Why?

Because we wanted to eat breakfast,
and we needed to kill time.

There we were again, walking through Geneva at 5 a.m.
We were hungry.

I was desperate for something greasy and savory.
Kebab sounded good to all of us, especially to the Scottish Gays.

Geneva was so quiet in the early morning.
But I had a hunch where we could get kebab.
Where some people were still working at that time of the morning.
Prostitutes and drug dealers, to be more specific.

Paquis, of course.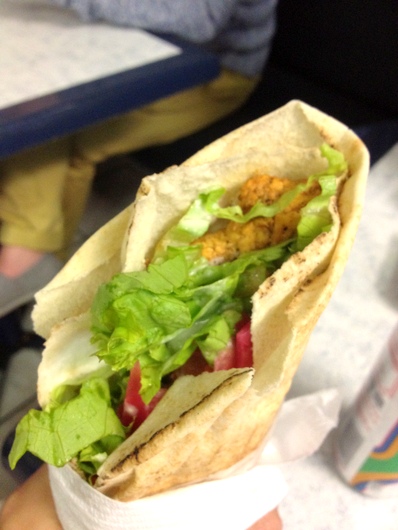 I was right!! There were several places open for business



Oh the chicken shwarma tasted so good at 5:40 in the morning.

After this pit stop,
we walked through Paquis among shady characters,
to get to this place.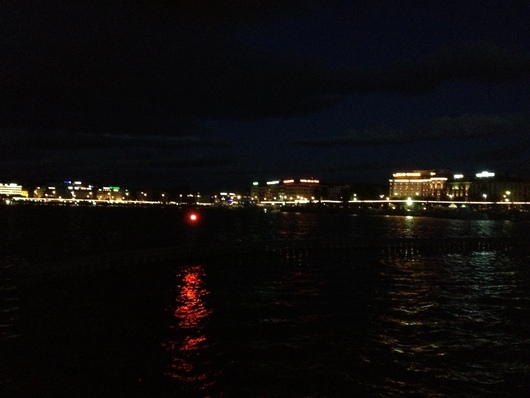 Still dark at 6:07. Can you tell where this is?

Maybe now you can?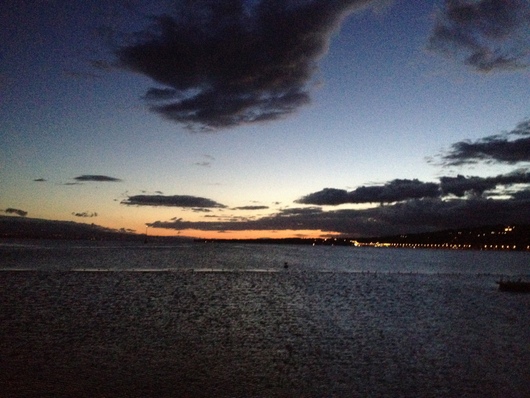 6:09.

We came to Bains des Paquis to watch the sunrise.
They offered sunrise concerts during the summer at 6,
so there were quite a few people around.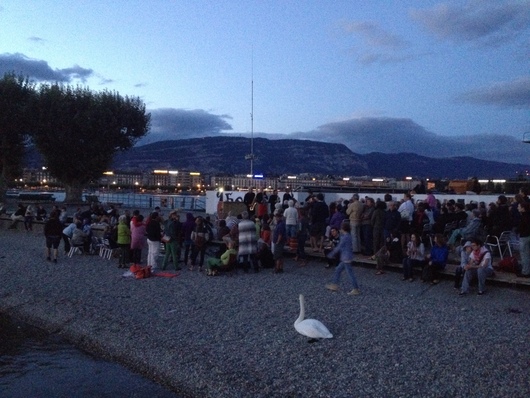 6:24.

The buvette was offering free drinks.
Some of us had coffee, I had ginger tea.
Sipping warm tea while the sky changed colors,
it was a bit chilly but I felt alive.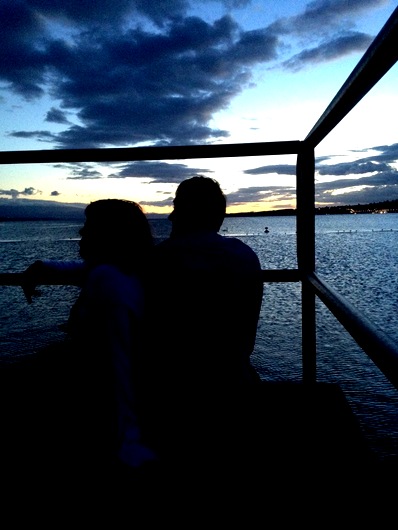 The Scottish People seemed to be still in love with each other
even after years and years of being together.

It must be truly meant to be.

The air at the lake was too cold to be exposed to for a long time.
So we headed home.
The SC and SG were supposed to go to the circus at 2 p.m.!!
Crazy.

Steven and I were still hungry when we were close to home,
so we bought some pastries at a nearby bakery.
Eating a pain au chocolat after all-nighter is a sinful delight.

We finally went to bed at 8 a.m.


Who knew we could stay up all night and have fun in Geneva?!

Click here ↓if you are inspired and wanna try this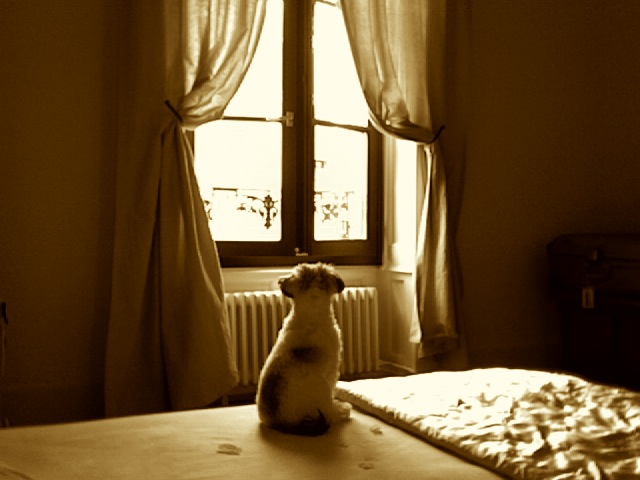 気まま我儘に生きるYasの人生を、正直率直に、そして飾らなく語るブログです。 This is a blog where Yas talks about his life in a foreign land seen through his bizarre and frivolous, yet sincere eyes
by Yas-Unprescribed
ブログパーツ
このブログに掲載されている写真・画像・イラストを無断で使用することを禁じます。Copyright © Life Without A Prescription - 処方箋無しの人生 All Rights Reserved